Top Lists
Top 5 Shocking Things About Deryck Whibley Wife Ariana Cooper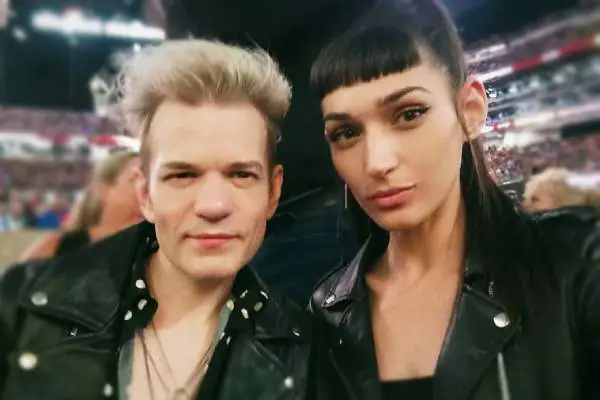 Deryck Whibley Wife. Image Credit: Instagram.
Staying together is progress, while working together is success. From love and music to forever and always, Deryck Whibley wife, Ariana Cooper, has been the pillar behind the singer's success. Similarly, the Sum41 frontman's love story is a tale that will warm the hearts of fans and romantics alike.
The Canadian punk rock sensation Deryck Whibley has overcome his own battle with depression and alcohol abuse. But few people know his spouse also went through a similar phase in her life. That makes for a love story as passionate and fascinating as Sum41's songs itself. And when it comes to Deryck and his wife's wonderful story, we can see that love and music knows no bounds.
Deryck Whibley's girlfriend-turned-wife, Ariana, has withstood the highs and lows, proving that true love can overcome all. Join us as we learn about the couple's journey and their fellowship that was able to overcome the adversity that life threw them.
5. The Early Years of Intimacy: A Model's Affair With Singer
Usually, the men are much taller in a couple, like most traditional romantic couples. However, Deryck Whibley, at 5 feet 7 inches, is pretty confident in his charisma when it comes to his partner Ariana Cooper, who stands at 6 feet. Similarly, their 11-year age difference doesn't matter, just like their 5-inch height difference.
The affairs involving artists and models are pretty common in the entertainment industry. So, how did Deryck Whibley meet Ariana Cooper and start dating the stunning model? In late 2010, Deryck met his future spouse, Cooper, while they were working on a music project. During the same time, Whibley's divorce from fellow Canadian singer Avril Lavigne was finalized.
Unknowingly, Ariana became that person whom Whibley could rely on, and since then, she has been a strong pillar throughout the punk rock singer's career. The bond would last the test of time, and Deryck not only found a companion but also a kindred spirit who shared his passion for music. Likewise, Whibley's net worth began rising.
4. Deryck Whibley and Ariana Cooper Wedding: A Romantic Gesture That Sealed Their Commitment
From the beginning of their meeting, Deryck Whibley knew Ariana Cooper was the lady who would change his life forever at the height of Sum41's fame. So, within just over a year, he got engaged to Ariana, further tackling hardships together and supporting one another's aspirations.
After over four years of their engagement, Deryck Whibley married Ariana Cooper on August 30, 2015, at the Hotel Bel-Air in Los Angeles. On their wedding day, Deryck let go of his usual punk look for a classic black suit and tie. Meanwhile, Ariana looked beautiful in a strapless white wedding dress with pretty silver decorations.
Life's not always full of sunshine, but when we see Deryck Whibley's better half, there's no denying that Ariana Cooper's love for her husband has stayed unshakable throughout their romance. Furthermore, their marriage came after a tough year together when Whibley almost lost his life. Scroll down to know more.
3. Overcoming Challenges, Fighting Demons and Battling Addiction
Beware of the dark that sits behind the colorful entrance. Every beautiful aspect always has that ugly side of terror. Like any relationship, Deryck Whibley and his wife faced their fair share of challenges. One of the most significant hurdles they encountered was Deryck's battle with addiction. As the pressures of fame took their toll, Deryck found himself trapped in a cycle of substance abuse.
On a similar note, Sum41's frontman, Deryck Whibley, had challenges since he was a teenager. Raised in a single-household family, the singer chose alcohol and substance abuse to cope with his depression. However, the turning point in Whibley's life eventually came after he was hospitalized with kidney and liver failure caused by years of excessive drinking. He recovered soon afterward.
Now, Ariana herself was struggling with darker thoughts and mental health issues. In 2013, she attempted suicide in her own house. Meanwhile, her husband was asleep and was unaware of Cooper's act. Just in time, a neighbor reached their home and took Ariana to the nearest hospital.
By god's grace, everything turned out well for the Whibleys. The couple began talking about their struggles and provided emotional support to each other. After her husband recovered from a terrifying heart scare, Ariana has been by Deryck's side. Meanwhile, the Never There singer credits his well-being to his spouse.
ALSO READ: 5 Shocking Facts About Noah Kahan's Girlfriend
2. Parents of Two Lovely Children: Blissful Life With Years of Sobriety
Just like the lyrics of Sum41's song With Me, which goes: I don't want this moment ever to end, Where everything's nothing without you, Whibley's life has always been surrounded by Ariana's love. From overcoming the darkest moments to spending over 12 years together, Deryck and Ariana have stood by each other. Further, the couple followed a sober lifestyle, cutting off drinking and partying.
After four years of being sober, Deryck Whibley and his wife Ariana welcomed their first child, a son named Lyndon Igby Whibley, in March 2020. Similarly, their second child, a daughter named Quentin Arlo Whibley, was born in March 2023.
Together, they proved that love can conquer even the most formidable obstacles. Furthermore, Ariana helped in her husband's musical journey, working on numerous endeavors and sharing their passions with others.
1. Deryck Whibley Wife: Forever and Always
Throughout their journey, Deryck Whibley and Ariana Copper have learned valuable lessons about love, resilience, and the importance of communication. They have faced adversity with grace and have grown both individually and as a couple. Their story serves as a reminder that love requires dedication, compromise, and a willingness to grow together.
Whibely and Cooper have inspired countless fans with their unwavering love and commitment, showing that true love can withstand the test of time. In conclusion, Deryck Whibley and his wife's love story goes beyond the music, celebrating a bond that is forever and always.
Their journey is a testament to the power of love, resilience, and unwavering support. From their early years to their wedding day and beyond, their love has remained unbreakable, inspiring fans around the world. Their story reminds us that true love can conquer all, transcending the boundaries of fame and music. Deryck Whibley wife, Ariana Cooper, is a beacon of hope, reminding us all that love is the greatest adventure of all.
Did you notice an error ?
Please help us make corrections by submitting a suggestion. Your help is greatly appreciated!