Net Worth
Revealing Jake Delhomme Net Worth: Drenched in Millions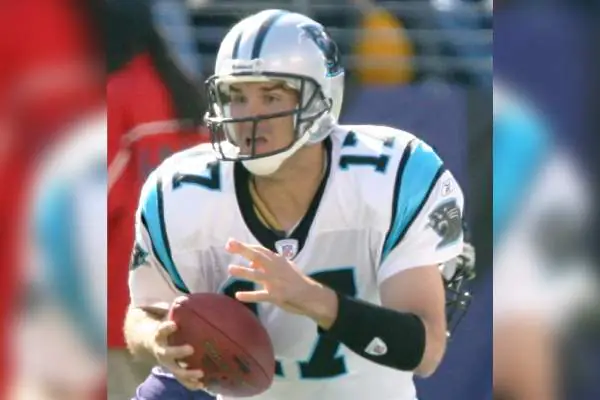 Jake Delhomme Net Worth. Image Credit: Wikimedia Commons.
From his humble beginnings to his rise to fame, Jake Delhomme has a story that has captivated many. But, aside from his on-field accomplishments, another aspect of his story has piqued the curiosity of many: Jake Delhomme net worth.
In this article, we delve into the details of Jake Delhomme's rise and fortune, uncovering the facts behind his impressive net worth. From his early days in football to his ventures off the field, we explore the various channels through which Delhomme has accumulated his wealth.
Join us as we unravel the intriguing story of one of football's most esteemed players and learn just how Jake has transformed his talent into a fortune. As we look further at Jake Delhomme's career earnings, we also take a closer look at the former NFL quarterback's financial success.
A Brief Overview
Born as Jake Christopher Delhomme on January 10, 1975, in Breaux Bridge, Louisiana, the U.S.
Parents Jerry Delhomme and Marcia Delhomme are Cajuns, a Louisiana French ethnicity found mainly in the U.S state of Louisiana.
Jake played both quarterback and defensive back for Teurlings Catholic High School and attended the University of Louisiana at Lafayette (formerly known as the University of Southwestern Louisiana).
Delhomme went undrafted in the 1997 NFL Draft, but the New Orleans Saints signed him as an undrafted free agent.
After NFL Europe, Jake returned to New Orleans and impressed everyone with his passer rating so much that fans chanted "We Want Jake, We Want Jake" in response to his success and the team's troubles during the 2001 and 2002 preasons.
Jake Delhomme Early Career Earnings
From 1997-2002, Delhomme played for New Orleans Saints and other teams, including Amsterdam Admirals (1998) and Frankfurt Galaxy (1999). Throughout his career, Delhomme commanded attention with his exceptional performance on the field, which certainly boosted his net worth.
| | |
| --- | --- |
| Year | Salary |
| 1997 | $16,500 |
| 1998 | $95,915 |
| 2000 | $358,000 |
| 2001 | $418,000 |
| 2002 | $563,000 |
Table Source: Spotrac
From appearing in five seasons from 1997 until 2002, Jake Delhomme's career earnings stood at $1,451,415, which is somewhat of a low amount for a rising athlete. Following a few appearances in NFL Europe, Jake eventually signed with Carolina Panthers as a free agent.
After the NFC Championship game, the Panthers reached Super Bowl XXXVIII in Houston in 2003. In the game against the New England Patriots, Delhomme and Tom Brady showed a memorable combination of sportsmanship in a Super Bowl that many rank among the best ever.
Delhomme had 323 yards passing and three touchdown strikes, including one that went for 85 yards to Muhsin Muhammad, which set a Super Bowl record for longest play from scrimmage. Once, a player who had limited chances was now the center of attention. As a result, Jake Delhomme net worth began to grow at a staggering pace.
ALSO READ: Kamren Curl Biography: The Upcoming NFL Star.
Carolina Panthers (2003–2009): The Years Jake Delhomme Built His Fortune
After the terrific 2003 Super Bowl season, the Carolina Panthers rewarded quarterback Jake Delhomme by offering him a five-year, $38 million contract extension that included a $12 million signing bonus in June 2004.
| | | | | | |
| --- | --- | --- | --- | --- | --- |
| Year | Salary | Signing Bonus | Roster Bonus | Workout Bonus | Earnings |
| 2003 | $530,000 | $1,500,000 | $400,000 | $100,000 | $2,530,000 |
| 2004 | $535,000 | $6,100,000 | $1,000,000 | – | $7,635,000 |
| 2008 | $3,690,000 | – | $3,000,000 | – | $6,690,000 |
| 2009 | $3,200,000 | $3,125,000 | $1,000,000 | – | $7,325,000 |
Table Source: Spotrac
It was with the Panthers that Jake Delhomme's wealth saw a rise as he had already signed a deal worth multi-million. From 2003 until 2009, he played, showing exceptional skills on the ground, even leading the team to their first Super Bowl appearance in 2003. Appearing seven seasons with the Panthers, Jake Delhomme's total career earnings were $42.3 million, including bonuses and additional paychecks, along with impressive career stats.
Jake Delhomme Net Worth: NFL Career Earnings
After playing for 14 seasons, the NFL quarterback Jack Delhomme's fortune was reported at $63,474,061. As per multiple sources, he was one of the highest-paid quarterbacks in the NFL. On March 5, 2010, the Panthers released Delhomme, and eight days later, he signed a two-year deal with the Cleveland Browns worth $7 million, including $900,000 in base salary.
| | | | | | | | |
| --- | --- | --- | --- | --- | --- | --- | --- |
| Seasons | Salary | Signing Bonus | Roster Bonus | Workout Bonus | Restrictive Bonus | Option Bonus | Earnings |
| 14 | $27,054,062 | $12,225,000 | $13,945,000 | $250,000 | $7,000,000 | $3,000,000 | $63,474,061 |
Table Source: Spotrac
Jake Delhomme's net worth is estimated at around $20 million. After his tenure with the Panthers, Delhomme played for the Cleveland Browns and Houston Texans before retiring in 2012. Over the course of his NFL career, he earned a substantial income through contracts and bonuses, adding significantly to his net worth.
Like many NFL stars, Delhomme also found additional income streams through endorsement deals. His notable endorsements include partnerships with brands like Nike, EA Sports, and Gatorade. These endorsements not only brought him significant earnings but also enhanced his public profile.
Outside of football, Jake Delhomme has made strategic investments and ventured into various businesses. He invested in the restaurant industry, opening up multiple restaurants, including Don's Seafood & Steakhouse in Lafayette, Louisiana, which became a local favorite. Such entrepreneurial endeavors have contributed to his overall net worth.
Similarly, you might want to look at the NFL's linebacker Lavonte David's Biography.
Fruitful Career After Retirement
After retiring from professional football, Jake Delhomme transitioned into a career in finance. In December 2016, he was appointed as the chairman of the board for MidSouth Bank. In 2019, he was inducted into the Panthers' Hall of Honor. Having a long history of horse racing, his family has long been involved in thoroughbred horse racing. In 2022, he served as the Panthers' primary radio analyst, broadcasting 13 of Carolina's 17 regular-season games.
Jake Delhomme's journey from an undrafted free agent to an NFL quarterback and subsequent business ventures and media appearances have contributed to his impressive net worth. In conclusion, the former NFL quarterback enjoyed a successful career spanning over a decade. Beyond his accomplishments on the field, Jake Delhomme net worth was built on the premise of his dedication to a football career, business ventures, and endorsements.
References
Did you notice an error ?
Please help us make corrections by submitting a suggestion. Your help is greatly appreciated!