Net Worth
Revealing Luca Brecel Net Worth: How He Gained Such Wealth?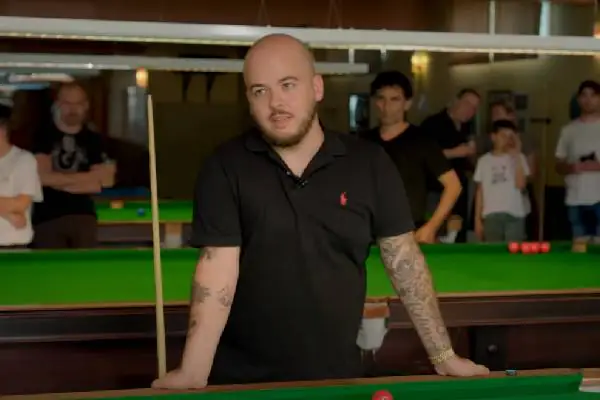 Luca Brecel Net Worth. Image Credit: Social Media.
In the game of professional snooker, focus and determination are key, as one miss can result in the opponent sweeping the match. Over the years, some greatest players have graced the game, and today, a young sensation, Luca Brecel, is slowly rising in the ranks to become the best.
In this article, we are going to take a closer look at the professional life of this amazing player, decode Luca Brecel net worth, and determine whether he has earned his worth as a professional snooker player.
Therefore, stay with us until the end to find out everything about Brecel's earnings and his income sources. Further, we will also talk about his early life, family, and exposure to the world of snooker and get to know him a little. So, stay tuned.
Meet the Snooker Phenomenon
Luca was born Luca Loi Brecel on 8 March 1995 in Dilsen-Stokkem, Belgium, to father Carlo Brecel and mother Mirella Brecel.  He began playing snooker at the age of nine and received coaching from Danny Moermans in Maasmechelen.
Brecel was taken out of school to receive home tutoring and increase his game practice. Thanks to that, at twelve, he achieved his first competitive century break.
In April 2009, the 14-year-old Belgian defeated Michael Wasley 6–5 in Saint Petersburg to become the youngest European Under-19 champion.
Career Earnings of the Belgian National – How Much Has He Earned?
Luca began his professional career in 2011 after receiving a wild card for the 2011-2012 snooker calendar. He won his first official professional match against Anthony Hamilton and achieved a ranking of 87 in August 2011.
Brecel became the youngest player to be eligible for the World Snooker Championship in 2012, which showed his talent and skills from a young age.
Similarly, the Belgian player won his first-ever professional tournament in 2013 after defeating Bjorn Haneveer at the Dutch Open, and it marked the beginning of Luca Brecel net worth. Furthermore, in 2014 and 2015, he became the finalist of the 3 Kings Open and managed to claim the title in 2014.
Below is the breakdown of Luca Brecel's earnings over the years.
| | |
| --- | --- |
| Year | Earnings (GBP) |
| 2015/16 | 96,025 |
| 2016/17 | 62,550 |
| 2017/18 | 318,430 |
| 2018/19 | 184,385 |
| 2019/20 | 95,238 |
| 2020/21 | 64,250 |
| 2021/22 | 245,500 |
| 2022/23 | 658,750 |
| 2023/24 | 120,000 |
Table Source: CueTracker
Brecel's day of shining came in 2017 when he secured his maiden ranking tournament victory at the China Championship, where he defeated the former World Champion, Shaun Murphy, in the finals. He received around $180,000 as prize money, which increased Luca Brecel's wealth even more.
Furthermore, from 2018 to 2022, Brecel participated in almost every ranking and non-ranking snooker tournament and secured the title three times in the 2020 Championship League, 2021 Scottish Open, and 2022 Championship League.
From these winnings, Luca earned over $150,000, which further enhanced his career earnings. As of November 2023, Luca Brecel's career earnings stand at a whopping $2.4 million.
ALSO READ: Who is Robin Frijns Girlfriend? Get To Know Their Love Story
Becoming the 2023 World Snooker Champion – How Much Was the Prize Money?
Luca Brecel entered the 2023 World Snooker Championship with a mindset of winning his first-ever match at the crucible as he was yet to win a match at the World Championship. He broke his losing streak and defeated three-time champion Mark Williams in the last sixteen.
View this post on Instagram
The Belgian Bullet faced the legend Ronnie O'Sullivan in the quarter-finals and managed to win the match 13-10 after back-to-back seven-frame victory. Similarly, in the semi-finals, he was pitted against Si Jiahui, who was leading him 5-14, but yet again won eleven frames in a row to claim his seat in the final against Mark Shelby.
Finally, the Belgium native won his first-ever World Snooker Championship by defeating Shelby in the finals and also became the first player from Continental Europe to win the trophy. He took a massive paycheck of around $600,000, which enhanced Luca Brecel net worth even higher.
Similarly, you might be interested in reading about the motorsport racer Jean-Karl Vernay's Net Worth and earnings.
What is Luca Brecel Net Worth?
The World Champion has had a successful career so far in the snooker world with multiple ranking and non-ranking tournament titles. However, the Belgian has yet to announce his exact wealth to the general public. As of 2023, Luca Brecel's fortune is undisclosed.
However, with career earnings of over $2 million and an endorsement deal with Cazoo, Brecel must have collected a decent amount of money in his bank account. He still has a long career ahead of him, and he is sure to increase his fortune if he continues this winning momentum in the upcoming years.
In conclusion, we wish Luca all the best in his upcoming matches and hope that he becomes successful in defending his world title at the 2024 World Snooker Championship and wins more championships in the 2023-2024 snooker calendar.
FAQs
Q: What is Luca Brecel's nationality?
A: Luca Brecel is a Belgian.
Q: When was Luca Brecel born?
A: Luca was born on 8 March 1995.
Q: What is Luca Brecel's nickname?
A: Brecel's nickname is The Belgian Bullet.
Q: What is the status of Luca Brecel's cue?
A: Earlier in 2023, Luca lost the championship-winning cue due to an airline error and had to travel to Frankfurt himself to retrieve the cue.
Q: Does Luca Brecel own a Ferrari?
A: Yes, Luca bought a $300,000 Ferrari after becoming the World Champion in 2023.
Q: Who is Luca Brecel's girlfriend?
A: Brecel is in a relationship with Laura Vanoverberghe.
Q: What is Luca Brecel's highest ranking?
A: Luca achieved his highest ranking of number 2 in May 2023.
Did you notice an error ?
Please help us make corrections by submitting a suggestion. Your help is greatly appreciated!