Top Lists
Who is Ashleigh Buhai Husband? Is He A Golfer Too?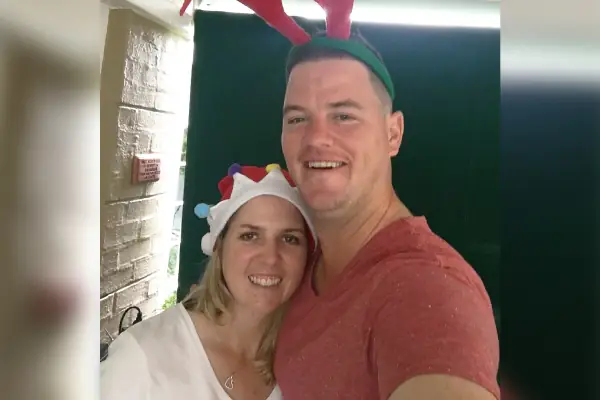 Ashleigh Buhai Husband. Image Credit: Instagram.
To win a golf game, you need to place the ball in the right position for the next shot. For the longest time, LPGA golfer Ashleigh Buhai has enjoyed her life as a sportswoman. And the person with whom she shares her success is none other than her partner.
Ashleigh Buhai husband, David Buhai, served as her caddie for seven years. But the most important thing is that the couple has successfully defined their roles at home and at work. Keeping her swings and her personal life on the course, Ashleigh lives a happy life with her spouse.
In this article, we will explore interesting facts about David Buhai and learn how he has contributed to his wife's golf journey. From the moment they met to the moment Ashleigh married David, we have got it all covered. So, stay with us till the end.
A Sneak Peek of Ashleigh Buhai: Parents, Maiden Name, and Early Career
Born on May 11, 1989, as Ashleigh Ann, she grew up with a younger sister named Jessica. They were born to parents Gianni Bugno Simon (father) and Debbie Simon (mother).
Ashleigh's maiden name is Simon, and after marrying, she took her husband's last name Buhai.
While growing up in Johannesburg, South Africa, Ashleigh took up golf courses. However, she also played field hockey while attending Holy Rosary School, a private independent girls' Catholic School.
Buhai began playing golf at 6. As an amateur, she won the Acer South African Women's Open, once in 2004 and twice in 2007. Besides the victory, she represented her country thrice in the professional Women's World Cup of Golf. Ashleigh turned professional in 2007, right after her 18th birthday.
Who is the Husband of Ashleigh Simon Buhai?
The South African women's golfer has claimed a few major titles during her career. But did you know her husband also has a history of being a golfer?
Yes, Ashleigh Buhai's spouse, David Buhai, spent a year as an elite amateur golfer at Gavan Levenson's Golf Academy from November 2005 until December 2006.
David attended Sandringham High School in Johannesburg, South Africa. He first met his future wife, Ashleigh, at Gavan Levenson's Golf Academy, the same place where he played amateur golf.
Both David and Ashleigh began dating after first meeting in 2007. Therefore, the longtime couple were teenage sweethearts. The couple's common passion for the sport of golf brought them together.
Similarly, David Buhai served as a caddy for his wife for seven years in the LPGA and LET. The couple decided to part ways professionally after they got married in 2016. Scroll down to learn about their big day.
ALSO READ: Everything You Need To Know About Brittany Lincicome Husband: Know Their Love Story
She Said Yes: A Grand Gesture on the Golf Course
There are a number of caddie/player couples in the LPGA who establish a perfect professional partnership. On a similar note, David Buhai took an opportunity to profess his love during the Dubai Ladies Masters.
On December 12, 2015, Ashleigh Buhai was surprised by her boyfriend/caddie when a sign on the leaderboard appeared in front of her. As David had planned, "Ashleigh, Will You Marry Me?" flashed up, and he got down on one knee, eventually dropping the big question.
Although it was bound to happen someday, Ashleigh, still overwhelmed, said yes, and the two made a memorable moment in the season finale at Emirates Golf Club.
Afterward, David, while talking with the reporters, revealed that he wanted to propose to her in Dubai. Knowing that Ashleigh wouldn't expect it, he got his diamond dealer sister to make a ring.
Get To Know Ashleigh Buhai Husband, David Buhai: A Professional Caddy
One year after the engagement, Ashleigh married David Buhai on December 15, 2016. Their wedding ceremony took place at the Royal Johannesburg and Kensington Golf Club in South Africa. While the bride looked gorgeous in her wedding dress made by Vesselina Pentcheva, the groom looked handsome in a navy suit.
It has been almost seven years, but the couple doesn't share any children. As mentioned earlier, David is a professional golf caddy. However, he also competed on the South African Amateur circuit until the end of 2006.
From 2007 until 2008, David worked as a project manager at a Johannesburg Area-based company called Azikho Manzi, which dealt with waterproofing construction. Since January 2010, he has been a professional golf caddy at the Ladies European Tour. Moreover, David began working as a professional LPGA golf caddy in January 2014.
Nevertheless, Ashleigh Buhai is happily married to her former caddie, David Buhai. The couple, who has been together for 16 years, currently resides in South Africa. At present, David serves as a caddy for South Korean professional golfer Jeongeun Lee6.
FAQs
Q: Who is Ashleigh Buhai married to?
A: Ashleigh Buhai is married to David Buhai, her longtime boyfriend-turned-husband.
Q: Who is Ashleigh Buhai's caddy?
A: At present, Ashleigh Buhai's caddie is Tanya Paterson. However, her husband, David Buhai, was her caddie for seven years.
Q: What nationality is Ashleigh Buhai?
A: Ashleigh Buhai's nationality is South African, as she was born in Johannesburg, South Africa.
Q: What was Ashleigh Buhai's maiden name?
A: Ashleigh Buhai's maiden name is Simon.
Did you notice an error ?
Please help us make corrections by submitting a suggestion. Your help is greatly appreciated!