Real Life Stories
Against All Odds: Invincible Vince Papale And His Unforgettable Rise To Football Stardom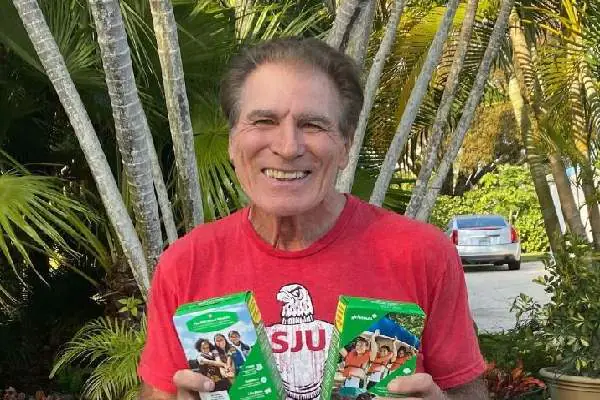 Invincible Vince Papale. Image Source: Instagram.
Every champion was once a contender who refused to give up, and Invincible Vince Papale's remarkable NFL journey teaches us to rise despite the odds. The 2006 Disney movie Invincible Papale is a story of a person who went from being the oldest NFL rookie to a worldwide famous celebrity.
Papale had a short football career, but his life story surpasses the game itself, inspiring and captivating against all struggles. When Vince would get on the field, the Philadelphia Eagles fans would go crazy as he joined the team as the oldest NFL rookie. Nicknamed Real Life Rocky (based on the character played by Sylvester Stallone), his story inspired generations of football enthusiasts.
From 1976-1978, Vince played as the Eagles' wide receiver and special teams. His teammates voted him the Special Teams Captain and Man of the Year by the Eagles in 1978. Unfortunately, a shoulder injury ended the NFL star's career in 1979. Afterward, Papale began working as a motivational speaker.
Vince Papale Parents: Role Model
Vincent Francis Papale was born on February 9, 1946, in Glenolden, Pennsylvania, U.S., to a mixed-ethnic family of Italian and American heritage. Vince's father, Francis (Frank) Papale, was a general worker, while his mother, Almira Sage, was a sportswoman. Vince lovingly had a nickname for both of his parents, Big Al for Almira and Kingie for Francis.
Coming from a huge family, Vincent's parents each had eight siblings. His Welsh mother, Almira, played shortstop for the Raphael Bobbies team in a women's hardball league in Philadelphia. She inspired Vince to take up sports, and as a result, he went on to excel at football, basketball, and track and field during high school.
Papale enrolled in Philadelphia's Saint Joseph's University on a track scholarship. There he won the U.S. Track and Field Federations college development pole vault. Similarly, he graduated with an MS degree in Marketing/Management science in 1968.
ALSO READ: Meet Notre Dame's Rudy Ruettiger: A Triumph of Determination and Dreams
Overcoming the Age Limitation: Becoming the Oldest NFL Rookie
After college, Vince became a teacher at Interboro High School and coached the junior varsity football team. In 1974 the Philadelphia Bell of the World Football League selected him as a wide receiver. It is unusual for an athlete to start a sports career later in life. Therefore, to join the team, Papale lied about his age, claiming to be 24 years old when he was really 28 at the time.
In both seasons, including 1974 and 1975, Vince was a special teams standout. In 1976, Papale met Philadelphia Eagles head coach Dick Vermeil. The team's general manager Jim Murray held the meeting after seeing Vince's performance during the Philadelphia Bell match.
Papale eventually made the team's members list therewith, becoming, at age 30, the oldest rookie in NFL history. Also, he was the only member to play without the benefit of college football experience. In 2001, he was diagnosed with colorectal cancer but later recovered and he encouraged people to get regular check-ups.
Invincible Vince Papale: Disney Made a Movie on His Life
In 2006, Disney released a biographical sports drama film, Invincible which showcased the story of Paple's extraordinary journey. The film stars actors such as Mark Wahlberg in the lead role, along with other actors Greg Kinnear, Elizabeth Banks, Kevin Conway, Michael Rispoli, Michael Kelly, etc.
For the preseason scenes, the team filmed at Franklin Field at the University of Pennsylvania. Similarly, the movie shows some of the crucial scenes in Delaplaine McDaniel Middle School, Our Lady of Mount Carmel School, and the Philadelphia Maval Business Center.
The movie collected over $57 million at the box office against the production budget of $30 million and generally received positive reviews from critics. Invincible Papale had a 72% approval rating on Rotten Tomatoes and has an average grade of A- on an A+ to F scale.
Although garnering favorable reviews, the movie had some real-life differences from Vincent's personal life. For instance, he started playing football in the late 60s before his semi-professional and pro football experience.
You might also want to read the upcoming NFL star Kamren Curl's biography.
Football Stardom Helped Launch Successful Ventures
Vincent and his wife, Janet Cantwell-Papale, have been married since August 1993. Like her husband, Janet is also a popular woman sportsperson. The former US World Gymnastic Team member, Janet, is a successful businesswoman and former world-class gymnast.
Janet has traveled all over the U.S. and the world, instructing and coaching gymnastics programs for Malaysia, Bermuda, and South Africa. She worked as a gymnastics coach for the University of Pennsylvania from 1976 until 1988. She met Vince in 1976 but later tied the wedding knot in 1993. Also, the couple has a huge age gap of eight years, as Janet's date of birth is 1954.
View this post on Instagram
The NFL star and his wife have two children, daughter Gabriella Papale and Vincent Joseph Papale, both of them are successful in their respective careers.
Gabriella graduated from Syracuse University in 2016 with a 'Sport Management' degree and an 'international business' major. A former cheerleader, she spent five years with the Philadelphia 76ers in the NBA. Started as an intern, and she later finished her career as the Game Presentation Manager.
Vinny is a rising football wide receiver for the Memphis Showboats of the U.S. Football League (USFL). He played college football as a wide receiver for the University of Delaware. Previously the celebrity golfer son, played for the Montreal Alouettes of the Canadian Football League (CFL)
Successful Real Estate Venture: The Papale Group
Together the family of four members founded the Papale Group. The Papale Group puts their clients with around-the-clock dedication and white glove service. Based in New Jersey, Pennsylvania, and South Florida, the group provides commercial real estate services and luxury home sales expertise.
Janet leads the team, and as a top producer and member of the multi-million dollar sales club, her expertise goes far beyond real estate sales.
Papale's remarkable journey inspired generations of football enthusiasts, leaving an enduring legacy. Invincible Vince Papale's story reminds us that dedication and an unshakeable belief in oneself can overcome even the most brooding challenges.
References
Gallen, P. (2023, June 14). Eagles legend Vince Papale on why "Invincible" still resonates. CBS News.
Vince Papale – Home. (n.d.). 
Newcomb, A. (2022). Everything Invincible Doesn't Tell You About The True Story. Looper.
Tucker, N. (2019, March 4). His very "Rocky" road to fame – Los Angeles Times. Los Angeles Times.
Staff, S. (2019, December 20). RECOVERING FROM A ROCKY START. Sports Illustrated Vault | SI.com.
Did you notice an error ?
Please help us make corrections by submitting a suggestion. Your help is greatly appreciated!