Real Life Stories
Where is Shavarsh Karapetyan Today? The Story of a Former Swimmer and A Real-Life Superhero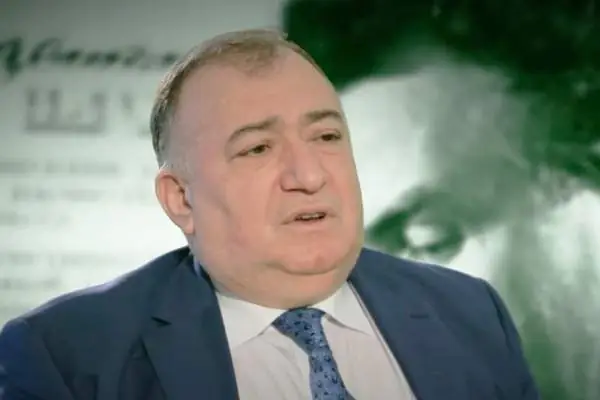 Shavarsh Karapetyan today. Image Source: Social media
To be a legend, one doesn't need to have extraordinary abilities but incredible willpower and good intentions. When Armenian fin swimmer Shavarsh Karapetyan did a heroic act decades ago, his heroism became an international folk tale.
For those who don't know about the 1976 Trolleybus incident, we suggest you read the article and learn about the retired finswimmer's legacy. As a fact, Shavarsh Karapetyan biography is a testimony to the statement that to be a superhero, one doesn't need a cape.
So dear readers, without wasting any more time, let's dive deep into one of Armenia's most popular figures, the Amphibian man's exciting stories, and learn where is Shavarsh Karapetyan today.
Early Life and Athletic Beginnings
Shavarsh Vladimiri Karapetyan was born on May 19, 1953, in Armenia, a former Soviet republic. The place where he was born is now called, Vanadzor (previously Kirivakan, then part of the Soviet Union).
As the oldest son, Shavarsh grew up with his two younger brothers.
Vladimiri's family moved to Yerevan, the capital city of Armenia, in 1964, where Shavarsh attended a technical school for auto-mechanics after finishing eight years of school.
Always a hyperactive kid, he would trouble his family by either running away, jumping off cliffs, or climbing tall trees. Therefore, his father enrolled him in sports gymnastics in 1966, and later, Karapetyan excelled at swimming and other big sports.
Karapetyan displayed a strong fondness for finswimming, an underwater sport involving techniques of using fins.
By the time he was 23, Shavarsh had already become a competitive swimmer with 17-time world championships, 13-time European championships, and a 7-time USSR championships title.
Karapetyan retired at age 24 with 37 gold medals and 11 world records in his name.
In 1975, Karapetyan served in a Soviet Air Defence Forces base in the Baku military district for a year. Further, he was considered an obvious choice to represent the Soviet Union in the 1976 Olympics.
ALSO READ: Where Is The Famous xkcdHatGuy Now? A Kid Whose Explanation About 4th Dimension Went Viral
1976: The Year Which Marked Karapetyan's Name In History As A Lifesaver
Already a world record breaker and an accomplished sportsperson, Shavarsh Karapetyan's heroic act in the 1976 incident brought him international applause and honors. On September 16, 1976, a trolley bus carrying 92 passengers went out of control and fell from the dam wall into the Yerevan reservoir, sinking to the bottom. At the same time, Karapetyan was jogging alongside his brother Kamo Karapetyan, who was also a finswimmer.
After Karapetyan heard the sound of the crash, the swimmer immediately jumped into the lake. The trolleybus lay at the bottom of the reservoir 25 meters (80 ft) off the shore at a depth of 10 meters (33 ft). Meanwhile, under conditions of almost zero visibility and sewage-infested waters, Shavarsh dove into the lake without any hesitation. Also, he successfully managed to break the back window of the trolley bus with his legs.
Knowing he had little time, Shavarsh took 25 to 30 seconds for each person he saved over the course of 20 dives. Shavarsh successfully rescued 46 out of the 92 passengers onboard, but only 20 people survived. Meanwhile, a few others escaped on their own through the window he broke at the backside.
Despite the extreme conditions and the personal risk involved, Karapetyan's determination, willpower, and strength helped him become a heroic figure as he risked his own life to save others. The extraordinary act serves as a powerful example of selflessness, bravery, and the indomitable human spirit.
Similarly, you might want to read about Vince Papale's inspiring story.
Symbol of Resilience: How a Lifesaving Act Ended His Sports Career?
Everything has a price, and Karapetyan's heroic act came at a personal cost. As the swimmer dove over 20 times in the icy water under challenging conditions, the combined effect of multiple deep cuts and cold water left the swimmer hospitalized for 45 days. Also, he suffered from lung complications with subsequent sepsis due to the presence of raw sewage in the lake water.
This condition led him to end his sports career, but his courage and determination in the face of danger saved numerous lives and inspired people around the world.
While Karapetyan became a local hero, his achievement was not immediately recognized. The Armenian district office kept all related photos and published the feature story two years later. Further, on October 12, 1982, a journalist named Komsomolskaya Pravda published an article titled, The Underwater Battle of the Champion covering Karapetyan's heroic act.
After this publication, Shavarsh Karapetyan became a household name in the USSR, and he received multiple awards and honors, including the Medal for the Salvation of the Drowning and the Order of the Badge of Honor.
Shavarsh's act of rescuing passengers trapped in a submerged trolley bus is a testament to his selflessness and courage. His heroism and remarkable actions became a symbol of hope and resilience, and his legacy continues to inspire and serve as a shining example of altruism.
Global Inspiration, Cultural And Media Recognition: Positive Impact On Armenia
The retired finswimmer Shavarsh Karapetyan's story garnered international attention and inspired people all across the globe. His selflessness and bravery touched hearts around the world, resonating with individuals who saw in him an embodiment of the values of compassion, empathy, and sacrifice.
Karapetyan's heroism brought positive attention to Armenia during a challenging time in its history. His actions provided a source of pride for the Armenian people and showed the world the resilience and bravery of its citizens. The lifesaver's story has been documented in various forms of media, including articles, documentaries, and television programs. His legacy continues to be celebrated and remembered in Armenia and beyond.
Where Is Shavarsh Karapetyan Today?
After retiring from competitive swimming, Karapetyan continued to be involved in sports and fitness. He also pursued various philanthropic activities, using his fame and influence to support charitable causes making a positive impact on his community.
Shavarsh Karapetyan today, as a former athlete, often promotes physical fitness, sports education, and community work through his social media platforms. Karapetyan is active on Instagram, and Facebook, where the Armenian native shares pictures of his past legacy and his current family moments. He is a grandfather who enjoys spending quality time with his wife, daughters, and grandchildren.
In conclusion, we hope Shavarsh Karapetyan biography and legacy have reminded you that individual actions, no matter how small or grand, can leave a profound mark on the world. His selfless act of heroism continues to inspire people to strive for the betterment of humanity and to be a force for good in their own lives and communities.
References
Did you notice an error ?
Please help us make corrections by submitting a suggestion. Your help is greatly appreciated!