Top Lists
Who is Apolo Ohno Fiancee Bianca Stam? Know The Reason For Their Break Up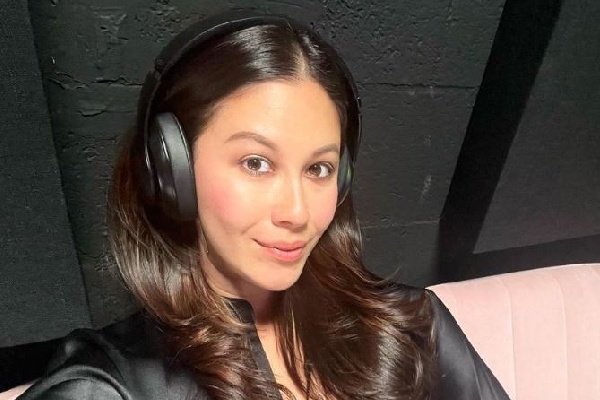 Apolo Ohno Fiancee. Image Credit: Instagram.
Apolo Ohno is a former competitive short-track skater. The most celebrated U.S citizen at the Winter Olympics, he was inducted into the International Sports Hall of Fame in 2017 and the U.S. Olympic Hall of Fame in 2019.
Not only a progressive career, but Apolo Ohno fiancee also decorated the skateboarder's life in a beautiful manner. Winning a total of eight gold medals in the Winter Olympics, Apolo became a legendary figure in the American household. But is he sliding the same way in his personal life? Scroll down to know more.
Who is Apolo Ohno Fiancee?
Apolo Ohno's fiancee, Bianca Stam, was born in 1991 in Chicago, U.S., to an Italian father and a Chinese mother. She is an actress and model who has appeared in a few Asian projects. Furthermore, Stam has modeled for Thrive Causemetics, Lorde Belle, and Hello Noemie Diamonds.
Stam lived in Lincoln Park until age 4, and she moved to Hong Kong to live with her grandparents. Bianca came back to Illinois to study communication at Millikin University in downstate Decatur because the university offered her a good financial package. In addition, Stam is a polyglot who can speak five languages: Italian, Cantonese, Mandarin, Taiwanese, and English.
Apolo Ohno and his partner, Bianca, first met at an art gallery in 2016. Their friendship progressed into a romantic relationship. The couple never missed a chance to shower their love for one another on social media. But are they still together, and most importantly, are they married?
ALSO READ: Who is Lizze Broadway Boyfriend? Romance, Heartbreak And Drama.
Gracing Smaller and Bigger Screens
Apolo Ohno's girlfriend, Bianca Stam, was always interested in modeling and acting. She made her acting debut in the 2017 acclaimed Chinese film Chasing the Dragon alongside Donnie Yen and Andy Lau. The same year, she produced a short documentary, The Beauty Machine, about women working in the media and entertainment industry in Asia.
In 2018, Bianca appeared in a recurring role as Elizabeth in Netflix's Chinese series OCTB, a popular Hong Kong local TV series. Also, she served as an executive producer of a television movie called Deviants, where she appeared in the lead role as Anya. Furthermore, Stam appeared as Diana Zhou in a Chinese movie, The Dark Soul.
In 2020, Bianca appeared in an episode of a television series, French Connection. She portrayed the role lead role of Tamara Nolan in the 2022 acclaimed horror short film The Tortured Soul. The film officially got selected for the 2022 McMinnville Short Film Festival.
Similarly, you might want to read about Ted Harbert Wife.
Bianca's Profession: A Model And A Restaurator
After appearing in a few local projects, Stam transitioned to American television and movies, debuting as Faith Cole in ABC's TV series Big Sky. The 5 feet 5-inch model is also the face of a multitude of campaigns, namely Target, Princess Cruise, Pechanga Casino, Thrive Causemetics, Simple Human, Ritz Carlton, and many more.
Both Apolo Ohno and his partner did extremely well in their respective career. Besides modeling and acting, Bianca is a restaurateur investor who owns a portion of an Italian restaurant named Bar Roma, which opened in Andersonville, Chicago, in 2016. She often shares pictures of the mouthwatering dishes on her restaurant's menu on Instagram.
Is Apolo Ohno's wife Bianca Stam?
It's always a sad moment when the longtime couple decides to split up. Apolo Ohno and his longtime girlfriend, Bianca Stam, got engaged somewhere in 2021. Meanwhile, the former Olympian organized a surprise birthday event for Bianca's 27th birthday in December 2021. On her social media, Stam thanked the love of her life, Apolo and her family.
While they were dating, Ohno and Stam traveled together to places ranging from New York to Las Vegas. The two appeared in an episode of LeBron James' TV show, The Wall, to raise funds for the charity Team USA Fund. Although it's unclear when they started dating, the two often shared lovely pictures (now deleted) on Instagram. They adopted a puppy together, a Sesame Mochi Ohno.
Although they haven't revealed the exact reason behind their separation, Apolo Ohno and Bianca Stam are no longer together. The exact date is not known, but it seems Bianca broke her engagement to Apolo in mid-2022. Bianca Stam now has a partner whom she lovingly calls the sunshine of her life.
While replying to one of her Instagram followers, Bianca said that she and her new partner met on a dating app, Bumble. Her boyfriend, whom she calls  C, works in finance, and he worked as a model as well. Recently, on October 10, 2023, Bianca shared a picture of her engagement with her fiance. She wrote that it was the easiest yes of her life despite only being a few months together.
FAQs
Q: Who is Apolo Ohno Fiancee?
A: Apolo Ohno was engaged to be married to Bianca Stam.
Q: Why did Aplo Ohno and Bianca Stam Break Up?
A: They broke up due to different career goals.
Q: Who is Apolo Ohno Dating Now?
A: He is single at the moment.
Q: Who is Bianca Stam fiance?
A: Bianca Stam recently got engaged to her partner she refers to as C.
Did you notice an error ?
Please help us make corrections by submitting a suggestion. Your help is greatly appreciated!