Top Lists
Who is Lizze Broadway Boyfriend? Romance, Heartbreak And Drama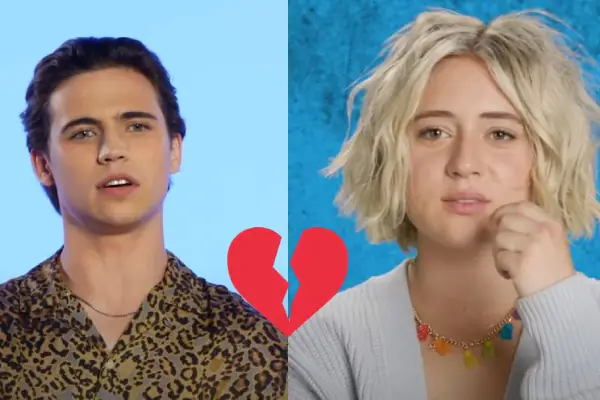 Lizze Broadway Boyfriend. Image Credit: Social Media.
Popular TV series, Gen V actress Lizze Broadway has a special place among her Gen-Z fans. The American actress is best known for her roles in Splitting Up Together, Here and Now, The Rookie, and American Pie Presents: Girls' Rule.
However, it's not just Lizze's on-screen presence that intrigues fans. Beyond the bright lights of Hollywood, the whirlwind dynamics of Lizze's romance, heartbreak, and riveting dramas leave one truly captivated. While many may be aware that Lizze Broadway boyfriend is Tanner Buchanan, the question remains: Are they still together? Let's find out.
Scene-Stealer in Gen-V: Who is Lizze Broadway?
The hype for Amazon Prime's superhero series, Gen-V, sure lived up to its expectations, and boy, it's a banger. The show stars talented actors like Jaz Sinclair and Chance Perdomo. However, Lizze Broadway, who appears as Emma Meyer, captivated audiences with her performance. Gen-V is a spin-off of The Boys, a popular superhero series on Amazon Prime.
Broadway is a rising talent in Hollywood, gracing her presence on both small and big screens. She was born on February 16, 1998, in Ohio, United States, to school teacher parents. At 9, she relocated to Los Angeles and landed guest roles on television shows.
In 2023, Lizze appeared in the Apple TV+ movie, Ghosted alongside Chris Evans and Ana de Armas. The same year, she appeared on Peacock's comedy series Based on a True Story opposite Kaley Cuoco.
ALSO READ: Ilia Isorelys Paulino Biography: A Promising Talent in Hollywood.
Meet Lizze Broadway Boyfriend: Beloved Couple
From Brad Pitt and Angelina Jolie to Ben Affleck and Jennifer Lopez, one thing is common in their relationship. They are extremely good-looking, and they are global superstars. Fans, as well as movie fanatics, always obsess over their beloved celebrities. Likewise, Lizze Broadway and Tanner Buchanan are no exception.
Although it's unclear when exactly the two got into a relationship, Broadway revealed her dating history in Anna Faris's podcast, Unqualified. Talking to Faris, Lizze mentioned that she started dating Buchanan in 2015 when she was 17. Therefore, they really were childhood sweethearts.
Lizze and her partner, Tanner, briefly broke up in their teens. Similarly, there were some misunderstandings, which led the couple to part ways for a short time. But how about their current relationship status? Scroll down to know more.
What Led To Their Short Break-Up?
In the August 2021 podcast with Faris, Lizze said that she decided to split with Buchanan somewhere in 2015. Meanwhile, the Cobra Kai famed actor, Buchanan, said his behavior caused the pair to split up. As per the actor, he was taking his relationship for granted, not realizing he was hurting his partner.
However, Tanner soon won over Lizze, and they got back together after realizing they didn't want to be apart. In July 2019, Lizze and her boyfriend Tanner attended Comic Con. Similarly, they posted a BTS video about their experience on their joint YouTube channel, 'Lizze & Tanner.' But sadly, they haven't posted any videos lately.
Similarly, this might interest you: Facts about Pierre Boo And Nicky Champa Breakup.
Are Lizze Broadway and Tanner Buchanan Still Dating? Know The Truth
Just like any other celebrity couple, Lizze Broadway and Tanner Buchanan are constantly under the clicks and flicks of paparazzi. So, it is almost impossible for them to maintain a private life behind the screen. That's why few actors chose alternatives such as deleting their romantic pictures on social media and making few public appearances.
In late 2020, a rumor sparked about Broadway and Buchanna's break up after they seemingly deleted their pictures together on Instagram. This act soon led their fans to believe that they had split up.
At the 2021 MTV Movie and TV Awards, Buchanan kissed Addison Rae, his co-star from the 2021 movie He's All That. This event fueled the rumors of Lizze and Tanner's breakup. But later, it was revealed that it was actually a PR stunt made by Rae and Buchanan to shock their viewers.
Following the controversy, in August 2021, in a YouTube video for GQ, Tanner publicly confessed his relationship with Broadway by replying to a fan's question if he had a girlfriend. He proudly mentioned that Lizze Broadway is his girlfriend.
Who is Lizze Broadway Dating Now?
Amidst the breakup rumors and speculations, Lizze and Tanner were spotted on a romantic vacation in Venice, Italy, in mid-2021. But there are a few factors that suggest the beloved couple have officially parted ways.
For those who follow Tanner Buchanan you know he is one of the main cast of Neflix's Cobra Kai, one of the most popular TV series. In the show, fans applauded Tanner and Mary Mouser's chemistry.
Mary, an American actress, was also seen spending more time with her co-star. They were seen together at Disneyland Paris for ComicCon in December 2022.
Now, talking about Lizze Broadway's current relationship status, she once wrote about being single in her Instagram story in early 2023. It seems Lizze Broadway and Tanner Buchanan are no longer together despite them trying to work on their relationship.
Well, all these dramas, break-ups, and link-ups are a little confusing for their fans. As of now, there's no revelation regarding Lizze Broadway Boyfriend following her split from Buchanan.
Did you notice an error ?
Please help us make corrections by submitting a suggestion. Your help is greatly appreciated!