Top Lists
5 Shocking Facts About Kulture Kiari Cephus: First Born of Cardi B and Offset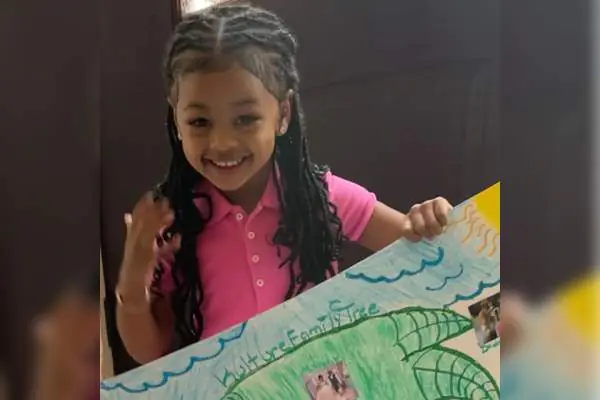 Kulture Kiari Cephus. Image Source: Instagram.
Prepare to be amazed as we unravel the fascinating hidden truths about Kulture Kiari Cephus, the darling daughter of power couple Cardi B and Offset. Since her arrival in 2018, this small wonder has undoubtedly won over countless hearts through endearing moments meticulously shared on various social media platforms.
However, beneath these seemingly ordinary glimpses into her life lie astonishing facts that have remained concealed from public knowledge. Get ready for an extraordinary journey as we reveal five mind-blowing secrets about young celebrity child Kulture Kiari Cephus that will leave you utterly astounded.
From decoding the origin of her unique name to delving into her prodigious accomplishments at such a tender age – stick with us until the end as we explore interesting aspects surrounding Cardi B and Offset's beloved firstborn.
5. The Inspiration Behind Kulture's Name Will Leave You Surprised
Kulture Kiari Cephus' unique name has been a topic of discussion since her birth. Her name is a combination of her father's rap group Migos albums, Culture and Culture II. The hip-hop group Migos, consisting of Offset and his fellow rappers Quavo and Takeoff, released these albums in 2017 and 2018, respectively.
"Hey, Offset, what do you wanna name the album?"
Offset: "Culture…"
"Okay, what about the second album?"
Offset: "Let's doooo…. Culture II."
"Offset, you're about to have a baby! What do you wanna name her?"
Offset: "Kulture!!!! But…with a K this time."

— Rebecca (@RebeccaEstherC) July 11, 2018
In addition to her first name, Kulture's middle name, Kiari, is named after Offset's real name Kiari Kendrell Cephus.
The name Kulture is not only unique but fitting for the child of two successful musicians who have made a mark in the music industry. Kulture's name has become a part of her identity and has been well-received by many of her fans.
4. From Cardi B to Offset: Kulture's Multicultural Heritage and Star-Studded Family Background
Kulture comes from a diverse background with connections to the Dominican Republic, Trinidad, and Tobago. Her mother is Cardi B, who was born in the Bronx, New York, to a father from the Dominican Republic and a mother of Trinidadian descent. On the other hand, her father, Offset, hails from Lawrenceville, Georgia, with African American roots.
Kulture also has three older half-siblings from Offset's previous relationships: Jordan Cephus, Kody Cephus, and Kalea Cephus. Her mother, Cardi B, has emphasized the importance of her daughter embracing and understanding her diverse heritage. In addition, Offset and Cardi B welcomed their second child named Wave Set Cephus, thus making Kulture an older sister.
Cardi regularly shares photos on social media that depict Kulture celebrating various cultural events and traditions. In addition to having a multicultural background, Kulture is born into a family well-known in the entertainment industry.
View this post on Instagram
Cardi B is an acclaimed rapper and actress who has won Grammy awards for her work. Likewise, Offset contributes his talent as a member of the highly successful hip-hop group Migos. Both parents have candidly spoken about their experiences navigating triumphs and obstacles in the music industry; Cardi B holds the title of being the first female rapper with a Diamond-certified single, while Offset also shines as an accomplished producer and songwriter.
ALSO READ: Know Facts About Hula Hoop Dancer Plus Henna Artist Hope Schwinghamer.
3. Kulture Is Already An Actress
Miss Cephus is the voice actress in the making. She has made a cameo appearance alongside her mother, Cardi B, in Baby Shark's Big Show! And also been credited for a role in the upcoming animated film Baby Shark's Big Movie! as Kulture Sharki.
Kulture will be venturing into the world of voice acting for the very first time, and it is truly thrilling to witness her embrace new prospects at such a tender age. While it might be premature to speculate on what lies ahead for Kulture, there is certainly no denying that she possesses immense potential for success within the realm of entertainment.
2. How Kulture Kiari Cephus Became an Instagram Sensation at Just 4 Years Old
Four-year-old Kulture has risen to fame on Instagram, all thanks to her parents' active presence on social media. Her mother and father frequently share delightful pictures and videos of little Kiari on their personal Instagram accounts. These posts not only highlight Kulture's charming personality but also showcase her innate abilities.
Kulture's social media account on Instagram, which is supervised by her mother, boasts a staggering 2 million followers. It showcases captivating pictures and videos of Kulture engaging in dancing, singing, and playing activities. Fans have showered praise upon these adorable posts for both the cuteness factor as well as Kulture's innate talent.
Although it is her parents who actively manage Kulture's online presence, it becomes evident that she has already garnered a considerable fan base of her own. Through her active participation on social media platforms like Instagram, fans are granted an intimate glimpse into Kulture's life and charming personality, thus affirming the bright future awaiting her within the entertainment industry.
Similarly, you would love to explore facts about Enzo Fittipaldi's girlfriend.
1. Kulture's Role as a Big Sister to Wave Cephus
On September 4, 2020, the young Instagram star took on the role of an older sister after Cardi B and Offset welcomed their son named Wave Set Cephus. Since then, Kulture has fully embraced her new role as a big sister, and her parents have shared numerous photos and videos on social media showcasing the bond between Kulture and her baby brother, Wave.
Being a big sister must have provided Kulture with valuable opportunities for personal growth and learning. It is heartwarming to witness the strong connection she shares with her sibling at such a young age.
Despite being just four years old herself, Kulture already exhibits natural talent as well as an affectionate personality. Observing how she nurtures and supports her younger brother is truly exciting. We are excited to see the sweet girl of Cardi B and Offset grow into a fine amazing lady.
Did you notice an error ?
Please help us make corrections by submitting a suggestion. Your help is greatly appreciated!