Top Lists
Everything You Need To Know About DJ Melzi Girlfriend: Did He Cheat On Her?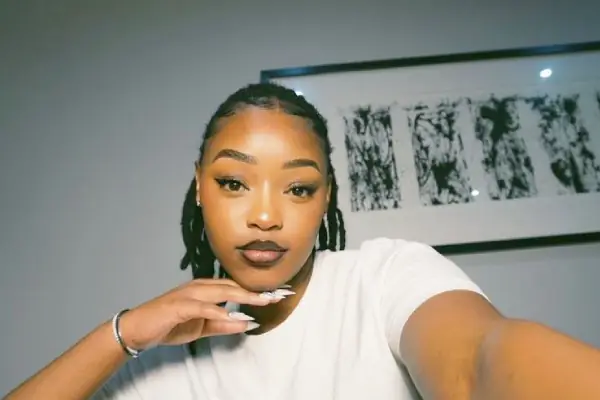 DJ Melzi Girlfriend. Image Credit: Instagram.
At a young age, the South African sensation DJ Melzi has done so much for himself. He is a record producer and the founder of Melzi Events, a music label through which he released a string of hit singles.
The platinum-selling artist DJ Melzi girlfriend, Andiswa Selepe, also known as "The Bomb," is quite popular on social media. Further, the couple is engaged to be married. However, in a recent statement, DJ Melzi spitted some facts about his relationship.
Amidst the cheating scandals and breakup rumors, Dj Melzi's "wife," Andiswa, has preferred to stay silent. But, she has addressed the situation in a positive manner. Scroll down to know the actual details.
Who is DJ Melzi Girlfriend, Andiswa The Bomb Selepe?
Andiswa The Bomb is a social media star who was born on April 11, 2003, in South Africa.
Selepe has over a million Instagram followers and over 100k YouTube subscribers. She posts lifestyle content, including vlogs and lip-syncing videos, on her TikTok and YouTube accounts.
In March 2023, Andiswa hosted the red carpet event of Miss Teen Universe South Africa.
While in high school, she met South African artist DJ Melzi and got engaged. The couple frequently make headlines on social media for their relationship.
DJ Melzi calls Andiswa, his wife despite not being married.
Sparked Rumors of Cheating
Ever since DJ Melzi (Tumelo Mphai) has gained popularity, fans have been curious about his dating life. The artist himself seemed happy with his fiancee, Andiswa Selepe, a social media star. The allegations of DJ Melzi's cheating began in late 2021 when he was spotted dropping off another woman.
However, Melzi set the record straight, saying that he was asked to drop off the girlfriend of his road manager's friend. Also, he revealed that the story was old, but it came back again when someone posted the video on social media. After the snaps of DJ Melzi and his "side-chick" went viral, the record producer was immediately caught up in a cheating scandal.
Soon, Melzi trended on Twitter (now X), and fans were questioning his relationship with Andiswa. But the DJ said everything was good between him and his fiancee. He said there was nothing to worry about as Andiswa believed him and not the baseless rumors.
ALSO READ: Who is Lizze Broadway Boyfriend? Romance, Heartbreak And Drama.
DJ Melzi Mistreating his Fiancee?
Andiswa The Bomb got engaged to Dj Melzi while she was still in high school. It's common for youngsters to get lost in the vast pool of fame and fortune. So, when the DJ was repeatedly trending on social media, people believed he was treating his fiancee badly.
The South African star denied all the allegations that he cheated on his girlfriend, Andiswa. On April 11, 2022, he celebrated Andiswa's birthday. He expressed his admiration for her growth and her strength in overcoming challenges. Meanwhile, Selepe, on her YouTube channel, uploaded a vlog confirming that everything was fine in their relationship.
Between all these back-and-forth comments, how did his influencer "wife" handle the situation? Amidst the cheating scandals, Andiswa cautiously addressed the matter. She said to her fans that she would not entertain any baseless rumors. Similarly, Melzi, on his social media, shared pictures and videos of them together.
The DJ Gets Caught Cheating Again
In September 2023, a self-claimed model, @lallah_top_model, posted a video on TikTok explaining that she was asked out by DJ Melzi on Instagram. She said she didn't know he was married. But when she later found and asked him, the record producer claimed that his marriage to his wife was just a publicity stunt.
Dj Melzi's alleged "side-chick" @lallah_top model posted another video (now deleted) on TikTok, where the DJ was caught sleeping with a woman on the same bed covered in a blanket. The video soon became viral on TikTok, and several users made negative comments. Meanwhile, people were also blasting Andiswa for not being able to face her cheating fiance.
Andiswa hasn't said anything on her social media about DJ Melzi's cheating scandals. Since 2021, the artist has occasionally got caught up in scandals. But this time, he was properly recorded in a video sleeping with another woman. But the truth has been hidden from all of us.
Similarly, you might want to read the drama about Apolo Ohno's Fiancee Bianca Stam.
Reacting to the Allegations: Made His Side-Chick Pregnant?
Did DJ Melzi get his side chick pregnant? Talking with Gogo Skhotheni on her YouTube channel, DJ Melzi shared his side of the story on cheating rumors, his fiancee, Andiswa, and his music career.
Sometimes, it can become a lot of pressure with social media. So, more fuel was added when DJ Melzi's side chick announced that she was pregnant with his child. But, the artist defended himself on Skhotheni's YouTube channel.
Melzi said he slept with another woman on the same bed, but he didn't have any physical intimacy. When asked about how the girl became pregnant, Melzi revealed that she lied just to get attention. When his lawyers approached the girl, she admitted to lying and that she was just trying to get attention. Further, Melzi said he had proof and recordings as well.
Are DJ Melzi and Andiswa the Bomb Still Together?
Although Andiswa hasn't talked publicly about her fiance's cheating scandals, she once posted a video on her Instagram. As per the YouTube star, she doesn't focus on negative things, and she believes her soon-to-be husband.
Dj Melzi girlfriend plus fiancee, Andiswa, is personal about her love life. So, she prefers not to make a big issue out of her relationship. Further, when asked if he and Andiswa are still together, Melzi revealed his fiancee is getting along fine.
FAQs
Q: Who is Andiswa "The Bomb" Selepe?
A: Andiswa is a social media star popular on Instagram, TikTok, and YouTube.
Q: Who is Andiswa Selepe Husband?
A: Andiswa Selepe fiance is DJ Melzi, a South African artist.
Q: Is Andiswa Selepe married?
A: Andiswa is engaged to DJ Melzi. The two got engaged while she was in high school.
Q: Did DJ Melzi cheat on his fiancee?
A: DJ Melzi has denied all the accusations of cheating.
Q: Are DJ Melzi and Andiswa Selepe still together?
A: Yes, DJ Melzi and Andiswa Selepe are still together.
Did you notice an error ?
Please help us make corrections by submitting a suggestion. Your help is greatly appreciated!