Top Lists
5 Mind-Blowing Facts About Dr. Mike Varshavski and Pia Wurtzbach Relationship: Were They Really Dating?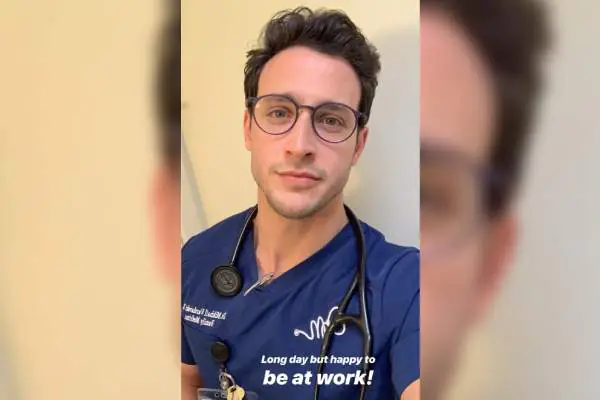 Dr. Mike Varshavski and Pia Wurtzbach. Image Source: Instagram.
For fans of Dr. Mike Varshavski and Pia Wurtzbach, relationship facts between the doctor-turned-internet sensation and the beauty queen-turned-actress have long swirled.
From how they really met, to signs they may have already split, here are five mind-blowing facts about Dr. Mike and Pia's whirlwind romance that left many questions unanswered: Were they really dating, or was it just a rumor?
5. Knowing Dr. Mike
When a young doctor first started posting medical videos on YouTube, there was a mere chance that it would launch a massive online platform shaping the future of healthcare. Yet that is exactly what Dr. Mikhail Varshavski, or Dr. Mike, has done.
Moving to a new country at a young age, he persevered to fulfill his dream of becoming a physician. But Dr. Mike did not stop there. He used his medical background and natural communication skills to educate and inform people on important health topics in an accessible way.
As his social media following grew, Dr. Mike realized he had a responsibility to provide reliable information that could improve people's lives. During the COVID-19 pandemic, when misinformation spread rapidly, he stepped up by prioritizing fact-based reporting and expert commentary. His donations and fundraising efforts showed his commitment to making a tangible difference.
Dr. Mike's impact extends far beyond his massive online audience. His appearances in mainstream media help bring credible medical voices to the forefront. His charity work gives opportunities to underserved youth. And his lectures and seminars share knowledge that benefits the entire healthcare community.
Despite his success, Dr. Mike remains humble, focused on his true mission: empowering people to make better health choices. His story shows the positive impact one motivated individual, armed with determination and a desire to help others, can have in the digital age.
Not to mention Dr. Mikhail Varshavski boxing career, Varshavski made his amateur boxing debut against influencer iDubbbz in May 2022 at the Creator Clash boxing event. On top of that, he was featured in People's Magazine as The Sexiest Doctor Alive in 2015.
4. Knowing Pia Wurtzbach
When Pia Alonzo Wurtzbach was crowned Miss Universe 2015, she made history as the first Filipina to win the title in four decades. Yet her journey to the crown revealed so much about her grace, perseverance, and charm.
Born in Germany to a Filipino mother and German father, Pia embraced her multicultural roots while proudly representing her Filipino heritage. She began modeling at age 11 yet stayed focused on her studies, graduating from ABS-CBN Distance Learning Center. She also pursued a culinary degree, showing her diverse interests and talents.
Pia first joined the Binibining Pilipinas pageant at age 22, placing as first runner-up. Undaunted, she tried again two more times before finally winning at age 25. History was made when she triumphed at Miss Universe, captivating the world with her wit, beauty, and glowing smile.
As Miss Universe, Pia confidently shattered stereotypes with her substance and poise. She represented her country and culture with honor while advocating for important causes. Even after passing on her crown, Pia has remained active in social advocacy through her foundation.
Off the stage, Pia found love and happiness, marrying her partner in 2023. Yet she remains grounded, staying close to her family and fondly recalling her days growing up in Manila.
ALSO READ: 5 Unknown Facts About Spanish Supermodel Esther Canadas : Who is She Dating Now?
3. When Eyes First Met
Dr. Mike Varshavski and Pia Wurtzbach first crossed paths during New York Fashion Week in 2016.
From that initial meeting, a friendship began to blossom. Pia spoke of Dr. Mike as a gym buddy she worked out with regularly. Their bond grew as they spent time together, bonding over their shared interests in fitness, health, and wellness.
As their new friendship developed, Pia and Dr. Mike began posting photos together more frequently on social media. Dr. Mike's joking caption on an Instagram photo of the pair fueled speculation among fans that there may be more than friendship between them.
Though Pia initially downplayed rumors of a romance, Dr. Mike soon publicly confirmed that they had begun dating. He expressed his excitement about their budding relationship and where it might lead.
Despite Pia's attempt to maintain focus on her Miss Universe duties in the early days of their courtship, it is clear their friendship evolved into something more meaningful. Their story demonstrates how simple encounters and time spent together in an authentic way can form the foundation for deeper connections and love.
2. The Bonds That Strengthened
Their bond slowly deepened as they spent more time together. Pia opened up about Dr. Mike adjusting to the traditional ways of Filipino courtship. This revealed an eagerness on his part to understand her background and culture.
Dr. Mike's openness about their courtship suggests he was attentive and thoughtful towards Pia from the beginning. His respect for her priorities and patience with cultural differences helped lay the foundation for a lasting partnership.
Over time, small gestures and genuine enjoyment of each other's company allowed their bond to deepen on an emotional level beyond friendship. As intimacy and mutual understanding grew, so did their feelings for one another.
Though they kept the romance under wraps at first, cautious of the scrutiny that comes with fame, Dr. Mike's public confirmation reflected a new seriousness to their connection and a desire to be open about their relationship.
It is clear Dr. Mike Varshavski and Pia Wurtzbach's relationship blossomed from the healthy soil of an authentic friendship, nourished over time by care, communication, and a willingness to understand each other's worlds.
Similarly, you might be interested to know about Emily VanCamp and how she accumulated her wealth.
1. Going Their Separate Ways
After a while of dating, Dr. Mikhail Varshavski and Pia Wurtzbach's relationship came to an end. Neither party has publicly commented on the specific reasons for their breakup or provided details about how their relationship ended.
After breaking up with the Russian-born doctor, Pia Wurtzbach got into a relationship with Scottish entrepreneur Jeremy Jauncey. Eventually, they got engaged after a two-year-long relationship. Their marriage took place in a wedding venue on North Island, Seychelles, on March 24, 2023.
View this post on Instagram
On the other hand, we have no knowledge of Dr. Mikhail Varshavski girlfriend. Regardless, we look forward to the news about the internet-famous Dr. Mike's relationship blossoming in the near future.
References
Did you notice an error ?
Please help us make corrections by submitting a suggestion. Your help is greatly appreciated!