Net Worth
5 Interesting Facts About Gwendoline Christie Net Worth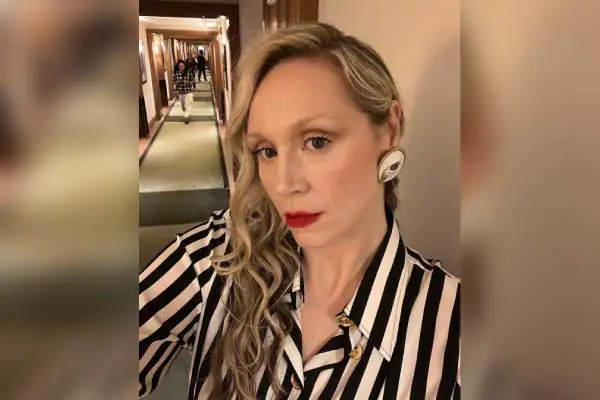 Gwendoline Christie Net Worth. Image Source: Instagram.
The 44-year-old English actress Gwendoline Christie doesn't need any introduction for those familiar with the popular fantasy drama Game of Thrones. From 2012-2019, Christie portrayed the character of Brienne of Tarth in the series. Similarly, she appeared in two of the biggest Star Wars movies, which boosted her net worth and financial possessions.
The 6 feet 3-inch actress is widely known for her other television appearances such as Wednesday, The Sandman, Star Wars Resistance, etc.
No doubt Gwendoline is one of the most sought-after actresses in showbiz. Stay with us as we look at 5 interesting facts about Gwendoline Christie net worth.
5. Acting in Fan Favorite Shows Contributed to Gwendoline Christie Net Worth
As per some websites, Gwendoline Christie net worth is $4 million. With a career spanning over 17 years, her remarkable professional career in theatre, film, and tv contributed to this lucrative success.
Gwendoline Christie's fortunes accelerated after appearing in GOT, where the lead actors reportedly earned $1.2 million per episode for the final season. The ensemble cast received over a million dollars, including lead actors Kit Harrington, Emilia Clarke, Peter Dinklage, Lena Headey, and Nikolaj Coster-Waldau.
Meanwhile, supporting actors Maisie Williams, Sophie Turner, and Issac Hempstead Wright earned more than $175,000 per episode. Therefore, as Gwen appeared in a recurring role for all the seasons, she might have earned over $100,000 per episode.
Apart from her active participation in television, Gwen Christie received a decent salary from her role in blockbuster movies.
| | | |
| --- | --- | --- |
| Year | Movie | Box-Office Collections |
| 2009 | The Imaginarium of Doctor Parnassus | $64.4 Million |
| 2015 | The Hunger Games: Mockingjay – Part 2 | $653.4 Million |
| 2015 | Star Wars: The Force Awakens | $2.066 Billion |
| 2017 | Star Wars: The Last Jedi | $1.333 Billion |
| 2018 | The Darkest Minds | $41.1 Billion |
Table Source: BoxOfficeMojo
In 2015, Gwen became the epicenter of two commercially blockbuster movies. The Hunger Games Mockingjay-Part 2, in which she appeared as Commander Lyme, collected $653.4 million at the box office. Similarly, Star Wars: The Force Awakens, in which she played the role of Captain Phasma, made over $2 billion.
Gwen reprised her role as Captain Phasma in Star Wars: The Last Jedi, and the movie earned over $1.3 billion. Gwendoline definitely has decent financial riches as a part of such high-grossing movies.
4. Breakthrough and Recognition
The Darkest Minds actress began her career in 2006 as a theatre actor and a year later appeared in the 2007 short film The Time Surgeon. Since the beginning of her career, talent agencies and directors noticed Gwen's stunning height. This led the casting directors to star her in typical roles such as officers or royal bodyguards.
Between her other stints came breakthrough bodyguard roles in Game of Thrones and two Star Wars movies. These shows propelled Christie's name across the top charts in Hollywood's TV industry. In 2019, she earned her first Primetime Emmy Award nomination for Outstanding Supporting Actress.
Gwen's portrayal of the loyal and honorable warrior, Brienne of Tarth, earned her numerous fans and critical acclaim along with financial stability. From 2011-2019, she reportedly made over a million dollars from the show, which definitely added to her net worth.
Apart from films and tv shows, Christie performs in some of the best theatres across England, contributing to her popularity and subsequent career opportunities.
3. Success From Star Wars
Christie had a prominent role in the Star Wars franchise as Captain Phasma, the stormtrooper commander in the sequel trilogy. This role further boosted her profile and allowed her to showcase her talent to a broader audience. Her involvement in such a popular and iconic franchise undoubtedly influenced her financial success. Although as not higher as her co-stars, Gwen received a decent paycheck for her portrayal in the sequels. 
The movie had an ensemble cast including Harrison Ford, Mark Hamill, Carrie Fisher, Oscar Issac, etc. It grossed $2 billion worldwide and became the highest-grossing film of 2015. Similarly, Star Wars: The Last Jedi became the highest-grossing film of 2017 and received four nominations at the 90th Academy Awards.'
ALSO READ:  The Impressive Financial Journey of the Acclaimed Actor, Djimon Hounsou
2. Gwen Did Modeling Before She Got Acting Gigs
Before acting, Christie worked as a model and a muse. The actress has walked for high-profile fashion designers like Vivienne Westwood and Miu Miu. Similarly, she tracks her extraordinary rise as a fashion fixture. As a fashion enthusiast, she participated in fashion campaigns and starred in the Fall 2015 Vivienne Westwood campaign.
Meanwhile, Gwen and her partner, Giles Deacon, work on designing women's accessories and apparel. Also, Giles has created numerous eye-catching dresses for Christie. The duo, as fashionistas, compliments each other financially and emotionally.
During an event, Kate Moss offered her representation with her agency. Similarly, in 2017, Jane Campion cast her as a rookie detective opposite Elisabeth Moss in the second season of Top Of The Lake.  Recently at Dior's Menswear Show in June 2023, Christie was named the best-dressed person.
1. Diverse portfolio of strong woman portrayals helped Gwen amass a lucrative fortune
As an actor, Christie's involvement in Game of Thrones, Star Wars, and The Hunger Games movies showed that audiences want to see a diverse representation of women. Throughout her decade-long career, the former gymnast demonstrated her versatility by taking on a variety of roles across different genres.
Of her towering height, Hollywood began typecasting Christie in the typical royal bodyguard role. However, with a much-needed self-belief, Gwen began experimenting with serious and dark roles. These experiences led her to star in numerous household projects such as Giantbum, In Fabric, Welcome to Marwen, etc.
Although these projects failed to collect a decent remuneration, Gwen was paid a hefty sum of amount as a salary. Gwen's ability to portray diverse characters has contributed to her success and financial standing in the entertainment industry.
The exceptional actress' performance as Larissa Weems, the shapeshifting principal of Nevermore Academy in the Netflix comedy horror series Wednesday, was met with wide acclaim. In the series, she appeared alongside another talented actress Jenna Ortega.
Trivia
Gwendoline was born on October 28, 1978, in West Sussex, England, UK.

She trained as a gymnast as a child, but after a spine injury, she took up acting.

Christie is known for incredibly tall height, but she was bullied for her height when she was younger.

Christie's partner, Giles Deacon, is also a high-profile designer in England. He is one of the most sought-after designers who graduated from London's St Martins College of Art and Design.
Gwen and Giles have been dating since 2013.
References
Reporter, G. S. (2019, June 12). Gwendoline Christie: 'Playing Brienne of Tarth changed my life. I feel emotional.' The Guardian.
Gonzales, E., & Jones, A. (2021, November 2). Game of Thrones Stars Could Be Making Millions Per Episode in the Final Season. Harper's BAZAAR.
Brown, L. (2022, February 24). Women Who Dare: Gwendoline Christie. Harper's BAZAAR.
Nutburn, A. (2019, May 19). Is Gwendoline Christie married? What has she said about the Game of Thrones final, and what will she do. The Sun.
Warner, B. (2022, October 22). Gwendoline Christie Net Worth | Celebrity Net Worth. Celebrity Net Worth.
IMDb. (n.d.-b). Gwendoline Christie. IMDb.
Did you notice an error ?
Please help us make corrections by submitting a suggestion. Your help is greatly appreciated!