Medicine
Dr. Michael Ellis DeBakey Biography: A Pioneer in The Development of An Artificial Heart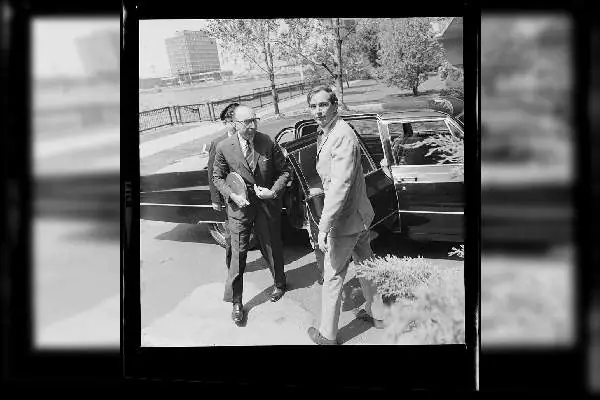 Dr. Michael Ellis DeBakey Biography Image Source: Wikimedia Commons.
Full Name

Michael Ellis DeBakey

Age

99 yrs

Birth Date

September 7, 1908

Country

America

Relationship Status

Married

Spouse

Diana Cooper ​ ​(m. 1937; died 1972),​ Katrin Fehlhaber (m:1952)

Nationality

Lebanese-American

Profession

General cardiovascular surgeon

Children

Michael Maurice, Denis Alton, Ernest Ochsner, Barry Edward and Olga Katarina

Awards and honors

Presidential Medal of Freedom, Lasker Award

Education

Tulane University,

City

Texas

Death Date

July 11, 2008
From space exploration to nanotechnology, artificial intelligence to vaccines, human triumphs in the field of science and engineering are extraordinary. Today we will witness such a celebrated person in Dr. Michael Ellis DeBakey biography, a cardiovascular surgeon, scientist, and medical educator, who revolutionized the dominion of cardiovascular medicine. His significance and pursuit of innovation continue to inspire and shape the future of medicine.
Dr. DeBakey's legacy extends far beyond his surgical dexterity. During his 70-year medical career, he saved thousands of patients and received numerous prestigious awards. Michael DeBakey is a pioneer in the development of an artificial heart, among other innovations, such as prosthetic vascular substitutes and the development of ventricular assist devices.
Dr. Michael Ellis DeBakey Early Life: Born to Lebanese Emigrants
Michael Ellis DeBakey was born on September 7, 1908, in Lake Charles, Louisiana, United States, to father Shaker Morris and mother Raheeja Debaghi.
Both of his parents were Lebanese emigrants who married in the U.S. after meeting one another. Michael's father came to the U.S. when he was a teenager and later became a successful drugstore businessman. Similarly, Raheeja was an accomplished seamstress who taught sewing classes to the local women.
Growing up, Michael had an influence from his parents. He learned sewing from his mother, and by 10 learned to sew and design his own shirts. Likewise, DeBakey used to work in his father's drugstore, which led him to meet with several physicians. This experience led him to develop a deep interest in medicine.
As a boy with diverse interests, DeBakey played saxophone and studied biology, literature, French, and German. The surgeon received undergraduate and medical school education from Tulane University.
DeBakey received a Bachelor of Science degree in 1930 and an M.D. in 1932. Afterward, he joined the New Orleans Charity Hospital and worked as an assistant for a prestigious vascular surgeon. This experience led to a foundation for his medical adroitness, and then he embarked on a career that spanned over seven decades.
DeBakey Siblings in the Field of Medicine
As the oldest child of the DeBakey couple, Michael grew up with four other siblings, brother Ernest DeBakey and three sisters, Selma DeBakey, Selena DeBakey, and Lois DeBakey. All of them grew up with the highest societal principles of integrity and dedication, which helped establish their name in the medical industry.
In 1968, Baylor College of Medicine, Texas, recruited Selma and Lois as professors of scientific communication. During their tenure, the sisters supported the vision and global activities of their brother, Michael. At the time, he was chairman of Baylor's Department of Surgery.
The DeBakey sisters were the pioneer of biomedical communications and are still considered icons.
Selma served as the founding editor of the Cardiovascular Center Bulletin. Similarly, Lois worked for many prestigious editorial boards, including the Journal of the American Medical Association.
Regarding Michael's only brother, Dr. Ernest DeBakey specialized in cardiovascular surgery and rapidly gained recognition for his surgical skills and innovative techniques. He was one of the preeminent general surgeons in South Alabama. Dr. Ernest's career spanned over six decades, and performed over 40,000 major surgical procedures.
Second World War and PostWar Surgical Training
During the Second World War, Dr. Michael served in the US Army's surgical consultants division in the Office of the Surgeon General of the Army. For his role in caring for the wounded servicemen and veterans, DeBakey was awarded the Legion of Merit award in 1945.
As a world war veteran, Michael was determined to improve medical care, therefore establishing the Veterans Administration and the Medical Follow-Up Agency. At present, his medical advances contributed so much to the world.
After returning from the war, DeBakey joined the Baylor College of Medicine and served as the surgical department's chairman from 1948-1993. Additionally, he had three tenures on the National Heart, Lung, and Blood Advisory Council. Likewise, he worked as the senior attending surgeon and the director of the hospital's cardiovascular research center.
Nicknamed Texas Tornado and one of the leading cardiovascular surgeons, Dr. DeBakey, at the peak of his career, performed over 1000 operations a year.
ALSO READ: Dr. Helen Brooke Taussig Biography: Pioneering Hearts, Transforming Lives
Pioneer in the Development of an Artificial Heart
During John F. Kennedy's presidency in 1962, he challenged the scientific community to land a human on the moon. Such ambition has led the United States to become the only nation to have successfully conducted crew missions to the moon.
On the other hand, Dr. DeBakey was the first person to persuade President Lyndon B. Johnson in 1964 to fund a program to develop a fully functional self-contained artificial heart. By 1969 both aims were achieved, with the Texas Heart Institute implanting the first artificial heart just three months before the launch of Apollo 11.
DeBakey played a pivotal role in the development of the first Ventricular Assist Device (VAD), a mechanical pump designed to assist or replace the function of a failing heart. This groundbreaking advancement paved the way for the field of mechanical circulatory support. Likewise, it laid the foundation for subsequent innovations, such as the artificial heart.
Dr. Michael DeBakey's Development of the Roller Pump
DeBakey is recognized internationally for inventing and refining several medical devices and procedures used daily to save lives. Two of his most significant inventions include the roller pump, an essential component of the heart-lung machine, and the VAD named DeBakey Ventricular Assist Device, an apparatus implanted into the heart to increase blood flow.
The roller pump device, which he co-invented with engineer Dr. George Noon, allowed surgeons to bypass the heart and lungs during open-heart surgery temporarily. This device opened the door to a range of complex procedures that were previously deemed impossible. Also, Michael was one of the first surgeons to use an external heat pump successfully on a patient.
Apart from being a technical medicine pioneer, Dr. DeBakey was an assiduous advocate for patient care and public health, emphasizing the importance of preventive medicine, encouraging healthy lifestyle choices, and early detection of cardiovascular diseases.
Recognition and Legacy
Throughout his eminent career, Dr. DeBakey received numerous awards and honors from educational institutions, civic organizations, and governments worldwide. He was a recipient of the Albert Lasker Award (1963), the Presidential Medal of Freedom (1969), and the National Medal of Science (1987), among many others.
Similarly, for Dr. Debakey's outstanding achievements and pioneering efforts in cardiovascular health, he was awarded the Congressional Gold Medal, Congress's highest and most distinguished civilian award, in 2007. Similarly, he served as a medical advisor to almost every American president of the past fifty years.
Dr. DeBakey published over 1,600 scientific articles throughout his career. Additionally, he published numerous books and served in various leadership positions within prestigious medical institutions.
The surgeon was a founding member of the Baylor College of Medicine and played a pivotal role in establishing the Michael E. DeBakey Veterans Affairs Medical Center in Houston, Texas. There he served as the first chief of surgery.
Dr. Michael Ellis DeBakey's legacy lives on through his pioneering work. His innovative spirit and relentless pursuit of excellence continue to inspire generations of physicians and researchers,  besides shaping the future of cardiovascular medicine.
Dr. Michael Ellis DeBakey Married, Wife and Children
DeBakey was a twice-married man, and his first wife was Diana Cooper. They married in 1937 after Michael returned from Europe. Diana, a native of Alabama, was born in September 1912. She attended Sophie Newcomb College, the women's division of Tulane University, where she also met Michael.
They welcomed four sons named Michael Maurice, Denis Alton, Ernest Ochsner, and Barry Edward. Unfortunately, Diana passed away in January 1972 after battling cancer.
Afterward, Michael married German actress Katrin Fehlhaber in 1952, with whom he welcomed a daughter named Olga Katarina. The couple met while Katrina was working as a medical illustrator at Baylor College of Medicine in Houston, Texas.
Sadly, one of the most legendary general surgeons passed away on July 11, 2008, at age 99.
In conclusion, Dr. DeBakey's unwavering dedication to advancing the field of cardiovascular medicine and his commitment to patient care left an indelible mark on the medical community.
References:
Surgeon Ernest G. DeBakey dies at age 96; Michael DeBakey's younger brother. (n.d.).
Biographical Overview. (n.d.). Michael E. DeBakey – Profiles in Science.
BBC NEWS | Americas | Pioneering US heart surgeon dies. (n.d.). BBC.
Legacy of Excellence. (n.d.). Baylor College of Medicine.
Michael E. DeBakey, M.D. | VA Houston health care | Veterans Affairs. (2022, October 13). Veterans Affairs.
United States Senator Kay Bailey Hutchison. (n.d.).
[zotpressInText]
Did you notice an error ?
Please help us make corrections by submitting a suggestion. Your help is greatly appreciated!