Top Lists
Top 5 Astonishing Facts You Need To Know About Armand De Lambilly: Who is His Girlfriend?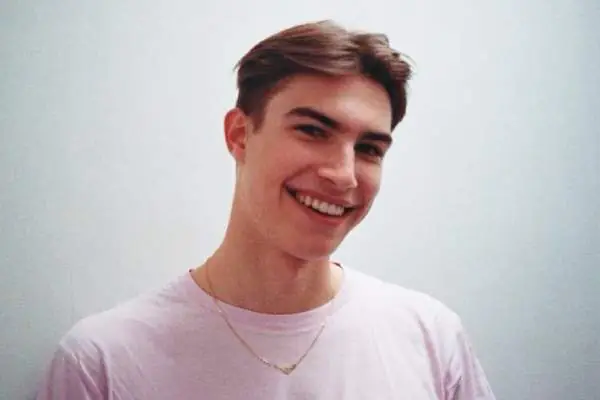 Armand de Lambilly. Image Source: Instagram
Armand de Lambilly is a social media influencer and YouTube personality. The charming young man is popular for his funny and quirky acts, while most of his female fans are wooed by his cute smile.
Lambilly first gained recognition after he began appearing on a popular YouTube channel, Korean Englishman. Many Korean as well as non-Asian viewers want to know more about the sweet and humble guy.
Stay with us and dive into this article to learn more captivating facts about this rising social media star. From Armand's early life and his YouTube fame to his relationship status, we will cover all in this article.
5. Knowing Armand de Lambilly: A Britisher with French Heritage
Armand de Lambilly was born on April 26, 2004, in England. Both of Armand's parents are French and later emigrated to London. Armand once jokingly said he goes through an identity crisis because, in terms of family, he feels French, and in terms of person, he feels more English. For your information, Armand is fluent in English, French, and Spanish.
In one instance, Armand showed his exceptionally good French and Spanish language skills. He appeared in a video of Korean Englishman's creator Josh Carrott and Ollie Kendal's second channel, Jolly, and taught them a few basic French words and sentences. As of August 2023, the video has over 2.5 million views.
4. Studies at Cambridge University: Worked as a Tennis Coach
Armand, since his childhood, has been in the British education system. Lambilly studied A Level at The Fulham Boys School and studied French, Religious Studies, Politics, and History. Further, he attended the University of Cambridge in September 2022. The British lad is expected to graduate with a bachelor's degree with a major in History and Politics in June 2025.
On the occasion of his first-year completion at the University of St. John's College, Lambilly shared a beautiful Instagram post on May 5, 2023, sharing pictures of parties and his friends.
While studying at The Fulham Boys School, Lambilly, for a year, served as the school's head boy from November 2020 until November 2021. His role was to manage 16 team members who were involved in student well-being and setting up a blueprint of student leadership at FBS.
Armand also gave an interview with an online portal during the time of Covid-19 when the UK government removed the restrictions in England. With some other pupils in Fulham Boys School, Lambilly, as a head boy, gave his firm views on how the pandemic disrupted their learning.
Lambilly also played sports in school and was particularly interested in tennis. At the age of 15, he became a part-time tennis coach teaching juniors at Rocks Lane Multi Sports Centre, London.
ALSO READ: 5 Things You Should Know About William Finbar Kennedy
3. Association With YouTube Channel: Korean Englishman
Korean Englishman is a channel run by two longtime best friends, Josh Carrott and Ollie Kendal. They first met while studying Korean culture at SOAS London College. Their channel frequently collaborates with Korean celebrities and other foreign personalities, including Hollywood celebrities as well. The channel shows a variety of content, including challenging language lessons and explorations of traditional Korean cuisine and foods, to create funny, engaging content, including challenges, games, and interviews.
Now let's talk about Lambilly's first appearance on Korean Englishman. The channel posted its first video of a new series on June 30, 2021, where multiple boys from Fulham Boys High School in London, England, try traditional Korean school lunches. The video titled British Highschoolers Try Korean Street Food for the First Time has over 18 million views and is one of the top videos of Korean Englishman.
The video shows Armand with other school boys, Max Jacomb, Clifford, Jourdane, Ray Kula, Harvey Adams, Bobby Druce, etc. The series, which consisted of over 20 videos containing Fulham high schoolers received wide appreciation from Korean and foreign audiences.
Likewise, their video titled, British Highschooler Try Luxury Korean Beef BBQ for the first time, has over 6 million views. Some of the popular videos are Pack your bags! You're Going to Korea has over 9.8 million views. Similar videos, such as British Highschoolers Go to Korean High School for a Day, have 5.7 million views.
The series gained high popularity, and it gave the boys a unique perspective on Korean cuisine from an outsider's view. The YouTube channel and the boys offer a distinctive outsider's take on Korean cuisine. The series became so popular that the channel was able to fund a celebratory trip marking the one-year anniversary and the boys nearing their high school graduation. In a video released on July 27, 2022, the boys were surprised by a trip to South Korea.
2. Rise of Social Media Star
The former Head Boy at Fulham Boys School, Lambilly, slowly began receiving attention for his charming looks and bright smile after appearing on the Korean Englishman channel. His Instagram account 'adelambilly' has over 291k followers, and he often posts updates with his friends and from college events.
As a boy who was born and raised in England, Armand likes to explore diverse cultures and loves to visit different exotic places. Throughout the channel's video series, Lambilly recalled that he, along with his friends who were not even East Asian, were able to embrace the Korean culture. The series ended on November 9, 2022, with a video titled British Highschoolers' Final Meal in Korea.
Likewise, in a final episode of the show, Lambilly posted a heartfelt Instagram post; he wrote that the trip made him develop an attachment to Korea, which will never leave him. Likewise, he stated that he will visit and embrace the Korean culture as much as he can in the future.
1. Who is Armand De Lambilly's Girlfriend? Is He Single?
The handsome and charming 19-year-old college student is occupied with YouTube projects and studies. However, people are curious to know about Armand de Lambilly's girlfriend. As their favorite internet celebrity, fans often question, is Armand single?
Armand prefers to stay silent about his personal life. He has made no comments or left no clues regarding his relationship status. Hopefully, in the future, Lambilly will give the fans a little sneak peek into his private life, but for now, there's no saying who Armand De Lambilly's partner is.
Lambilly can be seen frequently on the Korean Englishman channel, and with every appearance, his fan following is gaining new heights. We hope the best for his future endeavors and look forward to seeing him embark on exciting endeavors.
Did you notice an error ?
Please help us make corrections by submitting a suggestion. Your help is greatly appreciated!