Top Lists
5 Interesting Facts About Manu Tuilagi Wife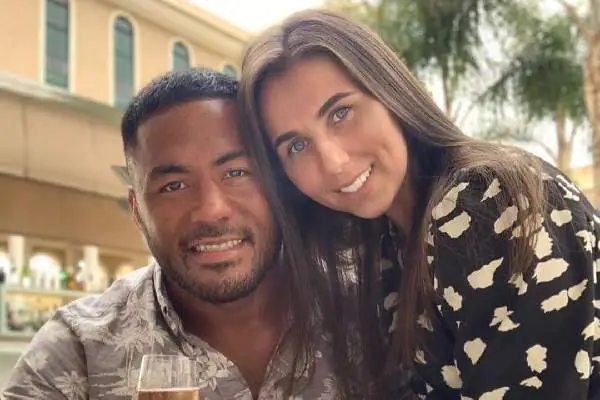 Manu Tuilagi Wife. Image Credit: Instagram.
Manu Tuilagi is one of the most exciting and talented rugby players in the world. He is a powerhouse center who is known for his physicality, skill, and athleticism. Tuilagi has won numerous awards and accolades throughout his career, including being named the Premiership Player of the Year in 2012.
This article highlights Manu Tuilagi's flourishing marriage with his dedicated lifelong companion, who has been a steadfast pillar of support throughout the years.
So, without any delays, here are five interesting facts about Manu Tuilagi wife.
5. The Mystery Woman
English rugby player Manu Tuilagi is happily married to his long-term girlfriend, Chantelle Garrity. Their journey as a couple began back in September 2012, and they solidified their commitment by getting engaged during Christmas of 2017.
Manu Tuilagi wife, Chantelle, a graduate of Manchester University, transitioned into her role as a business development manager at her family's construction company in Leicestershire.
The couple's love has blossomed over the years, resulting in the beautiful family they have today. In April 2018, Manu Tuilagi's spouse, Chantelle, gave birth to their daughter, Leilani Lea'auta, bringing immeasurable joy into their lives.
The arrival of their second child on January 22, 2021, was celebrated with heartfelt gratitude. Manu took to Instagram to share the news and express his immense happiness. In his post, the rugby player shared how they were incredibly blessed once again with God's greatest gift as their precious little boy came into this world.
Manu lovingly acknowledged Chantelle's strength during labor and expressed relief that both mother and baby were safe and healthy. They named him Leo Vavae Tuilagi. Their enduring love story serves as an inspiration for others while embracing the blessings of family life with grace and appreciation
4. A Supportive Role
Throughout Manu Tuilagi's rugby career, his wife has been a steadfast source of support. Behind closed doors, she offers unconditional love, empathy, and reassurance that contribute to Tuilagi's achievements both on the field and in his personal life.
In an Instagram post, Manu thanked his wife, Chantelle, for her support as the pair celebrated their tenth anniversary. The athlete further shared how blessed he was to have her in his life and that Chantelle was the heart of his family.
Whether it involves attending matches to cheer him on or offering heartfelt words of encouragement when needed most, her unwavering dedication undeniably plays an integral role in his continued success.
ALSO READ: Top 5 Adorable Facts About Jake Delhomme's Wife: A Childhood Sweetheart
3.
Manu Tuilagi Wife

is a Private Person

Chantelle is a very private person, as she has not shared any posts on Twitter since 2017. Furthermore, her Instagram profile has also been set to private. So, any information on her is hard to come by. This is in stark contrast to her husband, who is a very public figure.

Chantelle's decision to remain private is understandable. She wants to be able to live her life without being in the spotlight. She also wants to protect her children from the public eye.

This deliberate choice allows Manu Tuilagi's partner to focus on her family and maintain a sense of normalcy amidst the public scrutiny that comes with being married to a sports star.
2. A Strong Partnership
The strong bond between Manu Tuilagi and his wife exemplifies a relationship founded on love, trust, and mutual respect.
This resilient partnership has endured life's peaks and valleys while consistently offering unwavering support during moments of success as well as difficulty.
It serves as an inspiring example of their unshakeable dedication to one another and their shared aspiration for a gratifying future together.
Similarly, you might be interested in learning about the Hollywood couple Perry Mattfeld and Mark Sanchez.
1. Manu Followed His Wife's Advice to Halt His Injuries
Being a professional athlete poses various challenges, including the risk of injuries and potential team exclusions in the fast-paced sports world. Some individuals may be more susceptible to injuries than others, which can greatly impact their ability to participate in games for extended periods of time while they recover.
Manu has faced recurring hamstring issues throughout his career, making him particularly vulnerable to injury. In an effort to regain optimal performance, he sought advice from his wife, Chantelle, who possessed deep insight into his personal needs.
After carefully evaluating Manu's routines and habits, Chantelle recommended that he improve his sleeping patterns. She emphasized that as an athlete, adequate sleep was crucial for preventing further injuries and enhancing overall well-being.
The wise words of Manu Tuilagi wife had a profound impact on him, prompting a change in his sleep routine. This decision has resulted in a streak of injury-free performances for Tuilagi. It is evident that engaging in meaningful conversations with those around us can have transformative effects on our lives. Manu expresses deep gratitude to Chantelle for being his guiding voice and source of reason.
The bond between Manu Tuilagi and Chantelle Garrity is a shining example of love, unity, and shared beliefs. As they continue their journey together, fans eagerly anticipate witnessing the ongoing development and triumphs of this extraordinary couple.
References
Did you notice an error ?
Please help us make corrections by submitting a suggestion. Your help is greatly appreciated!