Top Lists
5 Facts About Marianne Williamson Spouse And Children: Marriage That Lasted Just "A Minute And A Half"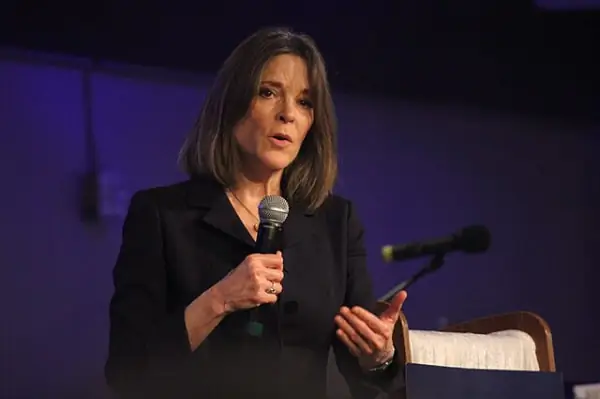 Marianne Williamson spouse. Image Credit: Wikimedia Commons.
Marianne Williamson, a renowned spiritual teacher, author, and political activist, has had an intriguing personal life that often intersects with her public persona. While Williamson's career and spiritual teachings have garnered much attention, her marital relationship and family life have also piqued curiosity among her followers.
In this article, we will explore five facts about Marianne Williamson spouse and children, focusing on her short-lived marriage and the impact it had on her life. Join us as we delve into the details of this unique aspect of Williamson's personal journey.
5. Spiritual Journey and Best-Selling Books
Marianne Deborah Williamson's personal and spiritual background has strongly influenced her perspective on life and her contributions to society. Born in Houston, Texas, on July 8, 1952, she was raised in a Jewish household.
During her early adulthood, Williamson immersed herself in the exploration of various spiritual practices associated with the New Age movement. A key component of this journey was Marianne's deep engagement with A Course in Miracles, which had a profound transformative effect on her life. This spiritual quest served as the foundation for Marianne Williamson's future endeavors as an intellectual guide and published author.
One notable achievement that sets Marianne apart is her remarkable success as an esteemed writer. Her books have garnered international acclaim by resonating deeply with readers across different corners of our world. The publication that catapulted her to global recognition was "A Return to Love: Reflections on the Principles of A Course In Miracles." Since then, she has continued producing impactful works such as "The Law of Divine Compensation," "Everyday Grace," and "Healing the Soul Of America."
These writings firmly establish Marianne Williamson as a distinguished figure in the self-help and spiritual literature circles worldwide.
4. Political Activism and Presidential Campaign
Marianne Williamson distinguishes herself from other spiritual teachers through her venture into the realm of politics. In 2019, she made a significant announcement – her decision to run for the Democratic nomination in the esteemed 2020 United States presidential election.
Throughout her campaign, Williamson placed considerable emphasis on transformative politics by advocating for fundamental values like love, compassion, and healing as integral components of policy-making.
Although ultimately not chosen as the nominee, Williamson's distinctive viewpoint and ardent focus on spiritual principles injected a refreshing and intellectually stimulating element into political conversations at that time.
Williamson's portrayal throughout her political campaigns has sparked contrasting opinions, as she is admired by some for her genuine and articulate demeanor, while others find fault in what they perceive as a lack of gravitas.
Notably, the author's participation in the 2020 Democratic presidential debates garnered positive feedback from numerous figures within the Democratic party, such as Jennifer Granholm and Ro Khanna, along with media outlets like The Washington Post. They commended Williamson for delivering unexpectedly eloquent responses that addressed significant societal matters.
3.
Marianne Williamson Spouse:

The Minute and a Half Marriage

Marianne Williamson embarked on her first and only marital journey with a man whose identity remains unknown to the public. According to reports, he is a businessman from Houston.

The couple exchanged vows in 1979, but their union was fleeting – lasting merely "a minute and a half," as delightfully expressed by Williamson herself. Marianne Williamson spouse has also not come forward to reveal his identity.

While specific details regarding the reasons behind their parting ways and subsequent divorce have not been widely revealed, this marriage held substantial significance for Williamson's personal development while also influencing her spiritual teachings significantly.

ALSO READ: 5 Must-Know Things About The Pulitzer Prize Winner Mona Chalabi
2. New Age Guru Has a Child
After her marriage ended, Marianne chose not to remarry. She is a mother to one child, a daughter named India Emmanuelle, who was born in 1990. Marianne has maintained privacy about both the identity of her former spouse and the father of her only child.
Marianne celebrated the birth of her daughter, India, on May 21, 1990. As a proud mother, she frequently updates social media with news and milestones from India's life. On India's recent 30th birthday celebration amidst Covid restrictions, Marianne took to Facebook to express heartfelt sentiments.
Accompanied by an endearing photo of her daughter, Marianne shared that although they couldn't be together due to pandemic limitations, she expressed happiness knowing that India was surrounded by "wonderful people" who showered love upon her during this special occasion.
Similarly, you want to read about the dating history of popular singer Kali Uchis.
1. Becoming Grandparents
In October 2020, Marianne joyfully announced her daughter's engagement. She expressed her excitement about the news and characterized India and her future husband as a perfect couple. Whether or not India has since gotten married remains unknown.
However, in May 2023, the couple celebrated the arrival of their first child—a daughter named Elizabeth Sarah Rose. Marianne was overjoyed to step into the role of grandmother and proudly revealed that her granddaughter had Jewish heritage from the maternal side and Scottish ancestry.
View this post on Instagram
The family arranged for a baby naming ceremony where they gathered with loved ones to introduce Elizabeth to their community officially. Following this eventful occasion, Marianne cherished some precious alone time with Elizabeth, reflecting on how experiences like childbirth connect us both to our past ancestors and future generations—an invaluable reminder she shared openly on Instagram in heartfelt words.
In the year 2020, Marianne joined a pool of political candidates vying for the presidency without prior experience in political office. If she had emerged victorious, she would have made history as the inaugural female president of the United States. Looking ahead to 2023, Marianne declared her intention to run again in opposition to President Joe Biden (spouse of Jill Biden) for the upcoming 2024 elections.
Hopefully, we get to see Marianne in the Office one day and also get to know details about her husband as well as the name of the father of her daughter. Till then, we wish her the best of luck.
References
Did you notice an error ?
Please help us make corrections by submitting a suggestion. Your help is greatly appreciated!