Net Worth
Revealing Esai Morales Net Worth From His Career Spanning Four Decades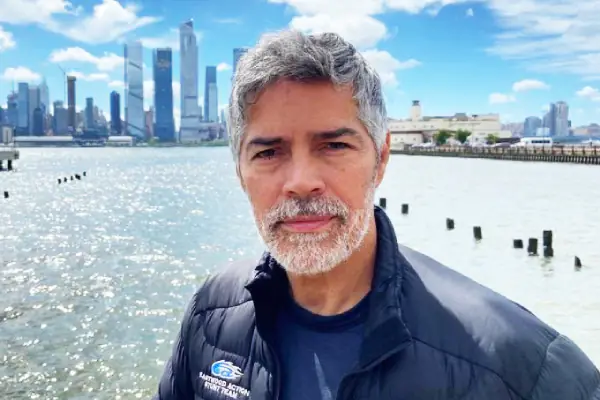 Esai Morales Net Worth. Image Credit: Instagram.
Appearing in numerous movies and television shows, actor Esai Morales is known for his notable works in films like Bad Boys (1983), La Bamba (1987), Spare Parts (2015), etc. Similarly, he has appeared in TV shows such as NCIS: Los Angeles, Caprica, American Family, Chicago P.D., Ozark, Titans, etc.
Today, we will take a closer look at Esai Morales net worth as his acting career has spanned over four decades. The Brooklyn native played a series regular, Lt. Tony Rodriguez, in ABC's series NYPD Blue, for which he won the 2002 ALMA award for Outstanding Actor in a TV Series.
Tracing the Roots
Born as Esai Manuel Morales Jr. on October 1, 1962, in Brooklyn, New York, U.S.
Morales began his acting career after attending the School of Performing Arts in Manhattan.
Esai's father, Esai Morales Sr., was a welder, while his mother, Iris Margarita, was a union activist who worked with the International Ladies' Garment Workers' Union.
At the beginning of his career, Esai professionally performed in theater and television shows in New York.
Journey to a Prominent Career
Morales' acting journey began in the early 1980s when he started doing smaller roles in television series and films. One of his early major roles was in the 1983 film Bad Boys, where he appeared alongside Sean Penn.
However, Esai's portrayal of Bob Morales, the older brother of Rock 'n' Roll legend Ritchie Valens, in the 1987 biographical film La Bamba catapulted him to widespread recognition. Since then, the stints of notable acting roles have contributed to Esai Morales' wealth accumulation.
| | | |
| --- | --- | --- |
| Year | Movies | Box-Office Collection |
| 1983 | Bad Boys | $9.2 million |
| 1987 | La Bamba | $54.2 million |
| 1987 | The Principal | $19.7 million |
| 1992 | Freejack | $37 million |
Table Source: Rotten Tomatoes
La Bamba proved to be a turning point in Morales' career, showcasing his acting talent and versatility. The film's success allowed him to secure more substantial roles in both film and television. In 2001, Morales joined the cast of the critically acclaimed TV series NYPD Blue, where he played the role of Lieutenant Tony Rodriguez for 66 episodes until 2004. The show's main cast, Dennis Franz, Henry Simons, Charlotte Ross, and Morales, took home a paycheck of over $200,000 per episode.
Starting in 1984, Morales began appearing in television shows such as The Equalizer, Fame, Miami Vice, and The Twilight Zone. Throughout his television career, the Dogwatch actor has taken on various roles in series like Ozark, Criminal Minds, How to Get Away with Murder, and From Dusk Till Dawn: The Series.
ALSO READ: Craig Fairbrass Net Worth Revealed: A Wealthy Voice in Hollywood
Filmography and Box-Office Hits
Besides La Bamba and Bad Boys, Esai Morales has an extensive filmography that includes a wide range of diversified roles. While some movies have done extremely well, some became an absolute disaster at the box office. Nevertheless, Morales has always maintained his reputation as a skillful actor.
| | | |
| --- | --- | --- |
| Year | Movies | Box-Office |
| 2005 | Jarhead | $97.1 million |
| 2010 | The Town | $154 million |
| 2023 | Mission: Impossible-Dead Reckoning Part One | $567.5 million |
Table Source: Rotten Tomatoes
Morales' dedication to his craft and his commitment to portraying authentic characters have earned him numerous awards and nominations over the years. Throughout his career, Morales has won four awards, including the 2002 ALMA Award, the 2007 VC Film Fest Award, the 2011 Imagen Award, and the 2011 FilmOut Festival Award.
Similarly, you might want to read model-turned-actress Hedy Nasser Biography.
How Much is Esai Morales Net Worth?
Esai Morales net worth is $5 million, and like every actor, he has built his wealth through a variety of roles in movies, television shows, and theater productions. For information, actors are typically paid according to their skills and portfolios. Therefore, the pay can vary widely depending on factors such as the actor's experience, the production's budget, and the scope of the role.
Actors from their television appearances earn money from their contracts, which include a salary per episode. Meanwhile, actors from movies earn a significant amount, getting a certain percentage of the movie's gross profit. Take Mission Impossible, for example, where its main lead, Tom Cruise, reportedly had a salary of $12-$14 million, but he received a huge sum of cash from the movie's gross profit.
Morales has also tried his luck in direction and production. In 2005, he co-produced a television movie, Behind the Mask of Zorro. Likewise, in 2011, he served as an executive producer of Gun Hill Road and produced eight episodes of a television series, Los Americans.
Some actors, as they advance in their careers, become involved in producing or directing projects. These roles can provide additional sources of income and creative control. Esai Morales, with his extensive career in film, television, and theater, likely earns money from a combination of these sources. In 2013, he sold his Hollywood Hills West home for $1.175 million. The 2,479 sq-feet home included four bedrooms, three bathrooms, two fireplaces, and a swimming pool in the backyard.
Morales has been involved in various activist endeavors, including co-founding the National Hispanic Foundation for the Arts and being a founding board member of the Earth Communications Office. In conclusion Esai Morales net worth is a testament to the fact of his four-decade acting career is worth praising for.
Did you notice an error ?
Please help us make corrections by submitting a suggestion. Your help is greatly appreciated!