Top Lists
How is Artist Sarah Chuldenko Related To Jimmy Carter? Extended Carter Family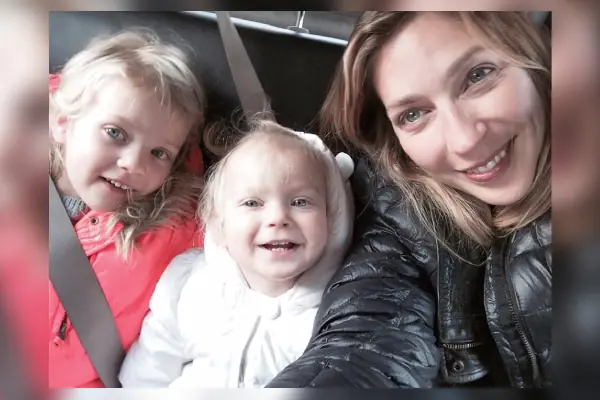 Sarah Chuldenko related to Jimmy Carter. Image Credit: Facebook.
It's hard to keep up with your grandfather if he is the former president of the United States, and that too a very successful one. Artist Sarah Chuldenko might have taken some insights into artmaking from Jimmy Carter, but there's much more to their relationship.
So if you are curious to know how is Sarah Chuldenko related to Jimmy Carter then look no further. We've got all the answers to your how's, and who's.
Get To Know Sarah Chuldenko
Born to Elizabeth Brasfield in 1978, Sarah Chuldenko grew up in Ohio with her older brother, John Chuldenko.
On May 15, 1992, Jimmy Carter's eldest son, Jack Carter, married Elizabeth Brasfield, becoming the stepfather to her two kids, Sarah and John.
Sarah's real father, John Chuldenko Sr., who is a former Illustration professor, has always supported his daughter's endeavors. However, there isn't any additional information about him.
As an artist, Sarah Chuldenko's paintings have been presented in Los Angeles, Australia, and Cleveland, Ohio.
Relations With the Carters: How is Sarah Chuldenko Related to Jimmy Carter?
As mentioned above, Sarah is the step-granddaughter of the former president of the United States, Jimmy Carter, and step-daughter of Jack Carter. He is the eldest son of former President Jimmy Carter and Rosalynn Carter, the First Lady.
At the time of marrying Elizabeth, Jack himself was a divorcee from his first wife, Julie "Judy" Langford. They shared two children, Jason Carter and Sarah Rosemary Carter. Although a stepfather, Jack Carter always loved John and Sarah as his own children.
Sarah had a common passion of interest with her grandfather, Jimmy, which was painting. Likewise, the beloved politician has always been fond of his grandkids and great-grandkids.
In November 2002, former U.S. President Jimmy invited his family, including Sarah Chuldenko, to attend the Aspen Institute Awards Dinner in New York City.
As you may know, Jimmy and Rosalynn have an extended family with 22 grandchildren and great-grandchildren. So, to keep the family bond close, the Carters in the 90s began an annual tradition of taking their entire family on vacation between Christmas and New Year.
Although being step-grandkids, John and Sarah have attended every annual trip, which is a gathering for the whole extended Carter family. We hope now you got your answers to your question on how the Los Angeles-based artist, Sarah Chuldenko related to Jimmy Carter. They indeed share a close and loving bond.
ALSO READ: 5 Must-Know Things About Vivek Ramaswamy Ethnicity, Family, Children, And Wife.
Find Out Miss Sarah Chuldenko's Profession
Sarah Chuldenko is a professional painter who is based in Los Angeles, California. Originally from Chagrin Falls, Ohio, Chuldenko spent over a decade in New York City.
Like her brother, Sarah is an alum of the Cleveland Institute of Art in Cleveland, Ohio. She graduated with a BFA in painting. Similarly, she graduated cum laude with an MFA in Painting from The New York Academy of Art in New York City.
View this post on Instagram
On the other hand, Sarah has attended The Boston Museum School of Fine Arts in Boston, Massachusetts, and the School of The Arts in San Francisco, California. Chuldenko has been in numerous group and solo exhibitions in New York, L.A., Melbourne, and Cleveland. As a book illustrator, she has been reviewed in multiple newspapers, magazines, and blogs.
For information, Sarah Chuldenko has painted for Jeff Koons Studio and has also worked for Sotheby's Auction House in New York. Meanwhile, Sarah's older brother, John, is a creative director and writer who has directed feature films and numerous commercials. Similarly, he is working on updating the White House's secret collection of music records.
Personal Life and Beyond
In October 2023, Jimmy Carter became the longest-living president at age 99. As a member of an esteemed household, Sarah Chuldenko who is related to Jimmy Carter, might have been given a place of privilege. However, the painter herself is quite accomplished in her respective career field. Additionally, she illustrated her grandfather's book, titled Always a Reckoning and Other Poems.
Besides stroking a brush and designing for books, Sarah enjoys her motherhood raising two kids. Sarah Chuldenko's husband, Stephen Reynolds, is also an artist. The Australian native married Jimmy Carter's granddaughter at The Metropolitan Museum of Art in 2006.
Sarah Chuldenko Reynolds and her spouse, Stephen, have two daughters, Birdie Reynolds and Kit Reynolds, who often accompany their parents to their art exhibitions. The family resides in Los Angeles, but they often visit Stephen's homeland, Australia as well.
With a successful career and a joyful personal life, Sarah Chuldenko is among those grandkids who are working to ensure their grandfather's legacy will live on.
FAQs
Q: Who is Sarah Chuldenko?
A: Sarah is a painter and illustrator whose work has been shown in the U.S. and Australia.
Q: Is Sarah Chuldenko related to Jimmy Carter?
A: Yes, Sarah is the granddaughter of Jimmy Carter.
Q: Is Sarah Chuldenko married?
A: Yes, Sarah is married to a fellow artist, Stephen Reynolds, an Australian native.
Q: Does Sarah Chuldenko have siblings?
A: Sarah has an older brother named John Chuldenko, who is a film director.
Did you notice an error ?
Please help us make corrections by submitting a suggestion. Your help is greatly appreciated!