Top Lists
Everything About Jimmy Carter Grandson John Chuldenko: What Does He Do?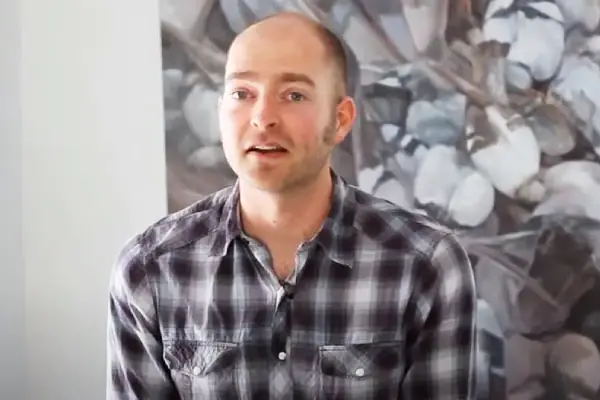 Jimmy Carter grandson John Chuldenko. Image Credit: Social Media.
Jimmy Carter, the 39th U.S. President, is one of the most successful ex-presidents in American history. The whole world is familiar with his legacy and his humanitarian efforts. But today, we will shed light on one of his family members, John Chuldenko.
If you are not familiar with Jimmy Carter grandson John Chuldenko, then there is no need to hassle. This article has everything you need to know about the celebrity family member who some will say is distantly related to the Carters.
While the whole world has its eyes set on the 2024 Presidential election, we at BroadBiography are aiming to present you with the less talked about John Chuldenko. He is a film director who has been coming up with big ideas and bringing them to life.
Facts About John Chuldenko
Born to Elizabeth Brasfield, John Michael Chuldenko is the stepson of Jack Carter and stepgrandson of Jimmy Carter.
John has a younger sister named Sarah Chuldenko Reynolds, who is a painter and an illustrator.
John Chuldenko has directed a few feature films which have graced multiple film festivals.
The Chuldenko family are originally from Chagrin Falls, Ohio.
John has worked in numerous positions during his three decades of experience in the media and entertainment industry.
Is Jimmy Carter Grandson John Chuldenko Into Politics?
Unlike his fellow siblings, who mostly worked in either politics or corporate, John Chuldenko chose to become a creative director. He graduated from Cleveland Institute of Art and Design, majoring in Graphic Design and Photography. After completing his course in 1998, John worked as an assistant for an entertainment publicist for a while.
Initially, Chuldenko designed and directed comedy commercials, but he transitioned to writing after his instructor's suggestion. Slowly and steadily, he learned the essentials of filmmaking with the help of his crew. From wardrobe to camera lenses, Chuldenko received the knowledge he needed for making feature films.
John Chuldenko has won the Telly Awards, Promax Awards, Davey Awards, numerous film festival awards, and many more. Having a background in creative arts definitely provided him with leverage. After working for many years as a creative director and writer, John released his directorial debut, Nesting, in 2012.
ALSO READ: Annie Mumolo Biography: From Groundlings to Hollywood Stardom
What Does John Chuldenko Do? Know About His Family
John Chuldenko creates television shows and directs feature films. In addition, he writes for magazines, speaks at universities, and has created content for military weapons platforms and pizza restaurants. Furthermore, Chuldenko also writes and directs award-winning commercials, promos, and the occasional music video.
John is a Sundance, Tribeca, and South By SouthWest (SXSW) alum, where he serves on the Political Action Committee of the Directors Guild of America (or DGA-PAC) Leadership Council and also on the Board of Counselors at the Carter Center.
John Chuldenko's wife, Mirabai Rose Chuldenko, is a graduate of Master of Healthcare Administration. She currently serves as a special project manager for the Division of Neurocritical Care and Stroke at Keck Medicine of the University of Southern California (USC). They have two daughters, Adeline and Charlotte Chuldenko.
As one of the originators of the American television series Backseat Drivers, John Chuldenko created the first car show for kids. Likewise, the family appeared together for the Porsche Taycan 4 Cross Turismo review and visited Yosemite National Park.
Relationship With Jimmy Carter and Jack Carter
Some people are born with a silver spoon, while some get the benefits of being related to a prestigious household. While John hasn't received any additional help from his stepfather, he certainly gets the chance to spend a lavish annual vacation with his stepfamily.
In 1992, John's mother, Elizabeth Brasfield, married Jack Carter, the eldest son of former president Jimmy Carter. There isn't enough information, but Chuldenko once mentioned his real father was an illustration professor.
While Elizabeth had two kids, John and Sarah Reynolds, from her previous marriage, Jack himself was also a divorcee. He was previously married to Judy Langford, and they shared two children, Jason James and Sarah Rosemary Carter.
John Chuldenko's step-grandparents, Jimmy and Rosalynn Smith Carter, have 22 grandchildren and great-grandchildren. So, in the mid-90s, Jimmy began a decade-long annual tradition of taking his entire family on a vacation between Christmas and New Year's.
Jimmy Carter grandson John Chuldenko, also attends the family's annual trip, a gathering for the whole extended Carter family. The family does adventurous stuff like fishing in the Gulf of Mexico or lounging on a beach in Panama. Nevertheless, much of the time is passed just hanging out, chatting, and exchanging old stories.
This might interest you: Facts about Robert F. Kennedy Jr.'s Hidden Son, Aiden Caohman Vieques Kennedy.
Rescue To the White House Secret Record Collection
For over 30 years, John has been coming up with big ideas and bringing them to life. But in December 2010, he discovered the White House's record collection during a White House party. As a creative writer, director, and producer, he was eager to learn more about the collection.
Chuldenko discovered thousands of records and documentary footage, including Van Morrison's Astral Weeks and the Clash's 1977 debut. The collection was born from an industry's desire to influence power and was presented in 1973 by Pat Nixon, the First Lady.
Similarly, Chuldenko has proposed updating the collection, which was frozen in the early 1980s. He believes the White House record library is a treasure and needs to be updated to keep it accessible to the public.
In conclusion, Jimmy Carter grandson John Chuldenko, has had his fair share of fame and distinguished treatment at the highest level of American society. However, the down-to-earth personality believes in making people happy and entertained with his creative pursuits.
FAQs
Q: Who is Jimmy Carter's grandson John Chuldenko?
A: He is a film director and a creative writer.
Q: Who are John Chuldenko's parents?
A: John Chuldenko's mother is Elizabeth Brasfield, and his stepfather is Jack Carter.
Q: Who is John Chuldenko Wife?
A: John Chuldenko is married to Mirabai Chuldenko, who works in the medical field. They have two daughters.
Did you notice an error ?
Please help us make corrections by submitting a suggestion. Your help is greatly appreciated!