Top Lists
Top 5 Must-Know Facts About Swiss Racer Gregoire Saucy: A Promising Future Ahead?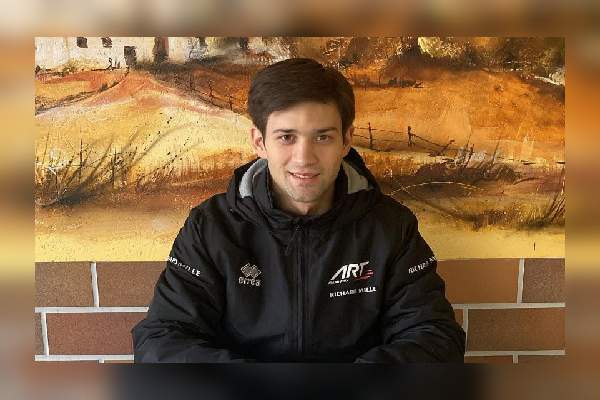 Gregoire Saucy. Image Source: Instagram
On the field and off-field, the talented Swiss racing driver Gregoire Saucy believes in Nelson Mandela's quote, "A winner is a dreamer who never gives up." By embracing such an attitude, Saucy gained recognition after winning the 2021 Formula Regional European Championship.
The young Formula 3 driver debuted in 2022 for the FIA Formula 3 Championship and is currently associated with ART Grand Prix, a French motor team. From becoming the youngest licensed driver in Switzerland (at age 7) to becoming the most promising prospects in Swiss and international motorsports.
Stay with us as we present you the top five must-know facts about the Swiss racer Gregoire Saucy, who is making his name as one of the promising future in the world of motorsports.
5. Became the Youngest licensed Kart-racing driver in Switzerland
Gregoire was born on December 26, 1999, in Bassecourt, Switzerland. He has two brothers named Jerome Saucy and Damien Saucy, both of them are working in motorsports.
At age 3, Saucy began driving on the family's indoor karting circuit in Develier, a municipality in Switzerland. Within a few years, he impressed every onlooker with his driving abilities. Further, the boy, at just 7, earned his driving license to compete at multiple karting championships. This achievement made Gregoire the youngest licensed driver in Switzerland at the time.
View this post on Instagram
Saucy, with previous karting experience, climbed to the Swiss Kart Formula 3 Championship at age 13. Likewise, in 2014, he won the Swiss Karting Championship and finished as a runner-up in the 2016 CIK-FIA European Championship. No doubt, the victories Gregoire earned in childhood have helped him become a force to reckon with.
ALSO READ: 5 Intruiging Facts About Sylvain Guintoli MotoGP Racer
4. Prominence after FR European Championship
Saucy thrived in both the 2021 and 2022 seasons of the Formula Regional European Championship, which is a highly competitive singer-seater racing series. In the 2021 Formula Regional European Championship, he emerged as the number one racing driver and surprised everyone. Previously in 2020, he competed in the Toyota racing series, where he came in sixth position.
In the FR European Championship, the Swiss racing driver secured multiple podium finishes and demonstrated his speed consistently. Without a doubt, Saucy's strong performances have earned him recognition as one of the most promising talents in Swiss motorsports.
3. Fitness Freak and an Avid Outgoer
Gregoire is a fitness enthusiast, and he never misses out on his workout session. He frequently posts pictures of his daily gym and mental exercise training sessions.
For the 2023 mid-season racing championship, Saucy is partnering with Formula Medicine, a company that has over 30 years of experience in motorsport that helps to prepare athletes mentally and physically. Saucy, as an outsider, broke the rank of F1 junior in 2021.
You might want to read about racing driver Enzo Fittipaldi's girlfriend.
2. Gregoire Saucy Career, F1, and Relationship
Saucy began his Formula Renault Eurocup debut in 2017 and drove until 2020. Afterward, he entered the Formula Regional European Championship in 2021. ART Grand Prix, his current team, announced Saucy's position in the team in November 2022.
As of now, Saucy is endorsed by big companies. He is partnered with brands like Erma, a manufacturer of injection-molded watch crystals. Another big partner is Risa, a spring manufacturer since 1959. Likewise, Gregoire is associated with Crevoisier, a Swiss company focused on mechanical and robotic innovation.
Talking about his romantic life, the 23-year-old motor racer prefers to keep his personal information out of the public and the media's attention. Neither on social media nor on public appearances, Saucy has mentioned having a girlfriend. Well, if your dream is to become a glorified F1 racer, then being in a relationship might become an unwanted distraction.
1. Rising Star of the Swiss Motorsports
Saucy is one of the best drivers, and in the 2023 season, he scored his maiden pole position in FIA-Formula 3. In addition, Gregoire showed his extraordinary skills and has been rapid all season on the one-lap pole, qualifying third in Bahrain and second in Australia.
Do you know Gregoire's helmet's colors resemble the colors of his country's flag, which is white and red? Additionally, he embraces the Swiss flag at the top of his helmet. With all these years of racing experience and the victories achieved, Gregoire Saucy, a Swiss outsider, is making a name for himself in the Formula 1 sport.
Did you notice an error ?
Please help us make corrections by submitting a suggestion. Your help is greatly appreciated!