Top Lists
5 Interesting Facts About Valeria Arguelles Boyfriend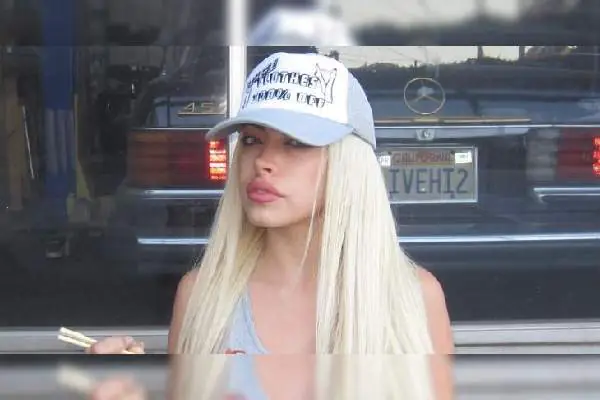 Valeria Arguelles Boyfriend. Image Source: Instagram
Being a public celebrity and influencer puts the person in a catbird seat, influencing viewers' and fans' daily lives. On a similar note, when Valeria Arguelles, an American Latina, appeared in ATV's Next Influencer, she gained instant popularity and following on social media. Apart from her daily vlogs and content, people are curious to know about Valeria Arguelles boyfriend.
Valeria Arguelles is a social media star who is popular on Instagram, TikTok, and YouTube. Today we are going to investigate the details regarding Arguelles's personal and professional life. Moreover, we will know if she is currently in a romantic relationship or not.
5. Let's Know About Valeria Arguelles
The 20-year-old social media influencer and model Valeria Arguelles was born on July 3, 2003, in Miami, Florida. Valeria is of Columbian descent, as her mother, Marisol Arguelles, is from Medellin, Columbia. Not much is known about Valeria's family background, such as the details about her father and siblings.
Valeria was interested in dance and acting since her childhood. At the young age of 12, she opened her YouTube channel back in March 2015. She posts content such as family/friends vlogs, fashion shoots, make-up, amazing challenges, and trying new swim wears. One of her most viewed videos is titled Getting my braces off, which has over 1.3 million views.
As of July 4, 2023, the content creator's self-named channel 'Valeria Arguelles' has over 117k subscribers and nearly 33 million views. Also, the former ATV contestant is very popular on TikTok as she has 1.7 million followers and 65 million likes. Likewise, her official Instagram account has over 138k followers, where she posts exotic and breathtaking photos.
ALSO READ: Vixella Biography: Life of A Youtuber And A Streamer
4. Valeria and TikTok Star Ignacio Cubeddu Used to Be a Couple
Arguelles and her ex-boyfriend, Ignacio Cubeddu, both started dating when they were teenagers back in 2020. Like his ex-girlfriend, Ignacio is also a social media influencer. He is a competitive soccer player who is balancing both content creation and sports simultaneously.
Fans were delighted to see Valeria and Ignacio as a sweet loving couple. Their funny and romantic TikTok videos earned millions of views, and they also had perfect chemistry.
However, due to some personal misunderstanding, the couple parted ways but stayed friends after. In fact, they appeared together in the 2021 ATV show Shadiest Betrayals along with other crew members, Raul Encio, Owen Holt, Julian Jara, etc.
The 22-year-old social media star Ignacio was born on October 29, 2000, and earned a wide fan following after posting a short-form lip-sync and dance content on TikTok. As of now, his self-named TikTok account has nearly 875k followers and nearly 21 million likes.
3. Boyfriend Brian Miller and Their Short-Lived Romance
After separating from Ignacio, Valeria started dating another TikTok star Brian Miller who is popular for his account named BNSTY. The handsome lad, who mostly posts pictures of his ripped body, has over 515k followers and nearly 19 million likes.
Valeria, on her channel, posted a video titled January Dump, where she seemed extra cozy and comfortable around Brian. In fact, the two even lip-locked in the presence of their friends, which made fans happy and excited. The couple posted numerous TikTok and YouTube videos along with several Instagram snaps.
The exact date of their break up is not known yet, but looking at Valeria's video, it seems she broke up with him in mid-2022. It is hard to find the influencer's pictures with her past boyfriends because she has deleted all of them from her Instagram account.
2. Valeria Arguelles Boyfriend Might Be a Secret
The beautiful and slender Valeria always makes headlines when posting a pic with her male friends on social media, causing fans to think she might have a boyfriend. This might be due to her attractiveness and charming personality.
However, the lovely fashionista has kept her romantic life far from the public eye.
There is an obvious reason for Valeria making her boyfriend anonymous in the public eye and the media.
In the past, Arguelles was in a few romantic relationships where her partners also gained popularity in a short time. This caused her personal life to be badly scattered among the public.
The identity of Valeria Arguelles boyfriend continues to be a mystery and unless Valeria chooses to share the details, we will be kept in the dark.
Similarly, you might like to read about Enzo Fittipaldi girlfriend.
1. Valeria Arguelles is Focused on KokoKinis
Arguelles is the founder of a swimsuit clothing company called, KoKokinis, which also produces non-binary swimwear. The products, mostly bikinis, are handmade by Valeria. The clothing brand's website writes that it encourages people to express their creativity and to feel confident in their bodies.
View this post on Instagram
Apart from being a content creator, business person, and influencer, Arguelles is also a model. She appeared as a model for Rock N' Glam collection for a brand called Luxury by Lexx. Having so much on her plate and experiencing a few heartbreaks at such a young age have made Valeria a determined and focused individual. We hope she might open up more about her personal life in the future.
Did you notice an error ?
Please help us make corrections by submitting a suggestion. Your help is greatly appreciated!