Top Lists
Top 5 Shocking Facts About Will Reeve's Ex-Girlfriend Lexi Henkel: Why Did They Break Up?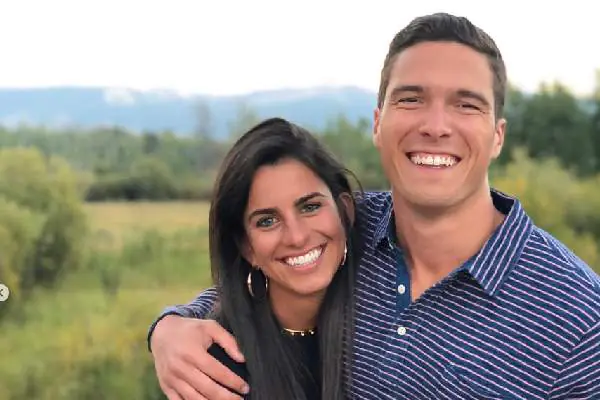 Will Reeve's ex-girlfriend. Image source: Instagram.
A public figure's personal life is like an open book; if it has intriguing or thrilling chapters, everyone wants to read them curiously. Will Reeve, a news correspondent for ABC News and Good Morning America, also has some fascinating personal stories about which people are curious to learn more in-depth.
Recently, the news correspondent shared a picture on his Instagram with his new girlfriend, Amanda Dubin. So, many people are curious about what happened to the relationship between Will Reeve and Lexi Henkel and why they both had a sudden change in their hearts.
This article will help reduce the fans' curiosity by describing the reason behind their splitting and giving some more details on Will Reeve's ex-girlfriend. So, are you ready to dive into some personal space of Lexi Henkel?
5. Person With A Helping Heart
Will Reeve's ex-girlfriend is a philanthropic person since her high school days. Her will and desire to help others have been established, proving that she is a person with a soft heart.
As a high school kid, summer break is for fun and to enjoy with friends and family. However, Lexi spent her summer break of 2011 and 2012 interning and assisting at Mt. Sinai Hospital in New York. 
After school, she used her time effectively to volunteer at the Boys & Girls Club of Greenwich. The program in the club held the young kids to reach their potential and help with character development.
Additionally, she has been part of tutoring underprivileged children and helping them to learn various theoretical and practical lessons. 
Lexi has been an advisory committee member of The Chick Mission since 2022. The organization helps to educate and support newly diagnosed cancer patients about fertility preservation options ahead of treatment.
4. Intellectual Person With Leadership Qualities
Lexi is a person with high intellect. After graduating from high school at Greenwich Academy, she entered Yale University for her further studies, where she took arts, economics, and Spanish as her primary subjects.
Henkel's dedication and efforts to learn made her a recipient of the Albert Bildner Prize for a Spanish thesis. Moreover, the Journal of General Internal Medicine published her economics thesis abstract.
Additionally, she graduated with Distinction in Economics and Spanish grade along with Summa Cum Laude and Phi Beta Kappa.
In order to pursue her master's degree, she joined Stanford University Graduate School of Business in 2021. As pursuing her master's degree, she equally puts her time and efforts into other university activities. She was co-president & CFO of GSB Healthcare Club and was the admissions ambassador.
In May 2023, she graduated from the university with very good scores. Indeed a hardworking and dedicated person like her will be successful in every field.
ALSO READ: Find Out Emily Sonnett Net Worth: How Much She Earns From Soccer Career?
3. Leadership And Work Ethics Are Her Key Strengths
Experience is the key to climbing the ranks and reach to ultimate success, and Will Reeve's former girlfriend proved it right. After joining college, she decided to gain practical knowledge through real work experience.
Therefore, she worked as a summer intern at Longitude Capital for almost three months. Additionally, she was part of Morgan Stanley in finnacial group for nearly two years.
After gaining her bachelor's degree, she extended her vision by working as a finance director for five months at Morgan Stanley. After receiving a promotion to senior director in finance and strategies, she continued to work for the company for almost two and a half years before leaving the company in August 2021.
Currently, she is working as the principal at Maverick Ventures since July 2023. Moreover, to gain more knowledge in the entrepreneur and business field, she was part of the Venture Capital Club and Entrepreneurship Club & Women in Management during her university days.
With all this experience and knowledge, Lexi will undoubtedly be someone who can inspire others with her work.
Similarly, you may be interested in reading Sylvia Fowles biography
2. Diverse Interest As A Kid
Will Reeve's ex-girlfriend, Lexi, is a person with diverse talents and interests. The leadership quality which she had since her high school days helped her to achieve many accomplishments in today's workspace.
Lexi was the founder of the Greenwich Academy's Spanish Club and foreign language magazine, The Linguist. Moreover, she was the academy ambassador and peer leader who received Greenwich Academy Faculty Award. It is the type of award presented to a senior student who demonstrated extraordinary scholarship and exemplified independent thinking and learning.
Furthermore, she was part of Varsity Lacrosse, Varsity Ice Hockey, and Varsity Field Hockey. She spent four years on the ice hockey team and one year each on cross-country and field hockey teams.
This truly represents her sport side, along with the leadership and entrepreneurial quality she has today.
1. What Happened Between Them?
There is no accurate information on when Will and Lexi started to date each other, as both wanted to keep their relationship private from the limelight. However, Will decided to go public about his relationship from the mid of 2018. 
Reeve shared adorable pictures of them, and their love and affection can be witnessed easily through the picture. However, Will stopped sharing their photos in 2020, making fans wonder about their relationship.
Many people thought the couple had decided to be low-key and did not share the details about their relationship.
However, stopping speculations about their relationship, Will posted a lovely picture on April 2023 with his new girlfriend Amanda Dubin, in which they were spending their quality time vacationing in Paris.
So we have to get the information of them splitting through his new post. The relationship is just part of life. Some relationship remains for life long while some end with memories.
So the relationship between Lexi and Will ended with lots of memories that they will remember and cherish for their lifetime.
Lastly, we wish Lexi good luck for her coming journey, which is filled with excitement and growth.
References
Did you notice an error ?
Please help us make corrections by submitting a suggestion. Your help is greatly appreciated!