Celebrities
Annie Mumolo Biography: From Groundlings to Hollywood Stardom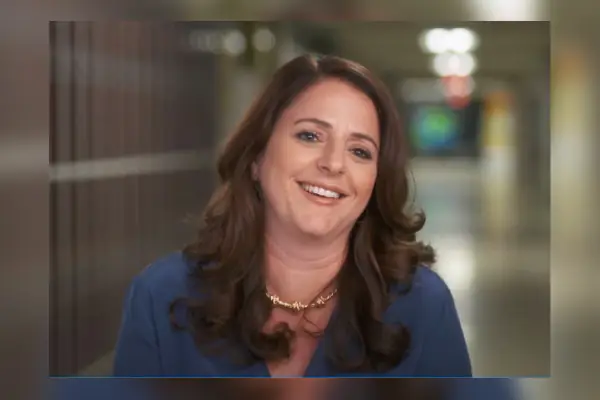 Annie Mumolo Biography. Image Credit: Social Media.
Full Name

Annie Marie Mumolo

Age

50 yrs

Birth Date

July 10, 1973

Country

America

Relationship Status

Divorced

Spouse

Tim Lovestedt ​(m. 2005; div. 2016)

Nationality

American

Ethnicity

White

Profession

Actress, screenwriter, comedian, and producer

Children

Grace and Vincent

Awards and honors

Online Film Critics Society Award (2011)

Education

University of California, Berkeley

Net Worth

$2 million

Height

5 feet 6 inch
Annie Mumolo is an American actress, screenwriter, comedian, and producer best known for co-writing the 2011 movie Bridesmaids with Kristen Wiig. The writers' duo were nominated for an Academy Award and BAFTA for Best Original Screenplay and many other awards.
Today, we look at Annie Mumolo biography, and here's the scoop on how she managed to create some of the best Hollywood products. This article delves into Mumolo's professional cum personal ingress. Dear readers, we suggest you stay with us till the end and learn more about one of the most creative minds in the television and film industry.
Early Years: From Odd Jobs to Theater
Annie Marie Mumolo was born on July 10, 1973, in Irvine, California, United States. Her father, Anthony Mumolo, worked as a dentist, while her mother, Alice Mumolo, was a homemaker. Belonging to an Italian descent, Annie, the middle child, grew up with her two siblings. Growing up, she used to do celebrity impressions, and in her pre-teen years, Annie's sense of humor helped her get through the awkward stage of anxiety.
Mumolo graduated from Mater Dei High School in 1991 and later graduated with a B.A. in history from the University of California, Berkeley, in 1995. There, she was a member of Chi Omega.
Although her parents were not in the entertainment industry, Annie's grandfather, Dominic Mumolo, had already achieved moderate success. He was a studio musician on staff at NBC from 1949 to 1971, having appeared on shows like The Dean Martin Show and The Tonight Show.
After college, Mumolo moved to Los Angeles and began a series of odd jobs, including dressing up as a mermaid for children's birthday parties and working as a waitress. Between her jobs, Annie began taking acting classes through college and afterward at the South Coast Repertory Theater.
Mumolo began her career as a member of the improvisational comedy troupe The Groundlings, based in Los Angeles, California. It was there she met her future collaborator, Kristen Wiig, with whom she would form a lifelong friendship.
ALSO READ: Jami Gertz Biography: From Hollywood Lights to Billionaire Heights.
Marital Relationship and Kids
Although Annie Mumolo and her ex-husband, Tim Lovestedt, have already parted ways, the couple still maintains a good relationship. They married in 2005 and enjoyed a healthy marital relationship until 2016. However, neither of them revealed the exact reason behind their divorce.
During her 11-year marriage, Annie Mumulo, with her former spouse, raised two children. During the filming of the 2011 movie Bridesmaids, Annie was pregnant with her first child, daughter Grace Lovestedt.
Meanwhile, she delivered her second child, son Vincent Lovestedt, several weeks after production finally wrapped. Annie and Tim raised their children in Burbank, California, where they were busy working in their respective professions.
In 2014, the former husband-wife duo appeared in a review video for the Pasadena Real Estate. A few people know about Annie Mumolo's past partner, Tim Lovestedt, who is an actor/writer. He is associated with the 1997 movie Bikini Hotel and later appeared in the drama TV series Parenthood.
After separating from Mumulo, Tim began a relationship with Candace Brown, an actress/comedian, writer, and editor. They welcomed a daughter, Everly June Lovestedt, in July 2019.
Annie and Tim collaborated as writers for the 2017 movie Megan Leavey, starring Kate Mara in the lead role. In 2021, Lovestedt appeared in smaller roles in the movie Thunder Force and in the TV series God's Favorite Idiot. While Annie has a relatively low profile, her ex-husband, Tim, is active on social media.
Similarly, read some interesting facts about Zosia Mamet's married life and her biography.
Annie Mumolo Net Worth: Know Her Earnings from Bridesmaids
Bridesmaids' writer Annie Mumolo net worth is $2 million. Her income sources are a stream of stints, including as an actress, comedian, screenwriter, and producer. The most successful project of Mumolo has been the 2011 movie Bridesmaids with Kristen Wiig, which collected $306.4 million at the box office against the budget of $32.5 million.
| | | |
| --- | --- | --- |
| Year | Movies | Box-Office Collections |
| 2011 | Bridesmaids | $306.4 million |
| 2012 | This Is 40 | $88.1 million |
| 2015 | Joy | $101.1 million |
| 2016 | The Boss | $78.8 million |
| 2016 | Bad Moms | $183.9 million |
| 2023 | Barbie | $1.434 billion |
Table Source: Rotten Tomatoes
Further, Annie and Kristen went on to receive an Oscar nomination, which was a rare achievement. However, Mumolo had some difficulty finding her professional footing after her first major Hollywood success.
Annie Mumolo Reuniting with Her Longtime Partner
While gender biasedness in Hollywood is a long-established issue, there are few women who are able to stand toe to toe with their male counterparts. On a similar note, Annie Mumolo and her best friend, Wiig, are those people who have proved that women, too, can be extremely funny.
The two teamed up for the first time in 2011 and have since written the 2021 movie Barb and Star Go to Vista Del Mar, which they also starred in.
In April 2021, it was announced that Kristen and Annie would be writing a Disney live-action musical comedy centering on evil stepsisters Anastasia and Drizella from Cinderella. While talking to the Hollywood Reporter, Mumolo said that she and Kristen are currently on hold while another writer has been brought on to check through the story. The film was set to be produced by Jessica Elbaum and Will Ferrell, founders of Gloria Sanchez Productions.
In conclusion, it seems that the Hollywood writer has a handful of projects, and in the future, she might write some amazing stuff for the audience. We hope Annie Mumolo biography serves as a tale of a woman's journey from an amateur actress to the most sought-after personality and acts as a source of inspiration.
Summary
1. Why didn't Annie Mumolo star in Bridesmaids?
Annie Mumolo did star in Bridesmaids. She appeared as a nervous flight passenger.
2. How much is Annie Mumolo net worth?
Annie Mumolo has a net worth of $2 million.
3. Who is Annie Mumolo Husband?
Annie Mumolo's ex-husband is Tim Lovestedt, an actor/writer. They divorced in 2016.
4. Are Annie Mumolo and Kristen Wiig friends?
Yes, Annie Mumolo and Kristen Wiig are friends.
5. What movies has Annie Mumolo written?
To date, Annie Mumolo has written for five movies: Bridesmaids, Joy, Megan Leavey, Barb, and Star Go to Vista Del Mar, and a TV series.
Did you notice an error ?
Please help us make corrections by submitting a suggestion. Your help is greatly appreciated!