Top Lists
5 Shocking Facts About Corinna Kopf Dating History: Who is She Dating Now?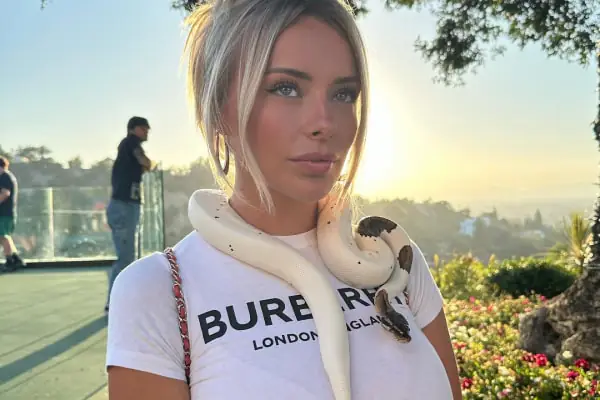 Corinna Kopf. Image Credit: Instagram.
Corinna Kopf is a household name on YouTube as she has been one of the prospects of a constant rise of fame. However, she amassed a massive fan following after joining David Dobrik's 'Vlog Squad.'
However, with the rising fame of Corinna Kopf, the number of people wondering if this sassy YouTuber is single is rising, too. Thus, we bring you the five shocking facts about Kopf dating history you might not know, including her current romance update.
5. Dated a Fellow 'Vlog Squad' Member!
People often romanticize bonds with those they spend most of their time with. Likewise, Corinna Kopf dated fellow Vlog Squad member and YouTuber Todd Smith. Their chemistry hit off after they shared a series of dating jokes during their vlog filming. Their bond materialized in no time, and the duo officiated their relationship in late 2017. 
However, Corinna Kopf's relationship with Todd was short-lived, as they went their separate ways after a brief dating period. The duo's split was engulfed by jokes of cheating by both sides until they decided to address the situation appropriately. 
Corinna accessed her situation through a vlog titled, 'We broke up, but we're still friends.' In the vlog, she mentioned that they jointly initiated the split and are still on good terms.
Kopf even cleared out that even though Todd addressed her as 'my girlfriend' in a segment of Shorty Awards announcements, they had already broken up before that. Furthermore, the vlogging sensation clarified that the tides were not turning back, and they were done for good.
ALSO READ: 5 Mentionable Names in Kali Uchis Dating History: Who is Her Boyfriend Now?
4. Kopf's Dated Streamer Tfue
A year after the split with Smith, Corinna Kopf was linked with gaming sensation and streamer Turner Ellis Tenney, aka Tfue. The duo hit the news of coupling after they got spotted together at one of actress Bella Throne's party in 2018.
Later, Corinna and Tfue came out to the public and confirmed dating rumors after making their Instagram debut as a couple in March 2019. They even posted a heartwarming couple's Q&A, where they revealed how they linked up.
The streamer Tfue shared that they met after Kopf DM'ed him via Twitter, and they later met during the afterparty of a Fortnite tournament.
Similarly, you might want to know about YouTuber TBJZL girlfriend and his dating life.
3. Breakup and Reunion with Tfue!
Unfortunately, Corinna and Tfue's spark died out after the lockdown restrictions made it hard for them to meet regularly. The Vlog Squad diva addressed this issue light-heartedly in one of their joint streams.
Kopf took the opportunity to express how she felt it was not working and even hinted at her disappointment, saying Tfue did not put as much effort as her to spend time together. They lived miles apart from each other as Corinna resided in L.A., whereas Tfue hailed out of Florida. Thus, shortly after, the pair called it quits.
Although Corinna Kopf and Tfue went separate ways, they were still sharing screens together via their Fortnite streams. Moreover, Kopf, at one point, even shared that she missed being with Tfue and wished they could head back to being a couple yet again. 
Shortly afterward, they reunited but decided to keep the major details of their relationship away from the media's reach because they were dealing with a lot of scenarios in their individual career. Kopf had recently transcended from Twitch to Facebook Gaming, and on the other hand, Tfue was dealing with hard-fought legal issues with the FaZe Clan. 
However, after reuniting and having fans excited, later in February 2020, Tfue took to his Twitch to reveal that it was difficult for their stars to align but were still friends. He cited how they wanted to live together.
Kopf even thought of moving to Florida, but things did not work out well. As a result, the Twitch streamer took to his Twitter in January 2020, stating that it felt weird to be single, marking the closing of his and Kopf's chapter.
2. What Happened Between Corinna Kopf and Logan Paul?
Corinna Kopf and Logan Paul headlined many American media outlets in 2018. They were linked to be dating, and none of them were in denial. Moreover, they made their media debut after getting spotted together getting cozy at a basketball game held in Los Angeles.
However, their union was more of a hook-up than a romantic getaway, as they freely addressed it during Paul's 'Impaulsive Podcast,' where Kopf appeared as a guest.
The duo have gone their separate ways, and Logan is not happily engaged to his fiancee, Nina Agdal. All in all, Corinna and Logan still seem to have remained good friends.
1. Who is Corinna Kopf Dating Now?
Corinna Kopf dating history is quite long and confusing, but after a series of short-lived failed relationships and brief hookups, the star streamer Kopf finally seems to have found her spark.
On the occasion of her birthday, Kopf took to her Instagram to upload a video of her alongside singer-songwriter Sammy Wilk. The duo celebrated her birthday together in Miami, Florida, in December 2022.
Although further insights into their relationship are kept private, Wilk shared snippets of his upcoming video featuring Corinna, where Wilk mentioned Corinna as his "baby."
Regardless of everything, there have been no mentions or updates about Sammy in Corinna's social media, so could it be that the pair have gone their separate ways as well?
Hence, as of now, there's no telling who exactly Corinna Kopf's boyfriend is. Hope the beautiful content creator finds her perfect match soon and lets her fans in her romantic journey as well.
Did you notice an error ?
Please help us make corrections by submitting a suggestion. Your help is greatly appreciated!