Celebrities
Chioma Umeala Biography: Meet The Talented Nigerian-South African Actress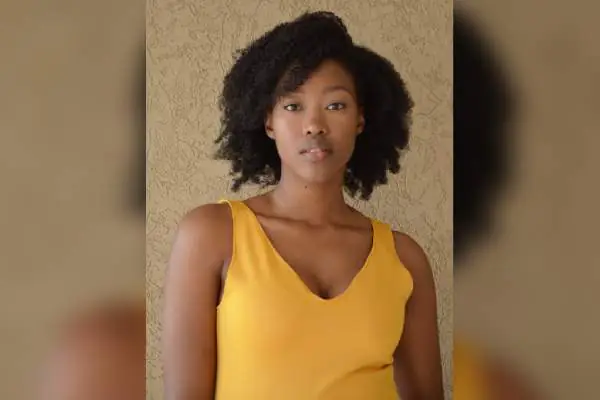 Chioma Umeala Biography. Image Credit: Instagram.
Full Name

Chioma Antoinette Umeala

Age

27 yrs

Birth Date

July 17, 1996

Country

South Africa

Relationship Status

In a relationship

Nationality

South African, Nigerian

Ethnicity

Mixed

Profession

Actress

Education

AFDA

Height

5 feet 8 inch
Chioma Umeala is a talented actress, aspiring filmmaker, and producer who is on her way up to becoming a household name in the international film industry. Best known for her role as Ayo on the BET Africa daily drama series Isono, Umeala proved her acting caliber in the 2022 historical drama movie The Woman King.
The award-winning actress Umeala is one of those few women who tirelessly advocates for younger women who want to maneuver in the film industry. Today, with this article on Chioma Umeala biography, we will dive deep into her life's story and her personal achievements besides acting.
Chioma portrayed the character of Nojiko in Netflix's live adaptation of the popular Japanese manga series One Piece in 2023. Despite the fact that she has a few acting credits to her name, the actress has already walked on a journey to establish her name in the international film industry.
Early Life And Aspirations
Chioma Antoinette Umeala was born on July 17, 1996, in Johannesburg, South Africa, to a Nigerian father and a South African mother, Elsie Umeala. Little is known about her family background, but Chioma's father had a traditional corporate career, and he was a musician. By 10, Umeala could play piano, and she credits her father's musical talents as a genetic gift. Further, she also plays the guitar and percussion instruments.
Coming from a bilateral mixed family, Umeala grew up in the city of South Africa, but she often visits Nigeria, which is her mother's hometown. Known for her unique looks, Umeala brings a distinctive and fresh intercontinental perspective to the film and TV industry.
Chioma began acting in her high school years and has since gone on to pursue a career in the film industry, featuring in multiple projects. Having done theater, she is also a mezzo-soprano and dancer and is trained in martial arts, stunt work, and gymnastics. When she was in primary school, Umeala was always involved in events and programs. Growing up, acting became her passion as she enjoyed exploring different characters and developed a love for storytelling.
Chioma studied at one of the leading film schools in South Africa called AFDA. In 2017, she made her film debut in the student film Look Closer. Afterward, she made her stage debut in the 2018 production of Scene at the Joburg Theatre. Likewise, Chioma has received her training at the Indigo View Academy for Advanced Actors as well.
ALSO READ: Josha Stradowski Biography: A Journey From Theatre To Success.
Professional Career
Chioma Umeala's mother, Elsie, initially found it difficult to support her daughter as she wanted to protect her from all the disappointments that come with it. However, once Elsie saw that acting was her daughter's passion, she was there to support her all the way.
After starring in a few theater productions and independent movies, Chioma appeared on three episodes of the American-produced discussion show The Grapevine. She has also been in national and continental commercial campaigns for big brands such as MTC Namibia and Dark and Lovely.
Umeala has also played a supporting role in the 2022 film The First Last Tour. In 2020, Umeala was cast as Ayo Demi in the popular African TV drama Series Isono, produced by BET Africa.
Before movies, Umeala appeared in several music videos, including South African Rapper and hit-maker AKA's Caiphus Song music video. Chioma has been trained by notable industry professionals like Accent Coach and actress Louise Saint-Claire, Casting Director Christa Schamberger, Fiona Ramsey, Sylvaine Strike, Craig Morris, James Carnes, and many more.
Moreover, the actress has also had behind-the-scenes experience, having worked as an assistant to the Executive Producer on the hit show Real Housewives of Johannesburg (RHOJ). She has also worked on corporate productions under Megan Wilsons' company, 360 Degrees.
Net Worth and Personal Life
The Woman King actress Chioma Umela's acting career is still in its infancy. Despite starting in 2017, she has yet to make a breakthrough in the international movie and TV industry. No doubt Umeala is a popular name in the South African household, but she is just beginning to mark her name in Hollywood. Therefore, looking at her portfolio, we can estimate that Chioma Umeala's net worth might be a considerable sum.
Now, talking about the actress' relationship status, Chioma Umeala's boyfriend does exist. In an interview for a YouTube channel, Kaya 959, the actress revealed that she is involved in a long-term relationship with her lover. She often shares pictures of her lover on Instagram.
However, Choima also revealed a secret that was hidden for a long time. Chioma Umeala is bisexual and is a part of the LGBTQ+ community.
Aside from acting, Umeala is a humanitarian at heart, passionate about social issues affecting women, children, and people of color. In the world of acting, the industry is becoming a more diverse and representative place.
Many other women of color are making a difference in the acting industry behind the scenes. These include writers, directors, producers, and other creatives who are working to tell stories that reflect the diversity of the world we live in. Their work is essential to create a more just and equitable industry.
Chioma, in partnership with Starbucks, hosted an event on April 9, 2021, at Starbucks in Melrose Arch for young women who aspire to become actors and pursue careers in film and television. She, along with Starbucks South Africa, focused on empowering young women who wanted to maneuver into the industry.
From Grapevine To One Piece
After starring in a few episodes of The Grapevine, Chioma was successful in impressing the producers and casting directors, so much so that she got to act alongside a legendary actor like Viola Davis in the 2022 movie The Woman King.
The historical drama film starred other actors of color, such as Lashana Lynch and John Boyega. In the movie, Umeala's performance as Tara was praised by critics, and she was nominated for the Best Actress award at the 2023 Black Reel Awards.
Chioma Umeala as Nojiko on Netflix's live-action series One Piece came as a surprising act for many viewers. Although she appeared in just two episodes (Worst in the East and The Girl with the Sawfish Tattoo), Chioma marked her first major international project with One Piece.
The live adaptation of Eiichiro Oda's beloved manga story premiered on August 31, 2023, on Netflix. The show featured an ensemble cast including Inaki Godoy as Luffy, Mackenyu Arata as Roronoa Zoro, Emily Rudd as Nami, Jacob Romero Gibson as Usopp, and Taz Skylar as Sanji.
Umela joined One Piece later, along with other recurring characters portrayed by actors Celeste Loots, Langley Kirkwood as Captain Morgan, and Craig Fairbrass as Zeff, among others. Further, Choima worked on CBS, Propagate, and Fuqua Films series Shaka: King of the Zulu Nation. The South African-based actress feels pride in her heritage as she looks forward to more representation and stories outside of South Africa.
The Chioma Umeala biography serves as a testament to her remarkable trajectory from acclaimed roles in the movie industry and to her unwavering commitment to empowering young women in the film industry. We look forward to adding more accomplishments and accolades to the actress' biography.
References
Did you notice an error ?
Please help us make corrections by submitting a suggestion. Your help is greatly appreciated!