Celebrities
Jay Alvarrez Biography: Journey To Success And Recognition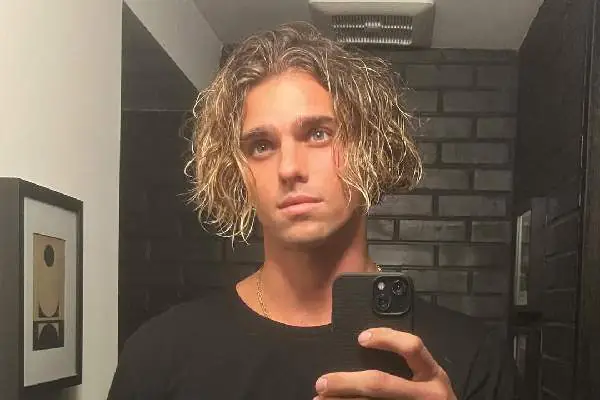 Jay Alvarrez Biography. Image Source: Instagram.
Full Name

Jay Alvarrez

Age

28 yrs

Birth Date

July 5, 1995

Country

America

Relationship Status

Not Confirmed

Nationality

USA

Profession

Model, actor, and Internet personality
Jay Alvarrez is a well-known name in the world of modeling and extreme sports. Born in Hawaii in 1995, he gained prominence on social media for his daring stunts and breathtaking adventures.
With his good looks and charismatic personality, Alvarez soon caught the attention of major fashion brands and became a successful model, working with some of the biggest names in the industry. But his journey to success was not without challenges, including the loss of his mother at a young age.
In this blog, we will take a closer look at Jay Alvarrez biography, exploring his early beginnings, rise to fame, notable achievements, and the secrets to his success. From his modeling career to his work in film and music, we will delve into the many facets of his multi-faceted career and the journey that led him to become a recognized name in the world of fashion and extreme sports.
Early Life and the Tragic Loss of His Mother
Jay Alvarrez was born on July 5, 1995, in Oahu, Hawaii. He was homeschooled by his mother until she passed away when he was just 15 years old. Her death was a tragic event in Alvarrez's life, and it had a profound impact on him. However, he credits his mother for instilling in him a sense of adventure and a love for the outdoors, which would later inspire his passion for extreme sports.
Despite the loss of his mother, Alvarez continued to pursue his interests in surfing, skydiving, and skating. He began documenting his adventures on social media, which is where he first gained a following. His photos and videos quickly went viral, and he soon became known for his daring stunts and breathtaking landscapes.
Alvarrez's early life experiences taught him the value of living life to the fullest and seizing every opportunity. He has since become an inspiration to many, showing that even in the face of adversity, it's possible to pursue one's dreams and achieve success.
Rise to Fame: From Social Media Sensation to Successful Model
Jay Alvarrez's rise to fame began with his social media presence. His photos and videos showcasing his extreme sports adventures quickly caught the attention of a large audience. As his following grew, he began to attract the attention of major fashion brands.
Alvarrez's first major modeling gig was for Armani's Fall 2016 campaign. From there, he went on to work with other major brands, such as Calvin Klein, Aldo, and Bonds. He has also appeared on the covers of GQ Style Russia and Esquire Greece, among others.
Alvarrez's success as a model can be attributed to his unique look, charisma, and ability to connect with his audience. He has also been praised for his professionalism and work ethic, which has earned him a reputation as a reliable and dedicated model.
Additionally, he has collaborated with bag company DB Equipment to release a line of backpacks called the Jay Alvarrez Collection.
Jay Alvarrez's rise to success is a testament to the power of social media and the importance of hard work and dedication in achieving one's goals.
ALSO READ: Know about Ari Melber Biography.
Notable Achievements: Films, Music Videos, and Collaborations
Jay Alvarrez's success extends beyond his modeling career. He has also made notable achievements in film, music videos, and collaborations.
In 2016, Alvarrez began filming scenes for the comedy film Deported. While the film did not receive widespread critical acclaim, it was a significant milestone in Alvarrez's career as it marked his transition from social media influencer to actor.
Alvarrez has also starred in several music videos, including Carry Me by Kygo and Hey by Fais feat. Afrojack. He has also produced and starred in the music video for Use Your Love by Sam Feldt and The Him.
In addition to his work in film and music, Alvarrez has collaborated with several brands. He has released a line of backpacks in collaboration with bag company DB Equipment and has modeled for brands such as Coca-Cola, Omega Watches, and Hyundai.
Alvarrez's achievements in film, music, and collaborations demonstrate his versatility and ability to adapt to different industries. He has proven that he is not just a one-dimensional model but a multi-talented individual capable of taking on a range of projects.
Similarly, you would love to explore Jason Genao biography.
The Secrets to Jay Alvarrez's Success: Charisma, Talent, and Hard Work
Alvarrez's charisma is evident in his social media presence, where he has amassed a large following of fans who are drawn to his adventurous spirit and magnetic personality. His ability to connect with his audience has also made him a popular choice for brands looking to reach younger consumers.
In terms of talent, Alvarrez has proven himself to be a skilled model, actor, and internet personality. He has a unique look and a natural ability to perform in front of the camera. Additionally, his passion for extreme sports has allowed him to create visually stunning content that captures the attention of audiences.
But perhaps the most important factor in Alvarrez's success is his hard work. Despite his early success on social media, he has not rested on his laurels. Instead, he has continued to push himself to take on new challenges and explore new opportunities. He has also remained dedicated to his craft, putting in the time and effort needed to hone his skills and deliver outstanding results.
In conclusion, Jay Alvarrez's biography is a inspiring piece of story thanks to the actor's combination of factors, including his charisma, talent, and hard work. He has proven himself to be a versatile and multi-talented individual, capable of achieving success in a range of industries. His journey to success serves as an inspiration to those who aspire to pursue their passions and achieve their goals.
References
Did you notice an error ?
Please help us make corrections by submitting a suggestion. Your help is greatly appreciated!