Celebrities
Lizze Broadway Biography: Unveiling The Rising Star's Journey in Hollywood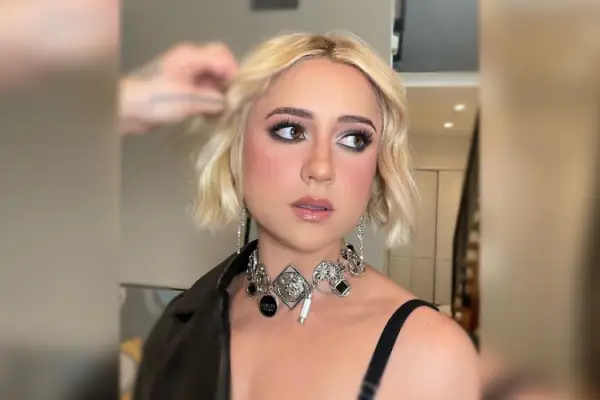 Lizze Broadway Biography. Image Credit: Instagram.
Full Name

Elizabeth Broadway

Age

25 yrs

Birth Date

February 16, 1998

Country

America

Relationship Status

Separated

Nationality

American

Ethnicity

White

Profession

Actor

Height

5 feet 1 inch
Actors like Lizze Broadway are able to sustain their popularity with their ever-impressive acting ability. So, she is among a few aspiring actors who got their chance at stardom in the world of entertainment.
Stay with us in this article to learn about Lizze Broadway biography, age, height, boyfriend, net worth, and career. Recently, her performance as Emma Meyer in Amazon Prime's superhero TV series, Gen V, captured the attention of audiences. Similarly, she appeared in the 2023 Apple TV+ movie Ghosted.
However, Broadway is also known for her role as Heather Bogart in the Nickelodeon comedy series Henry Danger. Previously, she appeared in television shows such as The Rookie, Splitting Up Together, Here and Now, and American Pie Presents: Girls' Rules.
Early Life and Family Background
Elizabeth Broadway was born on February 16, 1998, in Toledo, Ohio, United States, to school teacher parents. Likewise, she relocated to Los Angeles with her family when she was 9. Both of Lizze's parents are school teachers, and her father worked as a high school principal as well.
From an early age, Lizze began acting as a hobby in her early years and quickly found success. Starting as a theater enthusiast, she participated in high school plays. Similarly, she was a part of various acting programs and drama workshops during her formative years, helping her refine her skills.
After completing her high school education, Lizze decided to study theater and acting to gain a more structured understanding of the craft. When she was young, Broadway participated in the International Model and Talent Competition.
ALSO READ: Ilia Isorelys Paulino Biography: A Promising Talent in Hollywood.
Early Success on Television
Just after a few years of moving to Los Angeles, Lizze began to shine on small screens. At 12, she debuted in the TV industry after booking a small role as Brooks Ryerson in the 2010 NBC crime drama Southland.
In 2011, Broadway appeared in the comedy-drama series Shameless, and the same year, she portrayed the character of Rose in the TV movie Bad Mom. In 2013, Broadway appeared in the crime procedural comedy-drama series Bones as Kat Martin. Likewise, she played Steph in the variety and late-night talk show Conan.
View this post on Instagram
A year later, in 2014, Lizze appeared as Maya in the first season of Trophy Wife. Similarly, some of her guest star roles include CBS' NCIS, NBC's Chicago P.D., and Fox's Bones. Broadway's commitment to her craft and her ability to tackle a wide range of roles is praiseworthy.
Lizze Broadway Movies and TV Shows
In 2018, Lizze landed a recurring role on HBO's comedy-drama, Here and Now. The same year, she appeared in Nickelodeon's Henry Danger. Additionally, Broadway appeared in the comedy series Splitting Up Together as Zoey.
From 2019-2021, the Ohio native portrayed the role of Aurora in the crime drama series The Rookie for two episodes. In 2020, Lizze starred in American Pie: Girls Rules as well as the independent horror-thriller The Inhabitant.
In 2021, Lizze joined the cast of the Amazon Original spin-off of The Boys alongside Jaz Sinclair. The superhero television series premiered on September 29, 2023, and stars actors Chance Perdomo and Maddie Philips, among others.
In 2023, Lizze appeared in the Apple TV+ movie, Ghosted alongside its lead actors, Chris Evans and Ana de Armas. Meanwhile, she appeared in Peacock's comedy series titled Based on a True Story opposite Kaley Cuoco. From dramatic to comedic roles, Lizze has always managed to receive acclaim from both her fans and critics.
Similarly, you might want to read about rising actress Cailey Fleming's Biography.
Lizze Broadway and Tanner Buchanan's Relationship
It is no secret that the Gen V actress Lizze Broadway and actor Tanner Buchanan were in a relationship. The couple was one of the most beloved sweethearts in town. Furthermore, the two started dating as teenage lovers. Tanner is mostly famous for his role as Robby Keene in one of the most popular Netflix series, Cobra Kai.
In a podcast run by Anna Faris, Lizze Broadway and her boyfriend, Tanner, talked about their longtime relationship. The couple revealed that they briefly broke up for a short time. However, they later sorted out their relationship further, attending the 2019 Comic Con together. They even posted a BTS video on their joint YouTube channel, 'Lizze & Tanner.'
At the 2021 MTV Movie and TV Awards, Tanner Buchanan kissed his co-star Addison Rae from the 2021 movie He's All That. But in a YouTube video for GQ, the actor said that it was just a harmless prank he and Addison did to shock their fans. In the same video, Tanner publicly confessed his relationship with Lizze Broadway by replying to a fan's question if he had a girlfriend.
But recently, there have been rumors and speculations about Lizze and Tanner's romantic relationship. There are a few factors that suggest the beloved couple has officially parted ways. Talking about Lizze Broadway's current relationship status, she wrote about being single in her Instagram story in early 2023.
It seems Lizze Broadway and Tanner Buchanan are no longer together despite their trying to sustain their relationship. Meanwhile, there haven't been any official statements from both Broadway and Buchanan.
In the end, Lizze Broadway biography is a testament to her talent, determination, and passion for the arts. As a versatile actress, she has left her mark on the television industry, and she is undoubtedly an artist to watch in the ever-evolving world of entertainment.
Did you notice an error ?
Please help us make corrections by submitting a suggestion. Your help is greatly appreciated!