Sports
Gabriel Bortoleto Biography: Meet The Brazilian Motorsports Racing Driver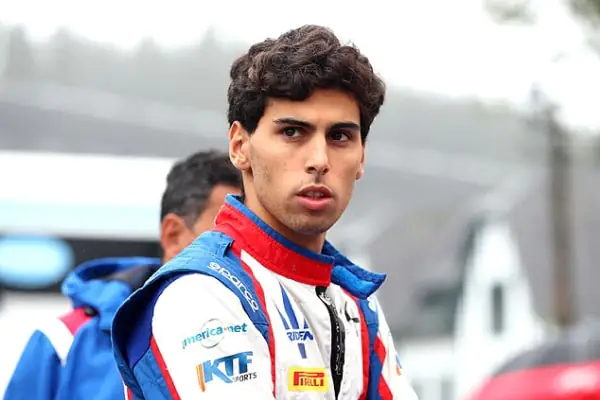 Gabriel Bortoleto biography. Image Credit: Lito Cavalcanti.
Full Name

Gabriel Bortoleto Oliveira

Age

19 yrs

Birth Date

October 14, 2004

Country

Brazil

Relationship Status

In a relationship

Nationality

Brazilian

Profession

Racing Driver
In the high-octane world of motorsports, where speed, skill, and determination reign supreme, there are individuals who rise above the rest, leaving an indelible mark on the sport. One such rising star is Gabriel Bortoleto, a talented Brazilian racing driver who has captured the attention of racing enthusiasts with his exceptional talent and unwavering passion for speed.
Hailing from a country with a rich motorsports heritage, Bortoleto has embarked on a remarkable journey, showcasing his skills and achieving notable success in various racing series.
In Gabriel Bortoleto biography, we delve into the life and career of the Brazilian, exploring his early beginnings, remarkable achievements, and his aspirations for the future. Join us as we embark on an exhilarating journey through the incredible world of this Brazilian motorsports racing driver.
Early Life and Introduction to Motorsports
Born on October 14, 2004, in São Paulo, Brazil, Gabriel Bortoleto Oliveira developed a profound fascination for automobiles and demonstrated an innate talent for speed from an early age. Growing up within a nation renowned for its passion for motorsports, he found himself immersed in a culture that nurtured his fervor.
It was at the tender age of eight when Bortoleto embarked upon his karting journey—a pivotal moment that set the stage for his future pursuit as a professional racer. Beginning his karting career in 2012 in the Campeonato Sulbrasileiro de Kart competition held in his native Brazil, Bortoleto dedicated several years to honing his skills on the track.
During the period of growth and development leading up to 2019, one specific year stood out as particularly remarkable. The achievements that were accomplished in 2018 clearly set it apart. Notably, there were impressive third-place finishes at both the European Championships and World Championships, highlighting a strong performance in OKJ-category races.
However, Bortoleto's exceptional performance did not end there; earning vice-champion titles in the WSK Super Master Series further added to an unforgettable season. In addition to these accomplishments, prideful recognition was also achieved through victories at the Andrea Margutti Trophy race.
Debut In Lower Formula
Karting provided Gabriel Bortoleto with a valuable training platform, where he honed his racing abilities and nurtured a competitive mindset. During the initial stages of his karting journey, Bortoleto showcased exceptional talent and swiftly ascended through the ranks. He amassed numerous triumphs and top finishes in regional and national competitions, cementing his standing as a budding young racer.
In 2020, Bortoleto embarked on his venture into car racing by joining the renowned Prema Powerteam alongside Sebastián Montoya, Gabriele Minì, and Dino Beganovic for the Italian F4 Championship. Marking an impressive debut season in this single-seater series, he secured noteworthy accomplishments at Mugello, including second-place finishes along with a triumphant victory during the fourth round of competition.
Notably consistent throughout Monza as well, Gabriel clinched two more podium positions. By the conclusion of the championship runnings from that year's campaign, overall standings portrayed him placing fifth ahead of Montoya yet trailing behind both Beganovic and eventual victor Minì, who took first place honors accordingly, simultaneously holding firm to finish fourth among rookie competitors within their respective rankings structure.
Formula Regional European Championship
In March 2021, it was revealed that Bortoleto would be embarking on his Formula Regional European Championship debut alongside FA Racing. He showcased his talent by earning points in the opening race of the season at Imola, securing a commendable ninth-place finish.
Despite facing formidable competition from highly skilled drivers, Bortoleto demonstrated remarkable adaptability and determination as he tackled renowned tracks worldwide.
Towards the end of September, Bortoleto participated in the illustrious 2022 FIA Formula 3 post-season test held at Jerez with Trident. Joining forces with Oliver Goethe and Leonardo Fornaroli, this experience further solidified him as an integral member of the team for upcoming events in the anticipated 2023 FIA Formula 3 Championship season ahead—making history as one of their early driver announcements.
FIA Formula 3 Championship
During his debut race at the Bahrain International Circuit, Bortoleto incurred a penalty for causing a collision with Rafael Villagómez and finished outside of the top positions. However, he managed to secure victory in the feature race on the following day after Gabriele Minì received a penalty.
Building upon this success, Bortoleto further solidified his early championship lead by securing pole position and claiming another feature race win at Albert Park. Throughout subsequent rounds, he consistently earned points in each race, including an impressive second-place finish during the feature race at Red Bull Ring and two runner-up finishes in both sprint races held in Britain and Hungary.
View this post on Instagram
After comfortably leading the standings, Bortoleto experienced his first non-scoring race of 2023 at Spa-Francorchamps. A subpar qualifying session and contact with Dino Beganovic led to his car being forced to stop during the race.
Despite narrowly missing out on points, a lackluster performance from all of his closest competitors meant that Bortoleto maintained a significant 38-point advantage going into the final round of the season. With Paul Aron and Pepe Martí failing to secure pole position during Monza qualifying, Bortoleto was crowned the FIA Formula 3 champion.
Future in Formula 1?
In September of 2022, an official announcement was made regarding Bortoleto's new venture with A14, a prestigious management company founded by the highly accomplished two-time Formula One champion Fernando Alonso, adding yet another milestone in Gabriel Bortoleto biography.
Bortoleto's exceptional skills and achievements in motorsport, including his notable victory in the Formula 3 championship, led to him being selected as a driver for the esteemed McLaren Driver Development Programme in October of 2023.
Não tenho palavras para descrever a minha emoção desta semana, minha primeira Pole, Pódio e a grande Vitória na F4! Obrigado a todos que torceram❤️ pic.twitter.com/JaGBHClPlP

— Gabriel Bortoleto (@gabortoleto85) October 4, 2020
The future appears promising for Gabriel Bortoleto, the first Brazilian champion of Formula 3. With plans in motion to move up to Formula 2 next year, he is certainly a driver worth keeping an eye on. His talent has already caught the attention of many within the F1 paddock.
ALSO READ: Ralph Boschung Biography: Swiss Professional Racing Driver
Life Outside of the Tracks
When not racing, Gabriel enjoys spending time with his family and traveling. Racing and training take up a lot of his time, so he likes to spend what extra time he has with his loved ones. Speaking about his loved ones, another name that's important to him is Isabella Bernardini. 
Isabella is Gabriel Bortoleto's girlfriend and his pillar. She is from Brazil as well and is a computer science student. Although not much information about her is known, Gabriel is extremely in love with her, even inviting her to his family vacation. Maybe we will hear wedding bells soon.
Another question that is frequently asked is: What is Gabriel Bortoleto's net worth? As the speedster is just 18 years old (as of 2023), there is no information about how rich he is. We might have our answers soon as Gabriel continues to make waves in racing.
Gabriel Bortoleto's journey from karting to a professional racing driver exemplifies the dedication, skill, and passion required to succeed in the world of motorsports. From his early days in karting to his achievements in single-seater racing, Borteleto has consistently demonstrated his talent and determination.
References
Gabriel Bortoleto. (n.d.). FIAFormula3® – the Official F3® Website. 
Formula Regional EU by Alpine. (2022, February 22). GABRIEL BORTOLETO – Formula Regional by Alpine. Formula Regional by Alpine. 
Did you notice an error ?
Please help us make corrections by submitting a suggestion. Your help is greatly appreciated!