Celebrities
May Calamawy Biography: The Story Behind Her Rise to the Stardom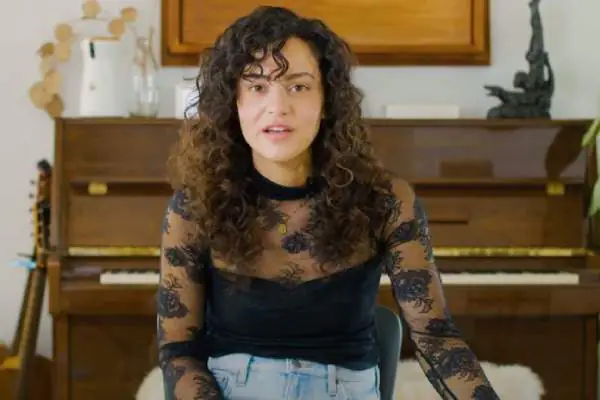 May Calamawy Biography. Image Source: Social Media.
Full Name

May El Calamawy

Age

37 yrs

Birth Date

October 28, 1986

Country

Bahrain

Relationship Status

In a relationship

Nationality

Egyptian-Palestinian

Ethnicity

Egyptian

Profession

Actress

Education

B.A. in Theater, Emerson College

Net Worth

$2 Million

Height

5 feet 7 inch
Meet May Calamawy and say hello to the actress who made history in the Marvel Cinematic Universe by appearing as the first Arab superhero on the Disney+ miniseries Moon Knight. Besides, she is popularly known for appearing as Dena Hassan on Hulu's comedy-drama series Ramy.
We suggest you stay with us till the end, and together, we will shed light on interesting details through May Calamawy biography. Just like her character, Scarlet Scarab, actress Calamawy is a woman of mixed cultural heritage. More importantly, she is able to make both a fortune and a difference in the ever-expansive world of Hollywood.
Coming from a place of extensive boundaries for women to becoming a hope and guidance for younger generations, Calamawy has waited all these years to be where she is today. This versatile actress slowly rose to fame, and her dedication to promoting diversity and representation in Hollywood is something people appreciate very well.
Born in a Country of Small Archipelago: Mixed Ethnicity
Born May El Calamawy on October 28, 1986, in an island country, Bahrain, May was raised by her parents, an Egyptian father who worked as a banker and a Palestinian-Jordanian mother. Also, she grew up with an older brother, mostly in Bahrain. However, Calamawy spent six years living between Doha, Qatar, and Houston, Texas, before she was 12.
From a young age, May was fascinated with watching movies, and as a child, she liked drama and acting. Calamawy can speak fluent Arabic and belongs to the Arab ethnicity, as she refers to herself as Egyptian.
After completing her high school in Bahrain, Calamawy, at 17 years old, moved to Boston, Massachusetts, to study industrial design. It was her father's strong desire to see his daughter study the course. But May had an inner voice constantly encouraging her to pursue her childhood dream of becoming an actress.
Finding The Passion Amidst The Pain
Since the beginning, May always knew acting would be her main profession. So, she boldly told her parents about her desire to act in films and TV and vowed if she got into an acting college, she would go full throttle on pursuing an acting career. Initially, they were reluctant about their daughter's career choice, but somehow, they got convinced and began to support her.
The Bahrain native eventually got accepted into Emerson College, Boston, and studied Bachelor in Theater Studies. Although she finished her course at the end of 2008, May graduated with a degree in 2009. During her time at Emerson, she appeared in a few short movies.
| | | |
| --- | --- | --- |
| Year | Short Movies | Role |
| 2006 | Thursday | Kelly Spencer |
| 2007 | Temperance | Leila |
| 2008 | Santa Claus in Baghdad | Hala |
Table Source: IMDb
After graduating from college, Calamawy spent five months in New York sharpening her acting skills at theater and independent projects. But her mother, who was living in Dubai, got intensely sick. Therefore, May moved to Abu Dhabi, Dubai, and started taking care of her mom. Unfortunately, May went through a tragic loss at 25 when her mom passed away, and she once recalled that after her mother died, she completely lost her focus.
Despite losing her biggest inspiration, Calamawy became more determined than ever to make her name in the film industry. At 28, she returned to the United States and joined the William Esper Studio, a drama school in New York City, where she studied acting for two years. At the moment, her father couldn't be more proud of his daughter, who found success in the creative field rather than the traditional field.
ALSO READ: McKinley Belcher Biography: From Television Triumphs to Silver Screen Success.
Movies and TV Shows: Breakthrough With Djinn and Ramy
It is no secret that Hollywood consistently lacks diversity and chips away at having an accurate representation of minorities in films. May Calamawy, however, works tirelessly to find scripts and roles closer to herself without focusing on the trauma of the Arab World.
After a stint of short films and guest appearances, May landed her first major film role as Aisha in the 2013 Emirati supernatural horror film Djinn. In October 2018, Calamawy was cast in the regular role of Dena Hassan in Hulu's comedy-drama TV series Ramy. The show received widespread acclaim for its portrayal of American Muslims, and its lead actor, Ramy Youssef, received multiple award nominations.
| | | |
| --- | --- | --- |
| Year | Movies And TV Shows | Role |
| 2017 | Madam Secretary | Mona Alsnany |
| 2017 | The Brave | Mina Bayoud |
| 2017 | The Long Road Home | Faiza |
Table Source: IMDb
As an actor, May experienced a more insular and independent experience from a woman as opposed to what the culture might be going through from an outsider's perspective. One of the most surprising and career-turning events for Calamawy came from the Marvel Studios.
May Calamawy In Moon Knight: The Role That Made History
Marvel Studios had the thought of introducing Moon Knight's character since 2006. After a series of negotiations, the studio finally reached a point where they could develop a series based on a character who is drawn into the mystery involving Egyptian Gods. Luckily, they got the right cast, and we will know how May Calamawy's role in Moon Knight was a necessary thing in Hollywood.
In January 2021, the Djinn actress was cast in the major role of Layla El-Faouly in the miniseries Moon Knight, also a character from Marvel Comics. Meanwhile, the Golden Globe-winning actor Oscar Issac was cast as Marc Spector/Moon Knight and Steven Grant/Mr. Knight, while Academy Award nominee Ethan Hawke was cast as the antagonist, Arthur Harrow.
| | |
| --- | --- |
| Moon Knight's Lead Roles | Portrayed By |
| Marc Spector / Moon Knight, Steven Grant / Mr. Knight | Oscar Isaac |
| Arthur Harrow | Ethan Hawke |
| Layla El-Faouly / Scarlet Scarab | May Calamawy |
Table Source: IMDb
With her character Layla being Egyptian and May Calamawy herself being Egyptian-Palestinian, her other character Scarlet Scarab became the MCU's first Egyptian superhero. After the show's release, many of her Arab fans were excited to see her representation in Hollywood, especially in a celebrated Marvel movie.
The on-screen representation, themes, and narratives in Moon Knight proved that actors with diverse ethnic backgrounds could make history if given the opportunity. Not only fame but the Moon Knight actress also received a hefty sum of paycheck for starring in the series.
May Calamawy Net Worth and Personal Life
Appearing in some of the popular shows and movies, one can estimate how much actress May Calamawy earns. The Madame Secretary actress unravels and searches, maybe still in a really logical way, the possibilities of equal representation. So, along with advocacy and acting, she might have built a lucrative fortune.+
As per The Richest, May Calamawy's net worth is $2 million, and a few factors, such as the percentage of the show's profits, potentially add even more wealth to her already impressive earnings. Well, she is one of the few actors who earns around $45,000-$55,000 per episode from a TV show. Having said that, she also has a few big-budgeted movies in the pipeline, including Gladiator 2, where she will star with popular actors Paul Mescal, Djimon Hounsou, and Denzel Washington.
Despite being super secretive about her personal life, her hardcore fans never miss to ask a question: Who is May Calamawy's boyfriend? Is she married? However, there's been no details about her past or present relationship.
In conclusion, the Moon Knight famed actress continues to be an inspiration for aspiring actors who want to see the justified representation of people with diverse backgrounds. As a woman of mixed ethnicity and background, May wants younger people to realize that they have the freedom to make their own choices.
Because of where she is at the moment, the actress portraying the first Arab superhero is in a place of privilege. Hence, through May Calamawy biography, we came to realize why she became famous and how she is dedicated to authentic representation, which has earned her a place of prominence in the industry.
References
Did you notice an error ?
Please help us make corrections by submitting a suggestion. Your help is greatly appreciated!