Celebrities
Nicholas Woodeson Biography: Life and Artistry of a Versatile Actor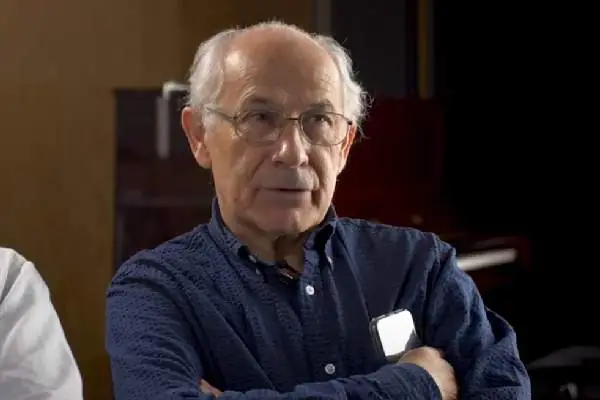 Nicholas Woodeson biography. Image Credit: Social Media.
Full Name

Nicholas Robin Frank Woodeson

Age

74 yrs

Birth Date

November 30, 1949

Country

England

Relationship Status

Married

Spouse

Ginni Ness

Nationality

English

Profession

Actor

Education

Marlborough College

Height

5 feet 4 inches
Within the realm of film, television, and theatre, certain individuals possess an exceptional talent that sets them apart from the rest. One such remarkable talent is Nicholas Woodeson, an English actor who has not only graced the stages of esteemed theaters but has also made their mark on the silver screen and small screen.
With a career spanning across various mediums, the actor has garnered recognition and acclaim for their remarkable performances, captivating audiences with their depth and versatility. As a nominee for prestigious awards such as the Drama Desk and Olivier Awards, this actor's talent and dedication to their craft have been acknowledged and celebrated.
Nicholas Woodeson biography delves into the extraordinary life and career of this English actor, tracing their path from humble beginnings to becoming a respected and admired figure in the world of entertainment. Join us as we explore the captivating journey of this versatile performer, whose talent and accolades have solidified their place among the industry's finest.
Early Life and Education
Born in England on November 30, 1949, Nicholas Robin Frank Woodeson comes from a creative background that sparked his interest in the arts from an early age. With a deep passion for acting, he dedicated himself to honing his skills by receiving formal training at renowned drama schools.
Woodeson was born in Sudan and raised in Haifa, Israel. After moving to England, he began his performance journey at prep school in Sussex and Marlborough College. He pursued English literature at the University of Sussex, where he discovered a passion for student drama productions.
It was during this time that he had the opportunity to collaborate with esteemed individuals such as Michael Attenborough, Jim Carter, and Andy de la Tour.
Woodeson's talent also led him to participate in the 1970 National Student Drama Festival before ultimately deciding against an academic path.
To further hone his skills, he received a scholarship to attend the prestigious Royal Academy of Dramatic Art from 1972-74. This educational experience provided him with the necessary foundation to thrive and excel in his chosen career.
ALSO READ: Shamier Anderson Biography: Journey From Mr. Nobody to Somebody
Theatre Career: Where It All Began
After completing drama school training, Nick began his career at the Everyman Theatre in Liverpool from 1974 to 1975. This esteemed company included notable talents such as Jonathan Pryce (artistic director), Julie Walters, Pete Postlethwaite, and Bill Nighy.
Throughout his career, the future actor has had the privilege of working in various regional theaters in both the UK and the US, including prestigious venues like the Hampstead Theatre Club, Young Vic, Almeida Theatre in London, and Manhattan Theatre Club Off-Broadway.
In 1982, he joined the renowned Royal Shakespeare Company, where he dedicated seven years of service. Additionally, on Broadway, stage performances encompassed significant roles such as Straker in Man and Superman, Piaf, Inspector Goole in An Inspector Calls, and Burleigh in Mary Stuart.
In 2017, after the passing of Tim Pigott-Smith, Nick assumed the character of Willy Loman in Royal & Derngate Theatre's production of Death of a Salesman. His remarkable performance earned him a nomination for Best Actor in a Leading Role at the UK Theatre Awards.
The Entry into Film Work
Woodeson's career took off thanks to his exceptional stage performances. Woodeson made his debut in the film industry with a part in Heaven's Gate, which premiered in 1980. Serendipitously, he had the opportunity to spend more time filming on location in Montana than any other actor involved.
Additionally, Woodeson has graced the screen with his presence in various other productions, such as The Russia House, The Pelican Brief, and Shooting Fish. Other projects he has been a part of are listed below:
| | |
| --- | --- |
| Title | Year |
| The Hustle | 2019 |
| The Death of Stalin | 2017 |
| Disobedience | 2017 |
| Race | 2016 |
| The Danish Girl | 2015 |
Table Source: IMDb
Woodeson's remarkable abilities quickly gained the attention of filmmakers, propelling him into the world of cinema and television. Nicholas Woodeson is a highly versatile actor who seamlessly moves between stage, film, and television with ease.
In films and TV shows, Woodeson has delivered captivating portrayals across various genres – from period dramas like "Rome" to thrilling mystery dramas like "Ripper Street."
In 2022, Amazon revealed the cast of its upcoming big project, The Rings of Power. Gabriel Akuwudike, Yasen "Zates" Atour, Ben Daniels, Amelia Kenworthy, Nia Towle, Sam Hazeldine, and Nicholas Woodeson have all joined the cast. The cast and the story are sure to draw a lot of fans to watch the masterpiece of J.R.R. Tolkien's magnificent Middle-earth.
Small Screen Debut
Woodeson's first TV role was in the 1980 miniseries "A Rumor of War." He played a US marine opposite Brad Davis. In 1993, he starred in the first episode of the TV series "Cracker" as killer Michael Hennessy.
In 1998, Nick appeared in the Midsomer Murders episode "Death of a Hollow Man" as Avery Philips. Furthermore, he played SS-Gruppenführer Otto Hoffman in the 2001 TV movie "Conspiracy."  He has guest starred on many TV series, including Miami Vice, Midsomer Murders, A Touch of Frost, and Poirot.
| | |
| --- | --- |
| Title | Year |
| Rome | 2005-2006 |
| Filth: The Mary Whitehouse Story | 2008 |
| Borgen | 2010 |
| The Assets | 2014 |
| Taboo | 2017 |
Table Source: IMDb
Nicholas Woodeson's exceptional talent has been recognized with nominations for prestigious awards. His remarkable performances on stage have earned him nominations for the Drama Desk Award and the Olivier Award, highlighting his ability to leave a lasting impression on audiences and critics alike.
These accolades are a testament to Woodeson's commitment to his craft and the impact he has made in the world of theatre.
Personal Life of the Actor
Nicholas has made a name for himself as a successful actor and has a devout fan following to reflect his success. People all over are curious to know more about the actor.
Well, the actual number is still a mystery, but many sources have estimated Nicholas Woodeson's net worth to be around $6 million. He made this amount from his lucrative acting career as well as his television work.
In addition, the actor has been a part of many web series, brand endorsements, and advertisements, which have undoubtedly boosted his fortunes.
When it comes to his love life, Nicholas has been married to Ginni Ness. Nicholas Woodeson's wife is also an actress but has only appeared in minor roles in series and TV movies. The pair currently live in London but have lived in the USA as well.
You should know that Ginni is not Nicholas' 1st wife, as the actor was previously married to Katherine Ann Adams from 1983 to 1985. The pair split up after two years of martial life.
Nick is not a fan of divulging his personal life to the media and keeps his cards close to his chest. The actor does not use any social media and stays away from controversies, living a humble life.
Nicholas Woodeson biography serves as an inspiration to aspiring actors, reminding them of the power of dedication, versatility, and a commitment to excellence in the pursuit of their artistic endeavors.
Did you notice an error ?
Please help us make corrections by submitting a suggestion. Your help is greatly appreciated!