Sports
Lavonte David Biography: A Linebacker's Journey to NFL Greatness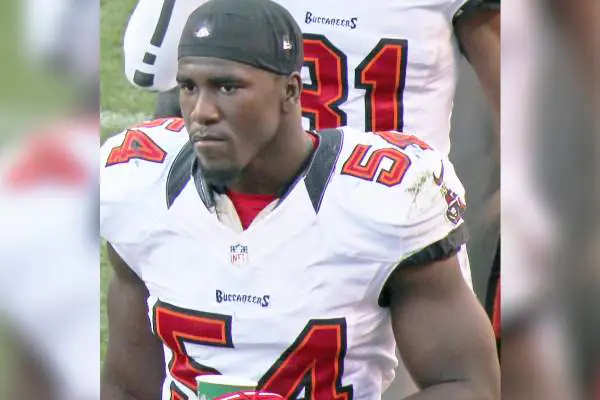 Lavonte David Biography. Image Credit: Instagram.
Full Name

Lavonte Lamar David

Age

33 yrs

Birth Date

January 23, 1990

Country

America

Relationship Status

Married

Spouse

Tondrea Monique

Nationality

American

Ethnicity

African-American

Profession

Football Linebacker

Children

Logan Lynette David

Awards and honors

Pro Bowl (2015)

Education

University of Nebraska

Net Worth

$10 million

Height

6 feet 1 inch
Never be comfortable with just good enough and never be good just to feel comfortable. The American football linebacker Lavonte David has seen many young athletes come and go in the sports world. But Lavonte's name has already been engraved in a golden brace in the list of top sportspersons.
The defensive linebacker has been with the Tampa Bay Buccaneers of the National Football League (NFL) since the beginning of his professional career. So, today, let's go down memory lane through Lavonte David biography and witness the victory of an impressive touchdown.
Calling the Buccaneers' athlete a symbol of excellence won't be an unseemly remark. There is no doubt that Lavonte has made a significant impact in the NFL, and as a Pro Bowl winner, his extraordinary athleticism truly set him apart.
Reason of Excellence: Father's Motivation and Mother's Persuasion
In the exotic site of Miami, Florida, Lavonte Lamar David was born on January 23, 1990, to parents Edward Nelson and Lynette David. Further, he grew up with a sister named Shanterra Nelson. David was raised in a loving and supportive family that cherished sports. As a result, he started playing basketball and football from a young age.
David's father, Edward, a basketball player in his youth, wished his son to pursue basketball. However, the young Lavonte expressed his desire to play football, and without any objection, Edward motivated him to become the best.
Talking about his education, David attended Miami Northwestern High School, where he helped his team win back-to-back state championships in 2006 and 2007. Afterward, he enrolled at Fort Scott Community College in Fort Scott, Kansas. There, he led his team to the game of the Junior College National Championship.
In 2010, David transferred to the University of Nebraska and earned several honors, including first-team All-American, unanimous first-team Big 12, and Big 12 Newcomer of the Year. Moreover, as a senior, he won the inaugural Butkus-Fitzgerald Linebacker of the Year award.
ALSO READ: Kamren Curl Biography: The Upcoming NFL Star
A Promise Made to His Mother
One of the best defensive linebackers in the NFL, Lavonte David, always credits his parents for his successful football career. In an interview, he recalled that while attending Fort Community College, the unfavorable climate and loneliness affected his mental health. Therefore, he would always complain about the situation to his mother on the phone. However, it was his mother who encouraged him to remain there and become the best version of himself.
Having always followed his parents' advice, Lavonte went through a moment of grief when his mom, Lynette, passed away in 2016 due to complications from diabetes. Five years later, his father, Edward, died due to liver cancer in 2021, just months before David won his first Super Bowl ring. Well, from winning a Super Bowl to losing his father, it was a roller coaster of emotions for Lavonte.
Most people complete their undergraduate studies in their late teens or early 20s or, in some cases, mid-20s. However, Lavonte received his Bachelor's degree in Criminology and Criminal Justice in May 2021. At age 30, he graduated from the University of Nebraska just to fulfill a promise to his late mother, and a day before Mother's Day, he walked with the Class of 2021 at Memorial Stadium in Lincoln, Nebraska.
NFL Career and Super Bowl: Victories at the Gridiron With Tampa Bay Buccaneers
While at Nebraska, the Fort College star decided to enter the 2012 NFL Draft. The American football team, Tampa Bay Buccaneers, selected him in the second round, 58th overall. Who knew the 6-foot-1-inch defensive giant would quickly become a cornerstone of the Buccaneers' defense?
Throughout his career in Tampa Bay, David displayed exceptional tackling ability and leadership on the field. He was known for his sideline-to-sideline speed, which made him an excellent coverage linebacker and a reliable tackler in run defense. His combination of skills earned him numerous accolades and Pro Bowl selections.
One of the most memorable moments in Lavonte David's career came during the 2020 NFL season when he helped lead the Buccaneers to a Super Bowl victory against the Kansas City Chiefs. His performance in that game showcased his ability to thrive in high-pressure situations and solidified his status as one of the NFL's elite linebackers.
Similarly, you might want to look at Jordan Mailata's Biography.
Lavonte David Net Worth: The Man With Millions in Fortune
Most successful sportsperson either invests in huge companies or spend their money in luxurious entities. However, Lavonte, being one of the wealthiest defensive linebackers, donates most of his earnings to the charity. Having said that, the media and public are always curious to know Lavonte David's net worth. And you will be surely surprised to know his career earnings.
| | | | |
| --- | --- | --- | --- |
| Year | Salary | Bonus | Earnings |
| 2012 | $390,000 | $964,896 | $1,354,896 |
| 2013 | $547,806 | – | $547,806 |
| 2014 | $705,612 | – | $705,612 |
| 2015 | $738,418 | $5, 151,025 | $5,889,443 |
| 2016 | $10,000,000 | – | $10,000,000 |
Table Source: Spotrac
As per sources, Lavonte David's wealth touches a huge amount of $83,247,757 from his total career earnings from 2012 until 2023. But his net worth is reported to be $10 million as the Florida native donates most of his earnings to charity. Likewise, a majority of his salary goes into his personal maintenance, such as recovery treatments.
Throughout the 12 years, the NFL player made a staggering fortune and marked his name as one of the best defensive players. Do you know Lavonte has received a staggering amount of $15,724,896 in signing bonus alone?
| | | | |
| --- | --- | --- | --- |
| Year | Salary | Bonus | Earnings |
| 2017 | $6,000,000 | – | $6,000,000 |
| 2018 | $8,750,000 | – | $8,750,000 |
| 2019 | $9,750,000 | – | $9,750,000 |
| 2020 | $10,750,000 | – | $10,750,000 |
| 2021 | $1,075,000 | $11,425,000 (signing bonus) | $12,500,000 |
Table Source: Spotrac
In 2015, David received $5 million as a roster bonus amount, with an additional amount of $125,000 as the workout bonus. Further, his salary alone is reported to be $62,371,836 from 2012-2023. In 2023, he signed a one-year contract worth $4,500,000 with the Buccaneers, including a $3,335,000 signing bonus. The deal guarantees him an amount of $3,335,000 with an average annual salary of $4,500,000. Therefore, Lavonte will earn a base salary of $1,165,000 in 2023.
| | | | |
| --- | --- | --- | --- |
| Year | Salary | Bonus | Earnings |
| 2022 | $12,500,000 | – | $12,500,000 |
| 2023 | $1,165,000 | $3,335,000 | $4,500,000 |
Table Source: Spotrac
By carefully analyzing his career earnings, we can say that Lavonte David's wealth is a testament to the fact that the NFL player spent his career with sheer dedication and immense dedication. No doubt, he is considered one of the greatest linebackers in the game of football.
Married Life and Children
How fortunate are those who get to spend their life with their loved ones? Well, Lavonte is surely a fortunate man as he is married to his high school sweetheart. The couple has been together for almost two decades.
Lavonte David's wife, Tondrea Haddly Monique, is an entrepreneur, a loving wife, and a mother. The high-school sweethearts first met at Miami Northwestern when Tondrea was a sophomore, and her boyfriend-turned-husband was a junior. However, Monique initially rejected David's attempts but eventually began dating him. Well, girls surely like being pursued, don't they?
The year was 2019 when Lavonte David's girlfriend, Tondrea, was finally ready to be his wife. The couple married in February 2019 in a beautiful ceremony in Tampa, Florida. Talking about their wardrobe, the bride's dress was embellished with beading, from her form-fitted dress to the overskirt. Meanwhile, the groom looked dashing in a black tuxedo.
During the day ceremony at the Temple House, the color scheme of their wedding was gold and white, and later, during the dinner party, they had a surprise light show. Well, after over four years, the couple is still going strong, but wait, they have been together for over 15 years, and their romance is no less than that of a teenage couple.
Lavonte and his wife welcomed their first child, a daughter named Logan Lynette David, in May 2022. They organized a lavish party for their daughter's one-year birthday.
After all these hard-working years, Lavonte has definitely reached the top as an echelon in the sport of American football. As an NFL player, he will always be remembered as a talented and versatile linebacker. In conclusion, we hope Lavonte David biography has provided you with some useful facts about the Buccaneers linebacker. Do come back to us to know more about your favorite celebrity.
References
Did you notice an error ?
Please help us make corrections by submitting a suggestion. Your help is greatly appreciated!