Celebrities
Tinatin Dalakishvili Biography: Everything You Need To Know About The Georgian Actress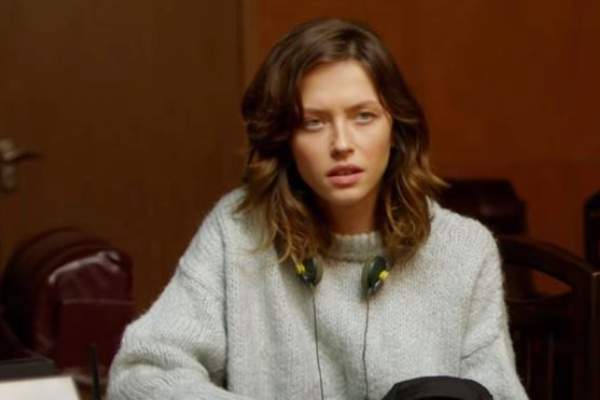 Tinatin Dalakishvili Biography. Image Source: Instagram
Full Name

Tinatin Dalakishvili

Age

32 yrs

Birth Date

February 2, 1991

Country

Georgia

Relationship Status

In a relationship

Nationality

Georgian

Profession

Actress, Landscape Designer

Awards and honors

Eurasia International Film Festival (2014), Odesa International Film Festival (2014)

Height

5 feet 6 inch
Tinatin Dalakishvili is a Georgian actress best known for starring in both Georgian and international projects. Almost every artist pursues their dream of becoming a star, but Dalakishvili became an artist due to her passion and pure dedication to her craft.
Beginning with a humble career, Tinatin has managed to establish herself as one of the most sought-after Georgian actresses. Today this article will unfold every page through Tinatin Dalakishvili biography, which aims to explore her personal life and professional achievement.
If you have watched the 2023 action thriller, Extraction 2, then you have probably realized Tinatin's acting caliber. However, long before that, the actress has successfully started in several popular shows and movies.
Knowing Tinatin Dalakishvili
Tinatin Dalakishvili was born on February 2, 1991, in Tbilisi, Georgia, but she has kept her family background and early life far from media attention.
As a kid, Tinatin enjoyed reading fairy tales, and from an early age, she developed an interest in acting. Further, she pursued her passion for the performing arts growing up. However, she has had no acting education. For the information, Tinatin's name is translated as The Sunbeam from Georgian to the English language.
At 17, Dalakishvili began working in the entertainment industry. She started her career as a model in commercials before appearing in big-screen movies. Her professionalism and acting skills didn't go unnoticed, and slowly, Georgian film directors wanted to work with the rising actress. As a result, Tinatin began appearing in several short films. She made her acting debut in the feature movie, action-thriller Season, directed by Dato Borchkhadze.
Besides being an exceptionally talented artist, Dalakishvili is a polyglot, as she is fluent in Russian, French, and English, besides her native Georgian language. The actress' knowledge of such diverse languages makes her a target of several international projects.
ALSO READ: Unveiling Chris Lamica's Net Worth: How Rewarding Has Been His Acting Career?
From 'Love With An Accent' To Star: Acting Career
Tinatin Dalakishvili gained recognition for her acting talent and quickly rose to prominence in the Georgian entertainment industry. She is known for her versatility and ability to portray a wide range of characters.
Tinatin first received widespread acclaim and fame for her breakthrough performance in the 2012 Russian rom-com movie Love with an Accent (Lyubov s aktsentom), directed by Rezo Gigineishvili. Her character 'Lesi' (Leysa), proved to be one of the most interesting factors of the film, bringing depth and charisma to the big screen. The same year Tina appeared in The Guardian (Bolo gaseirneba), directed by Zaza Urushadze, a former director of the Georgian National Film Center.
The year 2014 proved to be a turning point in Tina's career as she appeared in the 2014 Russian comedy-drama film Star (Zvezda). The movie received international acclaim and brought Tinatin her first taste of fame and success. Her performance as the lead character, 'Masha,' a young girl desperately wanting to become famous and rich, earned her widespread attention. But do you know the film's director, Anna Melikian, had personally flown to meet Tina in Georgia?
Awards and Honors
Not only fans but critics were equally amazed by Tinatin's performance in Star, for which she received a few honors. At the 10th Eurasia International Film Festival, Dalakishvili received the Best Actress Award at the ceremony at the Palace of the Republic. Similarly, she received a special mention in the acting category at the 2014 Odesa International Film Festival.
Dalakishvili appeared in the 2017 crime-drama movie, Hostages in the lead role of Anna. The movie, written and directed by Rezo Gigineishvili, was well appreciated by the audiences as well. In between, she also worked in short films, television shows, and a few international screenings.
The 2019 Russian fantasy adventure film, Abigail, brought critical praise for Tina's performance in the lead titular role of Abigail Foster. Further English actor Eddie Marsan played the role of John Foster, who was hired in the movie to attract the international audience's attention. Further, when Abigail was released in the English language, Tina's popularity grew immensely overseas.
Similarly, you might want to look at the popular tv and film actress Megalyn Echikunwoke's Biography.
Biggest International Debut? She Acted Besides This Avenger's Actor
In the 2021 movie Medea, Tinatin appeared in the lead titular role alongside actor Evgeniy Tsyganov. The film, written and directed by Aleksandr Zeldovich, received a positive response. Meanwhile, the Abigail actress received a nomination for the Best Actress Award at the Russian Guild of Film Critics and Nika Awards.
Following the release of the 2023's biggest action thriller movie, Extraction 2, Tinatin further reached greater heights. She appeared alongside Hollywood's superstar, Chris Hemsworth, who portrays the lead role of 'Tyler Rake.'
Dalakishvili appears in the pivotal role of 'Ketevan Radiani,' a mother who has to save her family with the help of Tyler. Her performance brings more emotion and depth to the character, and we can see why she is famous in the Georgian film industry.
Boyfriend and Personal Life: Is She Married?
Since 2019, Tinatin Dalakishvili's partner is Nikusha Antadze, who works as the creative director at an advertising agency. The Georgia native couple are both involved in media and production house. Additionally, their workplace is where the two began a romantic affair.
Although the actress prefers to stay silent, it appears that Tinatin Dalakishvili's boyfriend, Nikusha, previously had a lover. Looking at his Instagram account, we can see that he had a girlfriend with whom he might have broken up in mid-2018.
At the beginning of 2019, Tinatin Dalakishvili's lover had been living with her, and since then, the lovebirds have been together for over four years. Both of them met while working, and the actress' seems happy in her current romantic relationship.
Nikusha previously worked as a copywriter at Windfor's Tbilisi and as a creative copywriter at JWT Metro. Since 2014, he has been the creative director at Holmes&Watson, an advertising agency located in Georgia. If everything goes right, the couple might soon tie their wedding knot. However, there isn't much official news from both sides as of August 2023.
In conclusion, the above commentary on Tinatin Dalakishvili biography is a tale about a talented actress, a rising star in the Georgian film industry. In the coming future, she is sure to continue to have a successful career in the years to come.
References
Did you notice an error ?
Please help us make corrections by submitting a suggestion. Your help is greatly appreciated!