Sports
Alyssa Thompson Biography: Road To Becoming The Stand-Out Soccer Player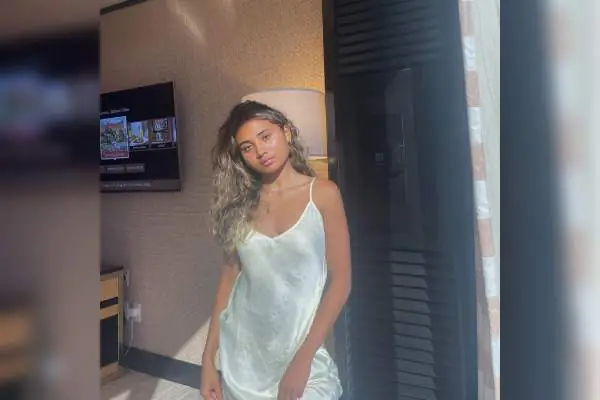 Alyssa Thompson Biography. Image Source: Instagram.
Full Name

Alyssa Paola Thompson

Age

19 yrs

Birth Date

November 7, 2004

Country

America

Relationship Status

Not Confirmed

Nationality

American

Profession

Footballer

Education

The Wesley School

Height

5 feet 4 inches
In the bustling city of Los Angeles, a young girl named Alyssa Thompson embarked on a remarkable journey that would lead her to become a standout in the world of soccer. From the sunlit backyard of her childhood home in Studio City to the historic NWSL draft stage, Alyssa's passion for the beautiful game has guided her every step of the way.
With her flowing hair and graceful ball touches, she captivated the hearts of fans and experts alike, transcending her high school years to make a name for herself on the international stage.
Let's delve into the inspiring Alyssa Thompson biography, where talent, determination, and a love for the game converged to shape the story of a truly exceptional soccer player.
A Star- Born in Studio City
In the vibrant city of Studio City, California, a future soccer superstar entered the world on November 7, 2004. Alyssa Thompson's birth brought joy and anticipation to her family's home, where her parents, Mario Thompson, and Karen Thompson, eagerly embraced their precious daughter's arrival.
From the moment Alyssa took her first breath, her parents recognized her unique potential. They saw a spark in her eyes, a glimmer of talent that would set her apart on the soccer field. Mario, a devoted football enthusiast, knew he had a special gift to nurture, and he wasted no time in introducing Alyssa to the beautiful game.
In their backyard, Mario and Alyssa would spend countless hours kicking the ball, perfecting her dribbling skills, and dreaming of the future. Karen, Alyssa's loving and supportive mother, would watch from the sidelines, her heart swelling with pride as she witnessed her daughter's passion for the sport.
Growing up, Alyssa's siblings, Gisele Thompson, and Zoe Thompson, became her biggest cheerleaders and occasional opponents in friendly matches. Together, they formed an unbreakable bond, united by their love for the game and their unwavering support for Alyssa's dreams.
The Rise of a Phenomenal Forward
As a young girl, Alyssa displayed an immense love for the game. She joined her local recreational league, where she quickly stood out as a rising star. Alyssa's natural athleticism and competitive drive set her apart from her peers, and her coaches soon recognized her immense potential.
It was during her early years in recreational soccer that Alyssa's skills truly began to flourish. Her lightning-fast speed and quick footwork made her a nightmare for opposing defenders. With her ability to change direction on a dime, she often left them guessing and struggling to keep up.
Alyssa's talent and dedication didn't go unnoticed. Joining Angel City FC marked a significant milestone in Alyssa's career. Surrounded by top-tier talent and under the guidance of world-class coaches, she embraced the opportunity to refine her skills further and elevate her game to new heights. The supportive and competitive environment of the club fueled her drive to succeed.
Alyssa's early soccer career was characterized by countless hours of training, unwavering dedication, and a burning desire to excel. She understood that talent alone was not enough; it was her relentless work ethic and hunger for improvement that set her apart.
ALSO READ: Get to Know About Pato O'Ward Biography.
Born To Break Records: Journey to International Recognition
Alyssa Thompson's ascent to the national team was a remarkable accomplishment in her young career. On October 7, 2022, at the age of 17 years and 334 days, she made her debut for the US Women's National Team (USWNT) in a match against England.
The moment was nothing short of extraordinary as she entered the field in the 84th minute, replacing Megan Rapinoe, and played in front of a roaring crowd of over 76,000 fans.
The athlete's debut not only marked the beginning of her international career but also etched her name in the record books. Alyssa became the 70th teenager in history to earn a cap for the USWNT, and her age made her the youngest player to debut for the USA since January 2016, when Mallory Pugh made her debut at 17 years and 269 days old.
Alyssa's call-up in October 2022 also made her the youngest player to be invited to a full National Team camp since 16-year-old Sophia Smith in April 2017 before matches against Russia in Texas. Her inclusion in the camp was a testament to her exceptional talent and potential.
Prior to her national team breakthrough, Alyssa showcased her skills on the international stage at the 2022 FIFA U-20 Women's World Cup in Costa Rica. She made a significant impact, scoring a goal against Ghana and providing an assist against Japan. Her performances were instrumental in the team's success, solidifying her reputation as one of the USA's standout players.
Not to mention her spot on the U.S. team roster for the 2023 FIFA Women's World Cup, which took place in Australia and New Zealand. In her first appearance for the team during the group stage, she played in the match against Vietnam and contributed to the team's 3-0 victory.
In addition to her international achievements, Alyssa made history in the National Women's Soccer League (NWSL). At the age of 18, she became the first high school-aged player and youngest draft pick ever, being selected as the No. 1 overall pick by Angel City FC in the 2023 NWSL Draft. Her talent and potential were recognized, setting her on a path to excel in professional soccer.
Similarly, you would love to explore soccer player Ali Krieger's biography.
Alyssa's Historic Achievements at the Club Level
Alyssa Thompson biography is incomplete without mentioning her impact on the soccer world extended beyond her national team and international exploits. At the club level, she made history and left an indelible mark with her remarkable achievements.
In a groundbreaking moment, Alyssa became the first high school-aged player and the youngest draft pick ever in the National Women's Soccer League (NWSL) when she was selected as the No. 1 overall pick by Angel City FC in the 2023 NWSL Draft at the age of 18. This historic milestone showcased the level of confidence and belief that the club had in her abilities.
Upon joining Angel City FC, Alyssa wasted no time in making her presence felt. Her exceptional skills, speed, and goal-scoring prowess made an immediate impact on the field. Her performances were so impressive that she earned the prestigious title of NWSL Rookie of the Month for March/April, a testament to her seamless transition to the professional ranks.
Alyssa's contributions to Angel City FC not only demonstrated her immense talent but also highlighted her ability to thrive in a highly competitive league. Her impact went beyond individual accolades as she played an integral role in the team's success, helping to propel them to new heights.
While her achievements in the NWSL were significant, Alyssa's journey to professional success was rooted in her earlier experiences. Before signing with Angel City FC, she demonstrated her determination and commitment by playing club soccer for the U-17 Total Futbol Academy boys' team.
This unique path allowed her to challenge herself against male players at a high level, further honing her skills and preparing her for the demands of professional soccer.
As she continues her career with Angel City FC, Alyssa's impact on the club and the NWSL is poised to grow even further. Her exceptional abilities, work ethic, and determination position her as a key figure in the future of women's soccer, both at the club level and on the international stage.
Electrifying Thrill is Yet To Come: 2024 FIFA U-20 Women's World Cup
Already making waves with a call-up to the national team as its youngest player, Alyssa has proven herself as a rising star to watch. Her electrifying performances have caught the attention of fans and experts alike, establishing her as one of the most promising young talents in the game.
Now, as she embraces her eligibility for the 2024 U-20 World Cup, the stage is set for Alyssa to showcase her skills on a grand scale. This prestigious tournament brings together emerging talents from around the world, where dreams are turned into reality, and legacies are born.
Alyssa's selection for the U-20 national team is a testament to her unyielding dedication and unwavering focus. Her lightning-fast speed, technical finesse, and natural understanding of the game make her a formidable presence on the field. With every stride and every touch, she exudes the confidence and composure of a player destined for greatness.
As the countdown to the tournament begins, Alyssa's preparation intensifies. The countless hours of training, sacrifices made, and obstacles overcome have all led to this pivotal moment. The U-20 World Cup represents the culmination of years of hard work and adds to the inspiring story of Alyssa Thompson biography.
References
Did you notice an error ?
Please help us make corrections by submitting a suggestion. Your help is greatly appreciated!