Creators
Elton Castee Biography: From Vines To Vistas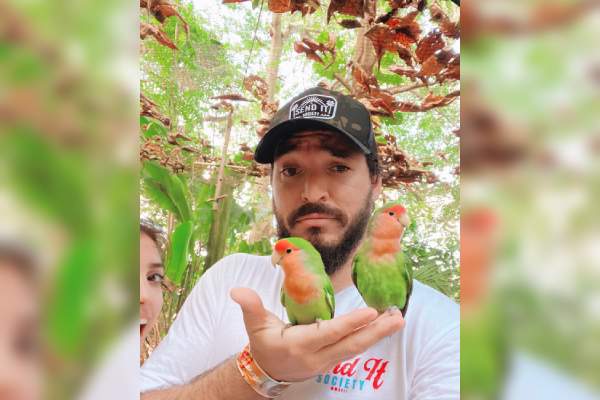 Elton Castee Biography. Image Source: Instagram.
Full Name

Elton Castee

Age

33 yrs

Birth Date

July 6, 1990

Country

America

Relationship Status

In a relationship

Nationality

American
Are you a fan of hilarious pranks, heart-pumping adventures, and everything in between? Then you won't want to miss this blog on Elton Castee, the multi-talented content creator who's taken the internet by storm.
From his early days on Vine to his current success on YouTube, Elton Castee biography is full of twists, turns, and plenty of laughs along the way. Join us as we explore his life, his work, and his unique brand of humor and creativity that has captured the hearts of fans around the world.
Get ready to go from vines to vistas with Elton Castee, the social media superstar who's here to stay.
From Massage Table to Vine Fame
Elton's journey to becoming a successful content creator on Vine and YouTube was not easy. Before his social media fame, Elton worked as a massage therapist for five years. It was during this time that he developed a strong work ethic and discipline, which served as a foundation for his future endeavors.
Elton gained popularity on Vine with his unique sense of humor and willingness to take risks. His videos, which often featured him doing hilarious stunts, quickly went viral, and he amassed over a million followers on the platform before it shut down. His popularity allowed him to transition seamlessly to YouTube, where he started his channel, TFIL, in 2011.
If this Vine gets 100,000 Likes in 24 hours… I'll light my hair on fire. #DoItForTheVine https://t.co/oYUNqZ43tc

— Elton Castee (@EltonCastee) August 27, 2013
TFIL featured a unique mix of thrilling adventures and hilarious pranks, which quickly gained a dedicated following. Elton's early years as a massage therapist may seem unrelated to his current career, but they provided him with valuable skills and experience that have helped him succeed in the competitive world of social media.
Thrills, Chills, and Hilarious Spills: The Rise of TFIL and Epic Adventures
Elton Castee's rise to fame continued with the creation of his YouTube channel, TFIL, which is assumed to be an abbreviated form of The Fun In Life.
The channel's content revolves around Elton and his friends' epic road trip adventures, where they try a host of thrilling activities like skydiving, bungee jumping, and more. The channel also features hilarious prank videos that have become a hallmark of Elton's content.
Elton's ability to create highly engaging content that combines adventure and humor has been the key to his success on YouTube. His channel has grown to over 3.73 million subscribers (as of July 2023) and has garnered millions of views. Elton's fans appreciate his willingness to take risks and push boundaries, which has allowed him to create content that is both entertaining and unique.
View this post on Instagram
It is safe to say that Elton Castee's rise to fame on YouTube with his channel, TFIL, is a testament to his ability to create engaging content that combines adventure and humor. His willingness to take risks and push boundaries has allowed him to stand out in a crowded field and build a dedicated following of fans who appreciate his unique brand of entertainment.
ALSO READ: Get to know about the biography of Vixella.
Lights, Camera, Action! Castee's Dabbling in Acting and Other Ventures
Elton Castee's success on social media has not only led to his popularity on YouTube but has also opened up new opportunities for him to explore.
Elton has appeared in several short films and comedy projects, showcasing his talent and versatility as a performer. He has also worked with companies like Abrams Artists Agency, which shoots short-form digital series in partnership with Entrepreneur Network.
The ability to create highly engaging content has made him a sought-after digital influencer, and he continues to build his brand and expand his reach further, adding to the charm of Elton Castee biography.
Behind the Camera: Castee's Personal Life, One Adventure at a Time!
Elton Castee has captivated audiences with his hilarious antics and thrilling adventures, but not much is known about his personal life. The content creator has been relatively private when it comes to his personal life, with very few details available about his family or upbringing.
One aspect of Elton's personal life that is known is his girlfriend, Ginger Duran. Elton Castee's girlfriend is also a part of the TFIL crew and has contributed to some of the channel's most entertaining videos. The couple has been together for several years, and their relationship adds a personal touch to Elton's content.
While Elton's personal life may be a mystery to his fans, his dedication to his craft and his passion for making a positive impact on the world is evident in everything he does. His ability to create engaging content that resonates with his audience has made him a beloved figure in the world of social media, and his future endeavors are sure to be exciting and unpredictable.
Similarly, you would also love to explore the lifestyle of Erin Novakowski.
What's Next? From Vines to Vistas and Beyond!
Elton Castee's success on social media has brought him to new heights, but what does the future hold for the content creator? Elton's creativity and talent have allowed him to explore many different avenues, and there are plenty of opportunities for him to continue to grow and evolve.
One possibility is that Elton will continue to expand his brand and explore new platforms. He has already gained a massive following on YouTube but may also venture into other social media platforms such as TikTok or Instagram. Additionally, Elton may continue to collaborate with other content creators and brands to create exciting new content.
Another possibility for Elton's future is his acting career. Elton's talent and versatility as a performer could lead to many exciting opportunities in the entertainment industry.
Be sure to check out this blog later as we continue to update it with more exciting information about Elton's future endeavors. Who knows what exciting projects he has in store for us next? Until then, keep following your dreams and taking risks, just like Elton did.
Did you notice an error ?
Please help us make corrections by submitting a suggestion. Your help is greatly appreciated!