Politicians
Phyllis Schlafly Biography: Know The Iron Lady of Conservatism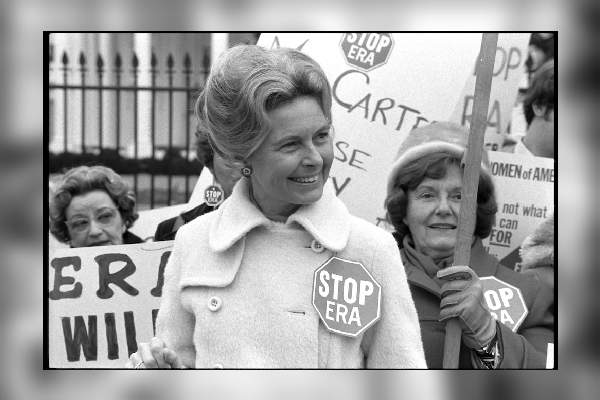 Phyllis Schlafly Biography. Image Source: Wikimedia Creative Commons.
Full Name

Phyllis Stewart Schlafly

Age

92 yrs

Birth Date

August 15, 1924

Country

America

Relationship Status

Married

Spouse

Fred Schlafly ​ ​(m. 1949; died 1993)

Nationality

American

Profession

Attorney

Children

6

Awards and honors

Barry Goldwater's nomination

Education

Washington University School of Law

Death Date

September 5, 2016
Phyllis Schlafly was a prominent American conservative activist, author, and anti-feminist whose grassroots activism played a role in transforming America's political landscape.
Schlafly was mostly known as the symbol of the conservative movement in America; hence the name 'Iron Lady of Conservatism' was bestowed upon her.
A strong believer in traditional values and norms, Phyllis gained national attention after millions of copies of her book were sold titled, A Choice Not an Echo (1964).
Let's know more about Phyllis Schlafly biography: One of the most influential historical figures of the United States.
Early Life and Education
Phyllis McAlpin Stewart was born on August 15, 1924, in St. Louis, Missouri, USA. She grew up during the great depression starting in 1929, and learned the values of hard work and self-reliance from her parents, John Bruce Stewart (father) and Odile Dodge Stewart (mother). Further, Schlafly had a younger sister Odile Stewart, named after their mother.
During her high school years, Schlafly excelled academically and was an accomplished debater, which harnessed the passion for politics in her consciousness.
Phyllis attended Washington University in St. Louis and graduated with a political science degree in 1944. Afterward, she earned a Master of Arts degree in government from Radcliffe College (now part of Harvard University) in 1945. Likewise, Schlafly attended Washington University School of Law and received her J.D. degree in 1978.
ALSO READ: Trey Gowdy Biography, From Delivering Newspapers To Justice.
Family and Personal Life
Phyllis Schlafly husband was John Fred Schlafly Jr., commonly known as Fred Schlafly, a member of a wealthy St. Louis family. The couple had married on October 20, 1949, and shared six children altogether John, Bruce, Roger, Liza, Andrew, and Anne Schlafly.
Fred was an attorney and an accomplished businessman who was very supportive of his wife's conservative activism. Moreover, the late spouses played a crucial role in each of their lives.
Despite her active public and professsional life, Phyllis was a devoted mother and prioritized the importance of traditional family values. Together, they had six children and shared a life devoted to their family and conservative values.
In 1957, Phyllis and her husband became one of the primary authors of an influential paper for the American Bar Association titled "Report on Communist Tactics, Strategy, and Objectives."
It was evident that they were prominent members of the anti-communist movement. Therefore, Schlaflys' paper was considered a driver of grassroots anti-communist sentiment. Further, it was highly influential for Catholics who linked their faith to patriotism and conservative beliefs.
The Schlafly remained together until Fred passed away on October 20, 1993. He is often remembered for his support to his better half and the major contributions he made to their family life.
On a similar note, you might want to see another fierce woman in Senate, Catherine Cortez Masto Biography.
Conservative Activism
Phyllis Schlafly's conservative activism gained national attention in the 1960s and 1970s. One of her most significant accomplishments was her leading role in opposing the ratification of the Equal Rights Amendment (ERA), a proposed constitutional amendment designed to guarantee equal rights for women. She argued that the ERA would undermine traditional family values and potentially subject women to undesirable consequences, such as being drafted into the military.
Schlafly founded the organization "STOP ERA" (Stop Taking Our Privileges) in 1972, which played a pivotal role in mobilizing opposition to the amendment. Despite fierce opposition, the ERA ultimately failed to be ratified by the required number of states and never became part of the U.S. Constitution.
In addition to her work on the ERA, Schlafly was also active in various other conservative causes. She fought against communism, advocated for a strong national defense, opposed abortion rights, and supported traditional education and homeschooling.
Phyllis Schlafly was a prolific author, having written over 20 books on various topics, including family, education, feminism, and national defense. Her books, columns, and newsletters were widely read and influenced the conservative movement in the United States.
Legacy After Death
Phyllis Schlafly remained active in conservative politics and continued to speak at events and contribute to conservative media until her passing. She founded the Eagle Forum in 1972, a conservative advocacy organization that continues to promote her values and principles.
One of the most influential activists, Schlafly's political career rose after her book helped secure Barry Goldwater's nomination. With more than 3 million copies sold, the book established her as a national voice within the conservative movement.
Schlafly passed away on September 5, 2016, at the age of 92. Her legacy as a tireless and influential conservative activist endures, and she is remembered for her dedication to preserving traditional values and advocating for conservative principles throughout her life.
Phyllis Schlafly biography serves as an inspiration to all. Her fight for equal opportunities for women and abortion rights laid the groundwork for the bills passed this day.
References
Did you notice an error ?
Please help us make corrections by submitting a suggestion. Your help is greatly appreciated!