Creators
Jack Lepiarz Biography: The Radio Anchor's Escape To Circus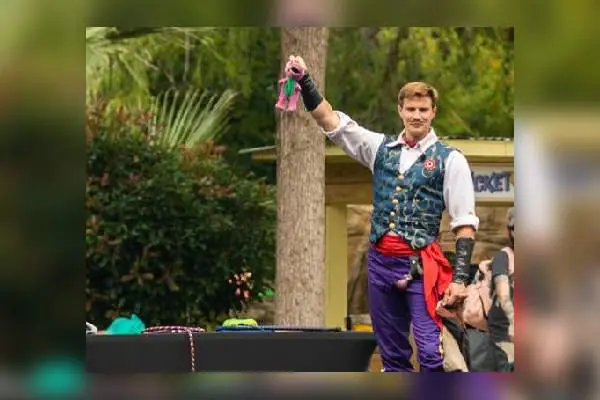 Jack Lepiarz Biography. Image Source: Instagram
Full Name

Jack Lepiarz

Age

35 yrs

Birth Date

July 11, 1988

Country

America

Relationship Status

Married

Spouse

Guramar Lepiarz

Nationality

American

Ethnicity

White

Profession

Stage performer, Journalist, social media personality

Education

Emerson College (Bachelor's degree in journalism)

Height

6 feet 1 inch
Across the stage, he comes with a bombastic performance cracking his whip louder and faster. Meet Jack Lepiarz or famously known for his alter ego character, "Jack The Whipper," the man whose performances are an orchestra of a mesmerizing symphony that sets hearts blazing with awe.
Besides slicing objects and setting his whip in flame, Jack is known for his decade-long career as a radio anchor and producer in Boston. So, dear readers, you might want to stay till the end as we will unravel Jack Lepiarz Biography, a tale of the master of extraordinary acts whose shows are a unique, must-see experience.
From radio to the circus, Lepiarz always had an extra talent hidden under his sleeve, which was to bring laughter to audiences.
Whipping Since Childhood: Comes From a Family of Performers
Jack Lepiarz was born on July 11, 1988, in Boston, Massachusetts, U.S., to father John Lepiarz, a circus clown, and mother Linda Van Blerkom, an anthropology professor at Drew University. His father worked in the Big Apple Circus until Jack was six years old and then committed solely to King Richard's Faire, an open-air show unlike in circus.
During this time, Lepiarz got his first taste of the action as it was his job to run out onto the stage and pick up the props and broken material his father left on the stage. He first learned to crack the whip at age 7 and, since then, has been whipping across states.
As Lepiarz grew older, his interests began to drift away from the family business. However, by 16, he started learning all the tricks of the trade he could after receiving his first whip for Christmas from his father. After months of practice, Lepiarz could successfully crack his whip. Slowly and steadily, "Jacques ze Wippeur" began to take form.
Talking about his education, Jack graduated with a bachelor's degree in journalism from Emerson College. There, he became a news director at WERS Emerson College Radio. After college, Jack worked as a radio anchor and producer at NPR radio station WBUR in Boston.
ALSO READ: Andre Dubus III Biography, whose wife is also a circus performer.
Alter Ego Jacques ze Whippeur
Soon, Lepiarz was good enough to perform, and he began to craft the character Jacques Ze Wippeur with his father. Originally, the idea of making Jack "Jacques, a Frenchmen" didn't go well with Lepiarz. However, his father persisted, and once the crowds saw him perform with a drawn mustache on his face cracking jokes and whips, the effect was undeniable.
Lepiarz continued with his act, as well as doing some wild west themed shows as American "Jack the Whipper" and some street shows. However, it wasn't until the performer shifted from his small space to the main stage at King Richard's Faire that he realized how seriously he could be taking his gig.
Now Jack was already a household name at WBUR, newscasting and anchoring radio shows. However, he felt performing in the circus is obviously a better job where you make people laugh and enjoy themselves, in addition to making the world a better place filled with laughter.
While he was working at WBUR as a newscaster, he used to perform under the nom de guerre Jacques the Whipper, a wise-cracking Frenchman with a painted-on mustache and a big whip.
Jack Lepiarz Wife, Wedding, and Married Life
Jack Lepiarz's wife, Guramar Lepiarz, is a digital storyteller, videographer, video journalist, multimedia producer, and reporter. The couple has been married since May 27, 2022, and has been together for over a year. Jack Lepiarz's spouse is from South Florida, and she is bilingual, with elementary proficiency in German and Punjabi, as she spent eight years in an Indian school. Jack Lepiarz's spouse's name, Guramar, means immortal by the grace of a guru.
Guramar and her husband, Jack Lepiarz's wedding ceremony took place in Gore Place, a 1806 federal-style 50 acres mansion and museum. Guramar's friend from Olive Ewe Productions captured the beautiful moments of their wedding.
Jack looked dashing in a black suit, while Guramar looked beautiful in a sleeveless white bridal dress. The couple's friends and families were present at the beautiful ceremony. Further, they went to Paris, France, for their honeymoon. The couple lives in Massachusetts with their adorable cat named Scipio Africatnus, who has his own Instagram account.
The Lepiarzs are accomplished individuals, respectively; while Jack is a renowned performer, Guramar has won several awards for her work as a multimedia producer and storyteller. Since 2021, she has been working as a digital storyteller at Boston University College of Communication, Massachusetts.  She graduated with a B.A. in Journalism from the University of Oregon in 2014.
While working as a videographer for Above Summit in Boston from 2016-2019, Guramar filmed, edited, and produced hundreds of short and long products. As of now, she also helps capture her husband's shows and helps him run his social media.
In 2016, Guramar's team won first place in the Multimedia team competition issued by Hearst Journalism Awards program. Likewise, in 2020, they won the Telly Gold Award and AVA Gold Award for a documentary titled Re-marketing the Boston Marathon. Similarly, in May 2020, her team was nominated for a New England Regional Emmy as well.
How Much is Jack Lepiarz Net Worth? A Successful Creator As Well
Jack Lepiarz's net worth is a question whose answer is yet to be found. Although Lepiarz has not officially disclosed, as per sources, the Colorado Renaissance Festival pays an average salary of $142,157 to performers. Further, the average yearly salary for circus performers ranges somewhere between $38,000-$54,000.
Jack launched his YouTube channel named Jacques Ze Whipper on June 14, 2010, which has over 200 million views and over 829k subscribers. Lepiarz might earn over $500k yearly from his YouTube channel. Similarly, his TikTok account has nearly 3 million followers with over 75 million likes. Moreover, Lepiarz's Instagram account has over 495k followers.
Similarly, you might want to read about storyteller Jami Attenberg's Biography.
Escaping From Radio to Festivals, Faires, AGT, and World Records
Jack started his radio career as WBUR's go-to breaking news reporter covering news, including the Boston tornado and the Boston Marathon bombings of 2013. After COVID-19, Jack was left without any shows, and as a person who took the circus as his intrinsic part of his family, Jack understood what he wanted to do for the rest of his life.
In February 2023, Lepiarz officially left his newscasting job to perform stage shows and crack his whip. He made his debut at the 2023 Colorado Renaissance Festival, which runs from June 17 until August 6, 2023. The festival has partners and official sponsors, including Pepsi, CircleK, Iheart Media, CBS Colorado, and CoorsLight.
For an eight-summer weekend, the tickets price are ranged from $12 for children and $25-$28 for adults.
Jack Lepiarz holds the Guinness World Record for most bullwhip cracks in one minute with total whips of 298. He performed the act on September 6, 2020, in Somerville, Massachusetts, USA. He previously also held the record of 289 bullwhip in one minute in 2016.
In July 2022, Lepiarz auditioned for America's Got Talent and made headlines for a stunt involving judge Simon Cowell. The trick showed Lepiarz whipping a thin wooden target from between a seemingly terrified Cowell's knees. Do you know Lepiarz initially wanted to do the act with Howie Mandel?
The show's producers had restricted Lepiarz from dumping the idea, but as soon as he got in front of the AGT audience, host Terry Crews yelled at him, hinting to get Simon on stage. Well, although he was no longer on the show, he enjoyed his stint on AGT.
Jack Lepiarz biography is about a wondrous world of daring, feary fire-eaters embracing the flames and whippers cracking the air with electrifying anticipation. We hope to see more from the talented performer in the coming days as well.
References
Did you notice an error ?
Please help us make corrections by submitting a suggestion. Your help is greatly appreciated!