Creators
Preston Arsement Biography: Played His Way To Being A Highest-Paid YouTuber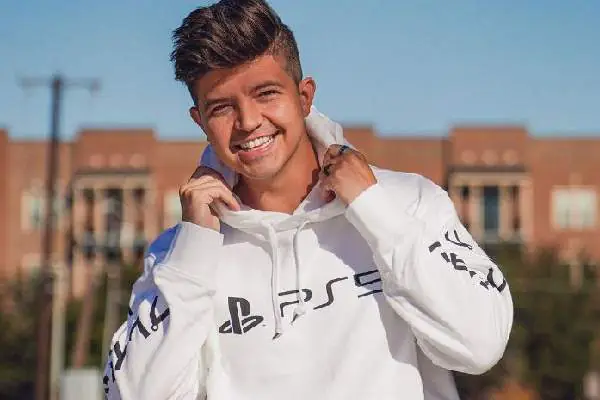 Preston Arsement Biography. Image Source: Instagram
Full Name

Preston Blaine Arsement

Age

29 yrs

Birth Date

May 4, 1994

Country

America

Relationship Status

Married

Spouse

Brianna Arsement

Nationality

American

Profession

YouTuber, Creator

Net Worth

$20 million

Height

5 feet 8 inch
In the never-ending categories of YouTube, Preston Arsement, an American YouTuber, established himself as one of the most prominent names in the gaming industry.
For quite a long time, popular YouTubers like PewDiePie, DanTDM, Mr. Beast, and a few others have dominated the platforms. However, there are YouTubers like Preston Arsement, who are known for videos featuring games like Minecraft, Fortnite, and Call of Duty.
Check out Preston Arsement biography as we dig deeper into more interesting facts about one of the highest-earning content creators.
Get To Know Preston's Early Life And Family
Preston Blaine Arsement was born in Texas, USA, on May 4, 1994. His birth sign is Taurus. His parents, David Arsement (stepfather) and Jaye Ryder Arsement have been married for almost 29 years since 1994. Although he never got to see his biological dad, Preston loves David like his father, and the two have a strong emotional bond.
Arsement has a total of five siblings, four brothers named Joshua, Caleb, David, and Daka, and a sister, named Keeley Arsement. Their father, David, is a retired Aircraft mechanic from U.S Air Force, while their mom, Jaye, is a real estate developer.
Initially, he wanted to become a pro-grade paintball player. However, Preston ended up in a different career. After graduating from high school in 2010, he started working on his career, opening a channel named TBNRFrags. He caught the attention of the multimedia business Machinima, who offered him to join their team called Respawn Crew in 2011.
Preston began his online career at age 16 when he created a Youtube channel. His channel quickly grew in popularity, and he is now one of the most popular YouTubers in the world.
ALSO READ: How rich is YouTube star Plumbella?
Online Career, Joining YouTube and Rise to Fame
Preston's first channel primarily featured Minecraft gameplay videos, including survival challenges, mod showcases, and custom map playthroughs. The channel gained a significant following and laid the foundation for Preston's success in the online gaming community.
Initially, he focused on Call of Duty gameplay videos but later transitioned to creating content around Minecraft. His decision to switch to Minecraft proved to be a turning point in his career, as the game was gaining immense popularity at the time.
He gained popularity through his engaging content on various online platforms, primarily YouTube. As his channel grew in popularity, Preston diversified his content to include other games, challenges, and real-life vlogs, further expanding his fan base.
One of his most successful Minecraft series is "PrestonPlayz," where the YouTuber showcases various creative gameplays and mods, captivating millions of viewers around the world. Additionally, he is known for his friendly and energetic on-screen persona, which has made him even more endearing to his fans.
Who is Preston Arsement's Wife? Is She Into Gaming?
Preston Arsment's wife, Brianna Arsement, was previously a registered nurse who worked as an emergency room nurse at UT Southwestern Medical Center in Dallas. They first met after a mutual friend set up their blind date. After a few months of dating, Preston and Brianna got engaged in October 2017. A year later, they got married on May 12, 2018, and their wedding ceremony took place at Dallas Union Station.
Before turning into a gaming creator, Preston Arsement's spouse worked as a performer for Royally Fun Parties, where she performed and entertained children. After finding her potential in the gaming industry, Brianna joined YouTube in December 2018. As of now, her channel has over 10 million subscribers and over 3.5 billion views.
View this post on Instagram
Brianna Arsement graduated with a Master's degree in Family Practice Nursing from Simmons University in June 2018. Previously, she studied Bachelor of Science in Nursing at Texas Christian University from 2012-2016.
After receiving her bachelor's degree, Brianna worked as an emergency room nurse at UT Southwestern Medical Center from June 2016 until October 2018 in Dallas. Since 2018, Brianna Arsmeent has been serving as the President of TBNR Productions. The couple is yet to have children.
Similarly, you might want to read about TikTok star Bennett Jeppsen Bio.
Preston Arsement Net Worth: Expanding His Online Presence
One of the highest-earning YouTubers, Preston Arsement's net worth is $20 million as of 2023. In 2021, he was one of the Top Ten highest-earning YouTubers with estimated earnings of $14 million, while Mr. Beast's earnings were $12 million. Likewise, in 2022, Forbes reported that Preston Arsement's fortune was $16 million.
Forbes estimated Preston Arsement's net worth as $14 million before taxes from June 2018-June 2019. Moreover, he earns a chunk of his revenue from the Minecraft servers he runs for seven figures annually. Similarly, Preston Arsement's monthly earnings can go higher, up to $700k per month.
| | | | |
| --- | --- | --- | --- |
| Channels | Launched Date | No. of Subscribers (As of July 31, 2023) | Estimated Earnings (Yearly) |
| TBNRFrags | 29-Nov-2010 | 7.74 million | $200k |
| Preston | 04-Jul-2012 | 24 million | $9.3 million |
| PrestonGamez | 18-Apr-2017 | 3.79 million | $100-$200k |
| PrestonPlayz | 14-Mar-2018 | 10.46 million | $7-$8 million |
| PrestonCosmic | 06-May-2019 | 551k | N/A |
| PrestonShorts | 23-Sept-2020 | 3.75 million | $850k |
TableSource: SocialBlade
YouTube creators like Arsement earn money in a number of ways, including direct-to-consumer sales, brand sponsorships, and revenue earned directly from YouTube. YouTube pays creators a rate for every 1,000 views on videos monetized with ads. This rate, called the CPM rate, changes based on various factors, like viewer demographic and content.
🚨 LESS THAN 30 MINUTES! 🚨

ALL 6/6 Pack Members are back and the channel is going to have WEEKLY uploads!https://t.co/Gk4KdD3OEl @Vikkstar123 @MrWoofless @LachlanYT @Bajan_Canadian @JeromeASF pic.twitter.com/benc140NNP

— preston (@Preston) June 30, 2023
A stream of income sources like gaming, merchandise, tournaments, and entrepreneurship contributes to Preston Arsement's fortune. He began his YouTube career in 2010, and his channel has grown rapidly since then.
Arsement is a successful entrepreneur investing both in real estate and game development and has built a large following on YouTube. Likewise, he has also been successful in other areas, such as gaming tournaments and merchandise sales.
Preston created channels like PrestonReacts, PrestonCosmic, and PrestonPlayz, which focused primarily on gaming content. He launched nine additional YouTube channels as his popularity grew to diversify his content and reach a broader audience. The number of succesful channels, merchandise sales, and other ventures has helped Preston Arsement's earnings rise extremely higher.
Merchandise and Business Ventures
Besides a successful YouTube career, Preston Arsement has built a large following around his successful entrepreneurial career. As an owner of a clothing line and a line of gaming accessories., Preston has made a name as one of the most strategic entrepreneurs. Since February 2011, the Minecraft gamer has been the Chief Executive Officer of TBNR Productions based in the Dallas-Fort Metroplex.
Preston's Fire Merch has been well-received by his fans, and his business endeavors have contributed to his overall success as an online personality. The brand offers a range of products, including clothing, accessories, and gaming gear featuring Preston's logo and branding.
| | |
| --- | --- |
| Items | Price |
| T-Shirts | $17-$35 |
| Hoodies | $24.99 |
| Toys | $4-$30 |
| Accessories | $4-30 |
Table Source: Firemerch.com
During lockdown, Arsement's viewership almost doubled, but his ad rates on YouTube dropped by over 50%. Therefore, he ran his merch business in-house and built a warehouse from which he shipped T-shirts, hoodies, and other branded accessories.
The amount of money influencers earn fluctuates wildly, but Preston, as a YouTuber, gamer, and entrepreneur, earns a desirable income. In one of his videos, "21 Youtuber secrets you never know", Arsement revealed that the estimated revenue for his main channel PrestonPlayz in July 2021 was $268,429.
In addition to his YouTube channel, Arsement also has a successful Twitch channel. He has over 3 million followers on Twitch and regularly streams live gameplay to his fans. Arsement has partnered with several brands, such as Nike and Mountain Dew.
The 2023 reports show that YouTube rakes in over 2 billion monthly active users, and gaming remains one of the most viewed categories with over 500 million monthly active users. While famous creators have been dominating the platform, new creators also continue to build a successful following.
Other Ventures and Achievements: Continued Success
Over the years, Preston has collaborated with several other popular YouTubers and gamers, expanding his reach and creating a strong presence within the online gaming community.
Preston collaborated with other popular YouTubers and gamers, including his friends and fellow content creators. He was part of a Minecraft multiplayer server called "Team TBNR," where he played alongside other well-known Minecraft YouTubers, fostering a sense of community and camaraderie within the gaming world.
In addition to his YouTube channels and merchandise, Preston has ventured into live streaming on platforms like Twitch, where he engages with his audience in real-time while playing games and interacting with fans.
Arsement's videos typically feature him playing popular games like Fortnite, Minecraft, and Call of Duty. Known for his energetic and entertaining personality, Preston also does vlogs and challenges where his videos are often funny and engaging.
Preston Arsement's dedication to creating entertaining and engaging content, combined with his positive and family-friendly approach, has allowed him to maintain a strong presence in the online gaming community. He continues to grow his fan base and inspire aspiring content creators through his success story.
References
Did you notice an error ?
Please help us make corrections by submitting a suggestion. Your help is greatly appreciated!