Crime
The Poisonous Path: Unveiling Velma Barfield Life of Crimes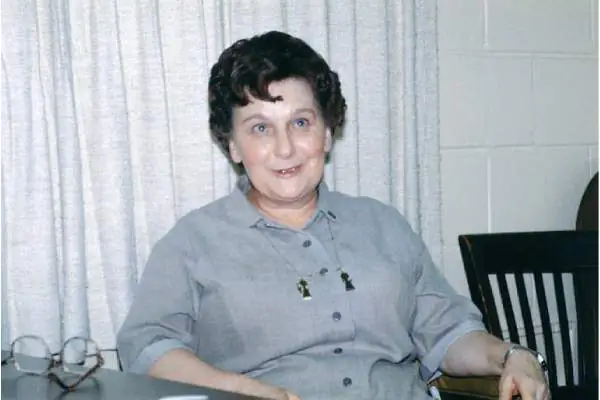 Velma Barfield. Image Source: Twitter.
Full Name

Velma Barfield

Age

52 yrs

Birth Date

October 23, 1932

Country

America

Relationship Status

Widowed

Spouse

Stuart Taylor

Nationality

American

Ethnicity

White

Children

Ron Burke and Kim Burke

Death Date

November 2, 1984
Velma Barfield gained infamy as a notorious murderer, earning the chilling nickname "Death Row Granny." Her series of heinous crimes shocked the nation and revealed the darker aspects of human behavior.
The cautionary tale she represents serves as a grim reminder that even those who seem ordinary can succumb to criminality and violence.
This article will delve into Barfield's life and chronicle her string of murders, examining what factors pushed her towards this deadly path while also exploring the consequences that eventually caught up with her.
Early Life and Background
Velma Barfield, born in North Carolina on October 23rd, 1932, was the eldest daughter and second child among a large family of nine siblings. While she claimed that her father physically abused and sexually assaulted her and her sisters, there were disputes among other relatives regarding this allegation.
Velma left school early and became a mother to two children named Ron Burke and Kim Burke from her first husband, Thomas Burke, by the time she turned nineteen. Initially, their marriage seemed happy, portraying an image of a typical family unit. However, things worsened after Thomas suffered head injuries from a car accident in 1966 that rendered him unable to work. In order to support the family financially during those trying times, Velma found employment at a store.
Velma Barfield's husband, Thomas, quickly developed a dependence on alcohol, while Velma turned to antidepressants and tranquilizers as a means of coping with the overwhelming stress that had enveloped their once-happy life. Eventually, this led to Velma experiencing a psychological breakdown and developing an addiction to various substances. Tragically, Thomas passed away in 1969 due to a house fire under suspicious circumstances, raising questions about whether it was actually an accident or something more sinister.
In 1970, Velma entered into another marriage with Jennings Barfield, but within just six months, he too met his untimely demise from heart complications. With limited employment opportunities at her disposal and fueled by her drug dependency, Velma resorted to forging checks and ultimately resorting to murder as she sought both financial gain and revenge against those who had fallen victim to her scams.
People Around Her Were Dropping Like Flies
After becoming a widow once again, Velma was devastated and decided to move into her parents' residence in Fayetteville, North Carolina. Shortly after settling in with them, tragedy struck when Velma's father, Murphy Bullard, passed away from lung cancer.
During the summer of 1974, Velma Barfield's mother, Lillian Bullard, began experiencing intense stomach pains. She received medical attention at a local hospital but was discharged when her symptoms improved.
Unfortunately, another heartbreaking event followed as one of the men dating Velma lost his life in a tragic car accident that same August. As if the pain wasn't already unbearable enough for Velma and her family that year, tragedy struck once more in December when Velma's mother, Lillian, exhibited severe abdominal symptoms yet again.
Despite seeking immediate medical help and being admitted to a hospital this time around, distressingly, Lillian sadly passed away within two hours of admission. The physicians were unable to identify the cause of Lillian Bullard's fatal ailment, and no autopsy was performed.
View this post on Instagram
In 1975, Velma Barfield spent six months in prison for committing the offense of writing multiple unauthorized checks. After her release from incarceration, Velma managed to secure employment as a home health nurse for an elderly couple named Montgomery Edwards and Dollie Edwards. Unfortunately, Montgomery Edwards passed away in January 1977.
Shockingly, just a few weeks later, in late February 1977, Dollie Edwards also succumbed to an unusual stomach virus. Following these unfortunate events, Velma was reassigned to care for another senior couple by the names of John Henry Lee and Record Lee. Regrettably, again, John Henry Lee died in June 1977 due to what his doctors classified simply as "a severe stomach virus."
ALSO READ: One of The Most Heinous Serial Killers, Richard Evonitz.
The Crimes Finally Came To Light
In 1977, Velma entered into a romantic relationship with Stuart Taylor, an agriculturalist and widower. However, in her typical fashion, she resorted to forgery by writing checks from Taylor's account to fuel her addiction.
Suspecting that Taylor had become suspicious of her actions, fearing exposure would lead to dire consequences for herself; therefore, she took drastic measures. This involved mixing rat poison containing arsenic into his beverages, such as beer and tea. As expected, he fell seriously ill due to the poisoning, and Velma volunteered to take care of him during this time of distress.
With each passing day, his health deteriorated rapidly, leading Velma to ultimately take him to the hospital, where he passed away after a few days. Unfortunately for Velma, there was an autopsy carried out this time, which determined that arsenic poisoning caused Velma Barfield's partner, Taylor's untimely death. Consequently, Velma faced arrest and was formally charged with murder.
During the trial, her defense team unsuccessfully argued insanity in vain attempts trying to convince others of mental illness at play. Chillingly, to everyone's astonishment, Velma appeared indifferent and cold-hearted when taking a stand. She also shockingly gave the District Attorney a standing ovation after he delivered his closing arguments.
Velma later admitted to committing the murders of her mother in 1974, who she had taken a loan out in her name, as well as two elderly individuals named John Henry Lee and Dollie Edwards. She was working as a housekeeper/carer for John Henry Lee and met Stuart Taylor through Dollie Edwards, as they were related.
Surprisingly, Velma would attend the funerals of her victims and exhibit genuine grief for them. In addition to these killings, traces of arsenic were discovered in the body of Velma's late husband, Thomas, after his exhumation. However, Velma vehemently denied any involvement in his death.
Episode 19 – Velma Barfield

This week Rachael delves deep into the world of a serial killer Granny!

Available wherever you listen to your podcastshttps://t.co/J848ftAZrM pic.twitter.com/Osoi2t1TYS

— Picture The Scene Podcast (@Scenepod) May 11, 2022
Velma's motives behind all four murders followed a similar pattern: she embezzled money from each victim and then claimed that she tried to make them ill so that she could care for them while searching for another job opportunity to repay the stolen funds. Unsurprisingly, this defense did not impress the jury.
Similarly, another woman who made the news for her murders is Shelly Knotek. Be sure to give her article a read.
A New Woman on Death Row
In December 1978, Velma Barfield was found guilty of committing first-degree murder against Stuart Taylor. The jury in the trial determined that there were "aggravating circumstances" surrounding the crime and subsequently advised her to be given a death sentence.
While serving her sentence on death row, Barfield had a profound religious transformation and dedicated herself to spreading the teachings of Christianity among fellow inmates as well as prison staff. She took it upon herself to write letters to Governor Jim Hunt, appealing for her sentence to be commuted from death to life imprisonment based on her newfound faith.
This plea attracted significant support from Christians across the nation, including prominent figures like evangelists Billy Graham and Ruth Graham. Despite these efforts, Governor Hunt refused clemency requests.
In addition to seeking relief through executive channels, Barfield also pursued legal avenues by appealing her conviction in the US District Court of Eastern North Carolina. Despite a brief stay of execution during this process, all appeals were ultimately denied.
Consequently, the murderer was executed via lethal injection at Central Prison in Raleigh on November 2nd, 1984; she was 52 years old at that time and became the first woman ever put-to-death using lethal injection methods in the United States.
Velma Barfield, a Victim or a Serial Killer?
Was Velma Barfield merely a victim of drugs and mental illness, struggling to support her addiction? Or should we truly view her as a vicious serial killer?
Like others in similar circumstances, it can be argued that once she crossed the line and committed her first murder, the subsequent killings became increasingly effortless for her. From this perspective, murder seemed like an effective and irreversible way to avoid exposure by those whom she was deceiving.
We are thankful that Velma was apprehended before others could get hurt, and sorry that she was not caught sooner.
Did you notice an error ?
Please help us make corrections by submitting a suggestion. Your help is greatly appreciated!