Politicians
Sauli Niinisto Biography: The Remarkable Journey of Finland's 12th President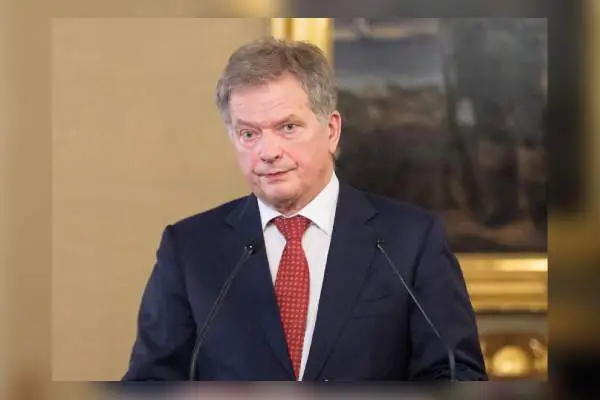 Sauli Niinisto Biography. Image Source: Wikimedia Commons
Full Name

Sauli Vainamo Niinisto

Age

75 yrs

Birth Date

August 24, 1948

Country

Finland

Relationship Status

Married

Spouse

Jenni Haukio

Nationality

Finnish

Profession

Politician

Children

Nuutti Niinisto, Matias Niinisto and Aaro Niinisto

Awards and honors

2022-Global Citizen Honorary Award, 2015-Gold Merit Medal

Education

University of Turku

Height

5 feet 8 inch
How often do you come across a politician who is loved by not only the people but even the opposition? Well, Finnish politician Sauli Niinisto, a polymath and a versatile figure, has enjoyed widespread popularity during his political career.
Most people would sweat taking upon a responsibility being in a critical position, but Sauli Niinisto biography tells us about his compassion and statesmanship. He is a perfect example of leadership that exceeds political boundaries and unites a nation.
So today, in this article, you will be surprised to know how Niinisoto, the 12th president of Finland, through times of distress and triumphs, navigated the nation on a path of progress, natural conservation, and economic stability.
Born in a Noble Family, Early Life, and Journey to Politics from Law
Sauli Niinisto was born on August 24, 1948, in Salo, Finland, to a well-being family. His father, Vaino Pellervo Niinisto, was a circulation manager of a newspaper publication, while his mother, Hilkka Helena Niinisto, worked as a nurse. Likewise, his godfather was Fjalar Nordell, founder of Salora, an electronics manufacturing company.
Niinisto has three older siblings. His brother, Kari Niinisto, a professor emeritus, has taught educational science at the University of Turku. Further, Kari's son, Ville Niinisto, is a former chairman of the Green Party and a member of the European Parliament since 2019.
Sauli's sister, Virvie Partamen, is a restaurant entrepreneur, while another sister, Kirsi Saarnivaara, worked as the secretary of the management of the Municipal Corporation.
After completing his education at Salo's Joint High School in 1967, Niinisto then graduated with a bachelor's degree in law from the University of Turku in 1974. He first received his deputy judge rank in 1977 and ran his own law office in Salo from 1978 until 1988.
Similarly, Sauli was the appellate magistrate of the Court of Appeal of Turku from 1976–1987 and was appointed appellate advisor in 1994. Niinistö started his political career by running for office in the 1976 municipal elections in Salo. He was elected to the Salo city council and the city board.
National Coalition Party and Finance Career
After pursuing a law career, Sauli embraced a transition in finance and economics before stepping into the world of politics. During 1979 and 1981, Sauli served as a member of the National Coalition's party council and as a member of its board from 1993-1994. NCP is one of the major political parties in Finland.
This day marked the official closing of the formal integration process between Finnish Defence Forces and NATO military structures.

The process has been very fast. Our almost 30 years of close cooperation and military interoperability with NATO has made that pace possible. pic.twitter.com/IlCbO0zH4Q

— Sauli Niinistö (@niinisto) June 12, 2023
Between the late 1990s and early 2000s, Niinisto was involved in various bank councils. From 1999-2003, he was a member of the supervisory board of the European Bank for Reconstruction and Development (EBRD). Similarly, he became a member of the International Monetary Fund's Monetary and Financial Committee (IMFC) from 2000–2001.
As a National Coalition Party (NCP) member, the former lawyer demonstrated remarkable acumen and vision, rapidly rising through the ranks. Until 1988, he was in the city council continuously, after which he continued as the chairman of the city council from 1989–1992. Further, Niinisto is the honorary chairman of the Tukikummit Foundation, and his early life experiences laid the foundation for his deep-rooted connection to the Finnish people.
ALSO READ: Richard Gephardt Biography: A Progressive Force in American Politics
The Tragic Incident of Sauli Niinisto's Wife, Get to Know Their Children
Sauli Niinisto's first wife was Marja-Leena Alanko, whom he remained married until her death in 1995. Niinisto and Marja married in 1974, and they shared two sons, Nuutti Niinisto and Matias Niinisto.
Talking about Sauli Niinisto's children, both of his sons from his first marriage are well-accomplished in their respective careers. His oldest son, Matias Niinisto, was born in 1980. He completed his education at the University of Helsinki and later at Brunel University London. Since 2019, Matias has been serving as the CFO and HR Head of Bonum Bank. Similarly, he served in various positions, such as VP, management partner, and business controller for Nordea, a financial services company located in Helsinki.
Sauli's second son, Nuutti Niinisto, was born in 1975. He received his master's degree from the Helsinki University of Technology in 2001. Like his older brother, Nuutti has worked in several positions, such as an executive director for financial companies and banks in Sweden. Since 2015, he has been serving as the managing director for Nordea.
Sauli Niinisto's kids are all doing well in their respective fields. Everything was perfect until one day in January 1995, Sauli Niinisto's wife, Marja, died in a traffic accident. The former councilmen shared about his grief and time after his spouse's death in his book Five Years of Loneliness, published in 2005.
Toss of the Grief: Second Marriage with an NCP Staff
Sauli Niinisto's second wife, Jenni Haukio, is a poet and doctor of political science who has performed representative duties as the spouse of the President of the Republic of Finland. After Marja's death, Niinisto picked up the pieces, and on January 3, 2009, he married Jenni, then a 31-year-old director of communications for the National Coalition Party. Their wedding ceremony was held in Reposaari church.
View this post on Instagram
Jenni Elina Haukio was born on April 7, 1977, in Pori. She graduated with a master's degree in political science from the University of Turku in 2001. She has published numerous poetry collections and scientific and anthology publications. She was honored with the Grand Cross of the Order of the White Rose of Finland in 2012 alongside her husband.
Before marrying, Sauli and his loving partner, Jenni, had dated for about two years but kept their relationship a secret from the media until the wedding day. They shared a son named Aaro Niinisto, who was born on February 2018, the day after Niinisto's second season as the president.
Similarly, you would like to read about the Iron Lady Phyllis Schlafly's biography.
Sauli Niinisto Net Worth: Income from his Presidential Tenure
The 12th and current Finnish President, Sauli Niinisto, has an estimated net worth of $2 million as of 2023. The figures are a general range, and Sauli's yearly salary contributes to his decent fortune. As per reports, Niinisto earns approximately $141,131 as an annual wage from the Finnish government and the Department of Treasury.
In addition to this, the President is provided an official residence whose upkeep, heating, lighting, decoration, and service personnel are provided from out-of-government funds.
The President's annual pension is 60% of the compensation paid to the President while in office, i.e., currently $107,483. Additionally, the government may provide a former President with a residence at a reasonable rent. It might include suitable separate premises for working, and also with transport, security, secretarial and clerical services within the constraints of the central government budget.
Based on all the details available, we can assume that Finnish President Sauli Niinisto's income is quite commendable, and he is living a comfortable life with his wife and family.
Dating Life and Interesting Story About Sauli Niinisto Dog
Before he married for the second time, Sauli Niinisto was briefly engaged with Tanja Karpela, a former Miss Finland who was a member of Parliament in an opposition party. They broke up in 2004, less than a year after their relationship. The same year when Sauli survived a devastating tsunami in Thailand caused by the Indian Ocean Earthquake. Niinisto later revealed that he survived the natural disaster by clinging high up to an electrical pole for more than an hour.
If you follow the events of world politics, then you might have heard or seen about Sauli Niinisto's dog named Lennu. He was a Boston Terrier dog who got a lot of publicity in Niinisto's first presidential season in Finland and abroad.
Lennu often accompanied President at official events, and he first received a lot of international attention on social media after the American journalist Kelly Weil published two pictures on Twitter in February 2017. The dog was so popular that in the U.S., he briefly appeared on The Tonight Show hosted by Jimmy Fallon, where meme pictures made of it were also shown.
Unfortunately, Lennu died due to a pituitary tumor in May 2021, and three months later, Niinistö and Haukio acquired a rare tenterfield terrier named Osku as their new pet dog.
Journey to President: The 2018 Finnish Presidential Election
Although asked to be a candidate in the 2000 presidential election, Sauli Niinisto was first inaugurated on March 1, 2012, and began his first season as the Finnish President. Afterward the 2018 Finnish presidential election took place on January 28, 2018, and he was the clear front-runner throughout the campaign. The incumbent President ran as an independent candidate but had the support of the NCP.
Among Sauli's opponents were several notable candidates from different political parties. The most efficient challenger was Pekka Haavisto, a member of the Green League and the first openly gay presidential candidate in Finland's history. Other candidates included Laura Huhtasaari from the Finns Party, Merja Kyllonen from the Left Alliance, and Matti Vanhanen from the Centre Party. Well, none of these candidates managed to come even close or challenge Sauli Niinisto's dominant position.
In the first round of voting, Sauli obtained a significant lead with approximately 62.7% of the vote. Similarly, the second round took place on February 11, 2018, and Niinisto was declared the winner with an overwhelming majority, securing approximately 64.3% of the vote. The 2018 Finnish presidential election marked a continuation of Finland's political stability and reaffirmed the public's confidence in President Sauli Niinisto's leadership.
Awards, Honors, and Tributes
As a president loved by even opposition parties, it is obvious that President Sauli Niinisto would be recognized for his compassion and extraordinary leadership skills. Throughout his political and presidential career, Sauli has been bestowed upon numerous prestigious awards and honors. Let's take a look at some of his accomplishments and conquests.
| | |
| --- | --- |
| Year | Order of Knights |
| 2012 | Grand Cross of the Order of the White Rose of Finland with chains |
| 2013 | Knight of the Order of the Elephant from Denmark |
| 2015 | Order of the White Eagle from Poland |
| 2017 | Grand Cross of the Order of Merit of the Italian Republic from Italy |
| 2021 | Cross of the Order of Prince Yaroslav, the Wise 1st class from Ukraine |
Table Source: Online Publications
Similarly, Sauli was awarded the Grand Cross of the Order of the Cross of Liberty and the Grand Cross of the Finnish Lion in 2012.
Let's take a look at Sauli Niinisto's list of awards from several major organizations.
| | |
| --- | --- |
| Year | Awards |
| 2009 | Tapaseurary's Behavior of the Year Tribute |
| 2013 | The Finnish Science Society's 175th anniversary Silver Medal |
| 2013 | The Friedrich-August-von-Hayek Foundation's Economic Award |
| 2015 | Finnish Reserve Officers Association's Gold Merit Medal |
| 2020 | Finnish local newspapers Vuoden Antti Award |
| 2022 | Global Citizen Honorary Award |
Table Source: Online Publications
For information, Sauli was honored with the World Leader for Peace and Cybersecurity Award from the Boston Global Forum (BGF) and the Michael Dukakis Institute for Leadership and Innovation (MDI) on December 2018. Moreover, several prestigious institutions have recognized Sauli for his political and environmental contributions. Take a look.
| | |
| --- | --- |
| Year | Honorary Doctorates |
| 2015 | Honorary Doctor of Veterinary Medicine, University of Helsinki |
| 2016 | Honorary Doctor of Economics, Aalto University School of Economics |
| 2017 | Honorary Doctor of Law, University of Helsinki |
| 2018 | Honorary Doctor of Military Sciences, National Defense University |
| 2023 | Honorary Doctor of Philosophy, University of Helsinki |
Table Source: Online Publications
Some of his notable honorary doctorates include Administrative Sciences at the University of Tampere in 2010, an H.D. in Law from the University of Turku in 2011, H.D.of Laws from the University of Budapest, Hungary in 2012, an H.D. in Physical Sciences from the University of Jyvaskyla in 2013.
Loved By Finns and Respected by Leaders, Relations with the U.S, Nato, and Other Countries
President Sauli Niinisto is known for his stance on environmental conservation and the sustainable preservation of resources. He often emphasizes and addresses climate change both domestically and globally, supporting Finland's transition towards cleaner and renewable energy sources. Likewise, Niinisto engages in international environmental diplomacy, encouraging other nations to take action on climate change and environmental issues.
The 12th president of Finland, Mr. Sauli, often participates in global forums and summits to raise awareness and discuss collaborative solutions. On July 13, 2023, U.S. President Joe Biden and Finnish President Sauli spoke at a joint press conference in the capital, Helsinki.
The two biggest figures of the political world recalled their old meetings, praised each other, and talked about Finland and U.S relations. Similarly, they talked about technology, NATO, and the future of Ukraine as well. In the same conference, Sinnisto also revealed that the Defense Cooperation Agreement is in negotiations, which means there might be a possibility of the U.S. having a permanent military base in Finland.
Despite his 74-year-old age, president Niinisto continues to aspire as a steadfast leader shaping a brighter future for Finland and beyond. We hope this article about Sauli Niinisto biography might have given you some discernment about the fierce yet humble man's journey.
Keep visiting BroadBiography for more exciting biographies, news, and gossip.
References
House, W. (2023). Remarks by President Biden and President Sauli Niinistö of the Republic of Finland in joint press conference | Helsinki, Finland. The White House.
Wallenfeldt, J. (2013, May 17). Sauli Niinistö | President of Finland & Nobel Peace Prize nominee. Encyclopedia Britannica.
Biography of Jenni Haukio – Presidentti. (2022, December 16). Presidentti.
European Voice Staff. (2014, April 12). Roller-blading pragmatist. POLITICO.
Martyn-Hemphill, R. (2018, January 27). Finland's Scene-Stealing first dog is missed during the dull election. The New York Times.
Horowitz, J. (2022, February 14). Finland's president knows Putin well. And he fears for Ukraine. The New York Times.
H.E. Sauli Niinisto. (2023, June 4). Brookings.
Is. (2018, August 24). Vertaa kuvista, onko Nuutti, Matias ja Aaro Niinistössä samaa näköä. Ilta-Sanomat.
Did you notice an error ?
Please help us make corrections by submitting a suggestion. Your help is greatly appreciated!