Medicine
James McCune Smith Biography: The Man of Many Firsts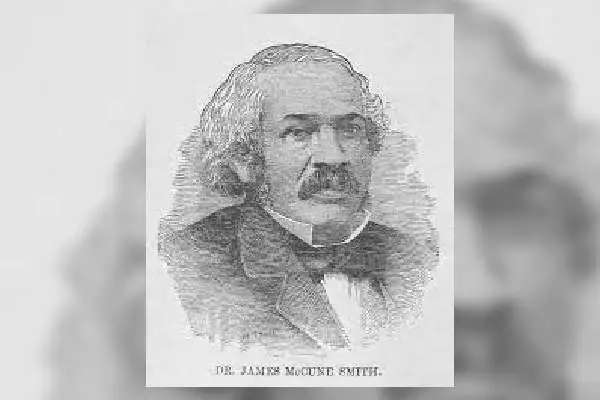 James McCune Smith Biography. Image Source: New York Public Library.
Full Name

James McCune Smith

Age

53 yrs

Birth Date

April 1, 1812

Country

America

Relationship Status

Married

Spouse

Malvina Barnet

Nationality

USA

Profession

Physician

Children

11

Education

Glasgow University

City

New York

Death Date

November 17, 1865
James McCune Smith was a man of many firsts: the first African American to earn a medical degree, the first black pharmacist in the United States, and the first African American to run a pharmacy. He was also a prolific writer and essayist who made significant contributions to the abolitionist movement and the field of medicine.
Despite facing racial discrimination throughout his life, Smith persevered and left behind a lasting legacy that has only recently been rediscovered. In this blog post, we will take a closer look at the James McCune Smith biography, the challenges he faced, and the many accomplishments he achieved during his lifetime.
From Enslavement to Academic Excellence: Smith's Early Life and Education
James was born into slavery on April 18th, 1813, in New York City. However, he was granted his freedom in 1827, thanks to the Emancipation Act of the State of New York. After attending the African Free School in New York City, Smith faced discrimination when applying to colleges in the US. He eventually joined the University of Glasgow in Scotland.
Smith graduated with a Bachelor's degree in 1835 and went on to earn a medical degree from the University of Glasgow in 1837, becoming the first African American to do so. Later, he completed his internship in Paris.
James also served for 20 years at the Colored Orphan Asylum, which provided care and education for Black children. His dedication to education and medicine continued throughout his life, and he became a trailblazer and leader in his field.
The Medical Maverick: Breaking Barriers and Making History in the Field of Medicine
As the first African-American to earn a medical degree, Smith faced significant discrimination in his medical career. Despite this, he was determined to make a difference and became a leading physician in New York City.
In addition to his medical practice, Smith also worked to break down barriers in the medical field. He became the first black pharmacist in the United States and the first African American to run a pharmacy. He used his position to advocate for the health of Black Americans and to call for an end to discriminatory medical practices.
Smith's work in the medical field paved the way for future generations of black doctors and healthcare professionals.
Smith's legacy in the medical field goes beyond his own practice and advocacy. He also conducted research and wrote extensively on topics related to medicine, including the effects of slavery on the health of Black Americans. His writings and research were influential in the medical community and helped to challenge prevailing racist beliefs and practices.
ALSO READ: Know about Dr. Helen Brooke Taussig Biography.
Fighting for Freedom: Contributions to the Abolitionist Movement
James McCune was not only a pioneer in the medical field but also a dedicated abolitionist. He was involved with the Committee of Thirteen, a group of Black abolitionists from New York City who challenged the Fugitive Slave Law of 1850 by collecting funds to benefit fugitives. Smith was also a member of the Radical Abolitionists group, which advocated for an immediate end to slavery, full suffrage for all men and women, and the redistribution of land.
Smith's contributions to the abolitionist movement also extended to his writing. He wrote numerous essays and speeches on the subject, including his Lecture on the Haitian Revolution, which celebrated the successful Haitian Revolution as a model for black liberation. Smith's writing was influential in shaping the abolitionist movement and challenging racist beliefs and practices in American society.
Despite facing discrimination and hostility for his activism, Smith remained committed to the cause of freedom for Black Americans. His work as an abolitionist and his contributions to the medical field helped to lay the foundation for the Civil Rights Movement that would come more than a century later.
The Power of the Pen: James' Prolific Writing and Essays
In addition to his pioneering work in the medical field and his activism in the abolitionist movement, James McCune Smith was also a prolific writer and essayist. His essays and speeches covered a wide range of topics, from medicine and science to politics and social justice.
Smith used his writing to challenge prevailing racist beliefs and to advocate for the rights and equality of Black Americans. He was a regular contributor to influential newspapers and journals of the time, including The North Star, The Anglo-African Magazine, and The Colored American. He was also a frequent lecturer and speaker, using his platform to encourage education, self-improvement, and activism.
Smith's writing was influential in shaping public opinion and challenging the status quo. His essays and speeches were widely read and discussed, and he was recognized as a leading intellectual and thought leader of his time. Today, his writing continues to be studied and admired for its eloquence, insight, and historical significance.
Similarly, you would love to explore Kamren Curl's biography.
Rediscovering a Legend: The Legacy Continues
Despite his many accomplishments and contributions to American society, James McCune Smith's legacy was largely forgotten for many years. It wasn't until the late 20th century that scholars and historians began to rediscover his life and work.
In 2005, John Stauffer published The Works of James McCune Smith: Black Intellectual and Abolitionist, a comprehensive collection of Smith's writings and speeches. This publication helped to bring Smith's work to a wider audience and to re-establish his place in American history.
Today, James is recognized as a trailblazer in the fields of medicine and activism. His contributions to the abolitionist movement and his advocacy for the rights of Black Americans continue to inspire and influence new generations. His legacy serves as a reminder of the importance of education, activism, and perseverance in the face of adversity.
Personal Life: Remembering The First Black Pharmacist in The US
The doctor was married to Malvina Barnet, who had graduated from Rutgers Female Institute.  They had 11 children together. Sadly, some of them died during childhood. The name of 10 out of 11 is publicly available. The names of the children are as follow:
Frederick Douglass Smith
Peter Williams Smith
Mary S. Smith
James W. Smith
Amy G. Smith
Mary "Maude" Smith 
Donald Smith
Henry M. Smith
John M. Smith
Guy B. Smith
Despite the challenges he faced in his personal life as well as his professional and activist pursuits, Smith's legacy endures. He is remembered as a visionary whose contributions to medicine, abolitionism, and intellectualism have left an indelible mark on American history.
James McCune Smith biography serves as a powerful example of the strength and resilience of the human spirit, and his legacy continues to inspire and empower people around the world.
References
Encyclopedia of African American History 1896 to the Present. (2009). In Oxford University Press eBooks. 
Morgan, T. M. (2003, July 1). The education and medical practice of Dr. James McCune Smith (1813-1865), first black American to hold a medical degree. PubMed Central (PMC). 
New York Divided. (n.d.).
Greene, B. (2021, February 26). America's First Black Physician Sought to Heal a Nation's Persistent Illness. Smithsonian Magazine. 
Did you notice an error ?
Please help us make corrections by submitting a suggestion. Your help is greatly appreciated!