Medicine
Rebecca Lee Crumpler Biography: Meet The First African American Woman M.D. In The U.S.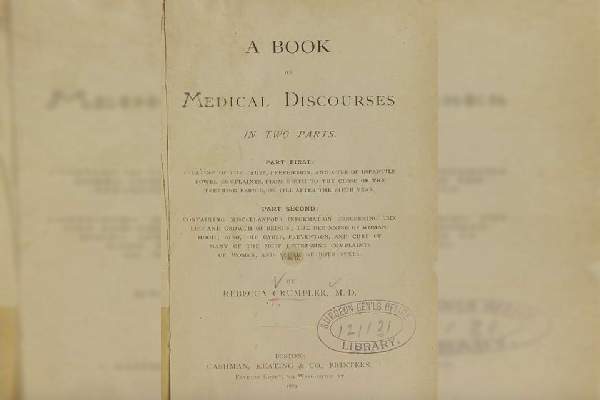 Rebecca Lee Crumpler Biography. Image Source: Wikimedia creative commons
Full Name

Rebecca Lee Crumpler

Age

63 yrs

Birth Date

June 6, 1831

Country

America

Relationship Status

Married

Spouse

Arthur Crumpler

Nationality

American

Ethnicity

African-American

Profession

Physician, Nurse, and Author

Children

1

Education

New England Female Medical College

Death Date

March 9, 1895
Rebecca Lee Crumpler biography exactly complements Martin Luther King's quote, "The creative, dedicated minority has always made the world a better place." For those who don't know, Crumpler was the first African American woman physician in the U.S. Despite being such an honorary individual, only a little is known about her, with not even a single approximate image available in public dominion.
As the first black woman to receive a medical degree in the US, Rebecca challenged the prejudice that prevented women of color from embracing a medical career journey. Her contribution helped put an end to segregation and slavery and inspired hope for African Americans.
During her medical practice, almost every male physician rejected Rebecca's medical opinions. However, she left no stone unturned and worked compassionately to improve women's and children's lives. So today, we will know more about Rebecca, whose achievements were unseen for a long period of time.
Rebecca Lee Crumpler Early Life and Education
Dr. Rebecca Davis Lee Crumpler was born free on February 8, 1831, to Absolum Davis and Matilda (Webber) Davis in Christiana, Delaware, U.S. Crumpler grew up in Pennsylvania and was raised by her aunt, who spent her whole life caring for and providing for her neighbors. This empathy influenced little Rebecca, and by 21, she began working as a nurse. From 1852 until 1860, Crumpler worked as a homeopathy nurse for eight years in Massachusetts.
The nurse attended West Newton English and Classical School, which had a racially integrated co-ed student body. The school located in Massachusetts was quite unusual at the time. Some of the notable female alumni were Elizabeth Piper Ensley, Sarah Fuller, Mary Ann Greene, etc.
Rebecca was the first black woman as a medical student, as most institutes didn't admit African Americans at the time. As a nurse, Crumpler worked under different doctors, and with their support, she received a letter of recommendation to study at the New England Female Medical College. Likewise, Crumpler won a tuition award from the Wade Scholarship Fund.
ALSO READ: Nancy Harkness Love's Legacy: A Trailblazer For Women In Military
First African-American Physician in the U.S.
It is said that when Rebecca was studying medicine, out of 54,543 physicians, only 270 of them were women. As none of them were African American, Rebecca became the first and only African American woman physician in the U.S. Similarly, she became the first woman of color to graduate with an M.D. from New England Female Medical College.
After being named a Doctor of Medicine, Crumpler first practiced in Boston. Just as the Civil War was ending, she wanted to help millions of African Americans who needed medical care. In her book, A Book of Medical Discourses, Crumpler wrote that she developed a liking for community service. This shows that Rebecca had compassion which she later devoted to for caring poor African American women and children.
Victim of Racial Prejudice
It should be recognized that a large part of America's notable history includes African American history, innovation, and creativity. Regardless of the lack of recognition by male physicians, Rebecca continued to work hard to make care accessible to women and black communities.
After the civil war, Rebecca worked for the US Bureau of Refugees' medical division, also known as Freedmen's Bureau. The agency bureau was created to provide services for emancipated slaves whom white physicians refused to see. The majority of Rebecca's patients had no access to medical care due to poverty, racism, and lack of resources and connections. Meanwhile, the Freedmen's Bureau and volunteers were willing to provide.
Dr. Crumpler continued to work despite the extreme sexism, racism, and rudeness she experienced from colleagues and others treating her patients. The discrimination these African American patients experienced encouraged an increasing number of African Americans to pursue medicine.
You might not want to miss the inspiring story of Henrietta Wood.
Who is Rebecca Lee Crumpler's Husband?
Rebecca Crumpler was married to her first husband, Wyatt Lee, while she was living in Charleston. Wyatt was a Virginia native and former slave. Unfortunately, he died of tuberculosis on April 18, 1863. The physician didn't have any children with Wyatt, and two years later, she married for the second time.
On May 24, 1865, Crumpler married Arthur Crumpler, a former slave who arrived in Boston in 1862. He came as a fugitive slave who had escaped slavery. By 1869, the Crumplers lived in the North Slope of Beacon Hill, which was a predominantly black community back then.
Arthur had also served in the Union Army and later worked as a porter at the West Newton English and Classical School. The couple had a daughter named Lizzie Sinclair Crumpler, born in 1870. However, she died at a young age.
Later Recognition as the First African American Physician
Dr. Rebecca Lee Crumpler passed away due to fibroid tumors on March 9, 1895, in Fairview, Massachusetts. She was 64 at the time of her death. Meanwhile, her husband, Arthur, died in May 1910 and was buried alongside his late wife's cemetery at the Fairview Cemetery.
The late couple who was buried next to each other hadn't proper headstones until 2019 when a fund-raising campaign was started to give both Dr. Crumpler and her husband headstones.
It took almost more than a century from Rebecca's death in 1895 until a group of Black historians and physicians gave Crumpler proper recognition. The Rebecca Lee Society, a support group for African American women physicians, contributed to enlightening people about Dr. Crumpler and her achievements. It was one of the first medical societies for African American women.
Rebecca published A Book of Medical Discourses in 1883. The book, which covers the topics like pregnancy, nursing, etc., is the first medical text written by a black author.
Through this Rebecca Lee Crumpler biography, we aspire to shed light on the legacy she left behind and make sure that the world doesn't overlook her title as the world's first African American physician.
References
Did you notice an error ?
Please help us make corrections by submitting a suggestion. Your help is greatly appreciated!