People
Jim Lampley Biography: Know The HBO Commentator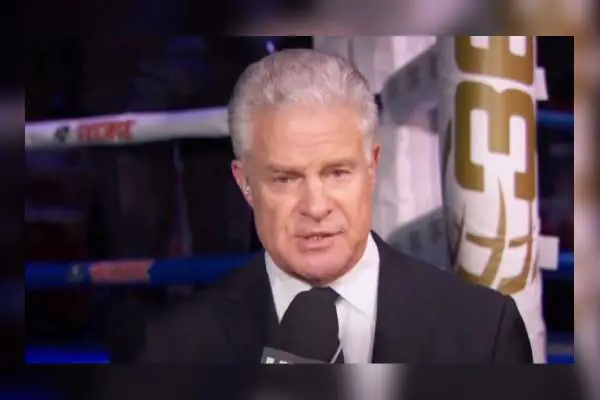 Jim Lampley Biography. Image Credit: Social Media.
Full Name

James Lampley

Age

74 yrs

Birth Date

April 8, 1949

Country

America

Relationship Status

Married

Spouse

Debra Schuss (m:2012-present)

Nationality

American

Ethnicity

White

Profession

Sportscaster, News Anchor, Restaurant Owner

Children

4

Awards and honors

2015 International Boxing Hall of Fame

Education

University of North Carolina

Net Worth

$20 million

Height

5 feet 9 inch
Meet Jim Lampley, a world-renowned sportscaster and news anchor who has a broad range of experience. For 30 years, he was known as a blow-by-blow announcer on HBO World Championship Boxing. Also, he has covered a record 14 Olympic games on American television.
Dear readers, allow yourself to be captivated as Jim Lampley biography unfolds, each page a note, each chapter a movement, narrating the exquisite symphony of a life well-lived. Through his journey as a sportscaster, news anchor, film producer, and restaurant owner, Lampley's impact has been felt across a spectrum of industries, solidifying his legacy as a true legendary figure.
Lampley has demonstrated his ability, and the amount of unmatched analysis in resonant voice has established him as a household figure in the world of sports broadcasting, making him a highly respected American sportscaster. From dabbing into the world of film production and hospitality, Jim has reached the peak of his career with his natural business sense.
Early Life and Background
Born as James Lampley on April 8, 1949, in Hendersonville, North Carolina, U.S, his father passed away when Jim was five. To make up for what she believed his father would have done, Jim's mother, Peggy Lampley, immersed him in athletics. Therefore, his mother raised him alone in an active sports environment in Hendersonville and Miami, Florida.
After high school, Jim attended the University of North Carolina (UNC) at Chapel Hill, graduating with a degree in English in 1971. Afterward, he went for a master's degree but never finished the thesis. At 25, Jim was chosen as a sportscaster for ABC Sports ( now ESPN on ABC), where he covered events such as Major League Baseball and college basketball games, the 1986 and 1987 Indianapolis 500, the 1977 Monon Bell game, five Olympic games, and a program called, Wide World of Sports.
From 1983 until 1985, Jim served as the studio host of ABC broadcast of the United States Football League (USFL). In between, he also interviewed President Ronald Reagan during the winner's interview at the NASCAR Firecracker 400. Lampley, as a sportscaster, covered a range of sports, including basketball, football, and boxing.
ALSO READ: Themba Gorimbo Biography: An Inspiring Story of A Zimbabwean UFC Fighter
Rise To Prominence: Boxing And HBO
For over ten years, Lampley worked at ABC and marked his name as a prominent figure as a play-by-play announcer for various sports events. His engaging commentary style and ability to convey the excitement of the moment endeared him to audiences. In 1987, Jim moved to CBS and joined as the co-anchor and correspondent on the daily news show in Los Angeles. Alongside CBS, Lampley also worked for HBO and covered boxing and HBO's annual telecast of Wimbledon. There, he also covered the 1992 Albertville Olympics for KCBS-TV.
Lampley's career is closely associated with HBO Sports, where he gained fame as the lead play-by-play announcer for their boxing coverage. He has a distinct and recognizable voice that became synonymous with the sport of boxing. Lampley's enthusiastic and engaging commentary style made him a favorite among boxing fans.
In 1992, Jim Lampley joined NBC and contributed to coverage of events like the 1992 Barcelona Olympics, 1993 Ryder Cup, and 1996 Atlanta Olympics. He initially replaced Bob Costas as the host of The NFL on NBC in 1993 and transitioned to play-by-play duties for NBC's NFL broadcasts the following year, later being replaced by Greg Gumbel. Despite being scheduled to commentate on a 1997 NFL game, Jim wasn't ultimately part of the broadcast. Starting in 1995, he joined HBO's Real Sports with Bryant Gumbel series.
Jim Lampley's Married Life: Subtle And Sweet But Sometime Scandalous
While he was reaching greater heights in the field of sports commentary, Lampley's married life was filled with secret affairs and family struggles. Talking about his personal life, Jim Lampley married four times. From 1970 until 1977, he was married to Linda Sharon. Afterward, Jim Lampley married Joanne Faith Mallis in 1979, with whom he shared two daughters. The reason behind their divorce was Lampley's secret affair with his co-anchor, with whom he later married and fathered a child.
After divorcing his second spouse, Jim Lampley married Bree Walker, his co-anchor for Channel 2. Their affair started subtle and sweet, and the pair had become Los Angeles' most visible office romance. The couple remained married from 1990 until 1999 and shared a son named Aaron James Lampley (b: August 1991). Jim Lampley's ex-wife, Bree Walker, is a renowned radio talk show host and an actress. She became widely popular as the first on-air American television network news anchor with a split hand (involved deficiency or absence of one or more central digits of the hand foot).
Since 2012, Jim Lampley's wife has been Debra Schuss, a former event planner. The couple has a biological son. Jim and Debra currently reside in Chapel Hill, North Carolina, living a happy life.
Similarly, you might want to read about the former anchor, Jack Lepiarz Biography.
Jim Lampley Net Worth: Covering Some of The Notable Moments
The world-renowned sportscaster Jim Lampley boasts a net worth of $20 million. Lampley covered various Olympics, including the 1998 Nagano Olympics and the 2000 Sydney Olympics for NBC, and anchored the 2004 Summer Olympics daytime coverage and the USA Network's coverage. In 2006, Jim was a key correspondent for the 2006 Winter Olympics. His coverage of the 2006 Torino marked his 13th Olympics, surpassing the record held by Jim McKay.
A series of tenures, including being a journalist, sports commentator, TV producer, and businessperson, contributed to Jim Lampley's wealth. Jim has appeared in movies like Rocky Balboa, Southpaw, Creed, Grudge Match, and a dozen films portraying himself.
Jim anchored the 2008 Beijing Summer Olympics, making it his 14th Games. However, he wasn't a part of the 2010 Winter Olympics and the 2012 Summer Olympics, during which Al Michaels took on hosting duties. Some of the most notable fights Lampley covered include matches involving legendary boxers like Mike Tyson, Evander Holyfield, Oscar De La Hoya, and many others.
Moreover, the legendary sportscasters' commentary added an extra layer of excitement and drama to these fights. For his excellent boxing broadcasting, Jim won the 1992 Sam Taub Award. Likewise, he earned three Emmy awards for his participation in the Real Sports with Bryant Gumbel HBO series.
Similarly, Jim received another Emmy award for co-hosting NBC's Emmy Award-winning coverage of the Olympics in Barcelona. In 2015, Lampley was inducted into the International Boxing Hall of Fame in its 2015 class.
In conclusion, Jim Lampley biography is a testament to his dedication, talent, and passion for journalism. His distinctive voice and engaging style have left an indelible mark on the world of sports broadcasting, particularly in the realm of boxing.
References
Did you notice an error ?
Please help us make corrections by submitting a suggestion. Your help is greatly appreciated!