Celebrities
Josha Stradowski Biography: A Journey From Theatre To Success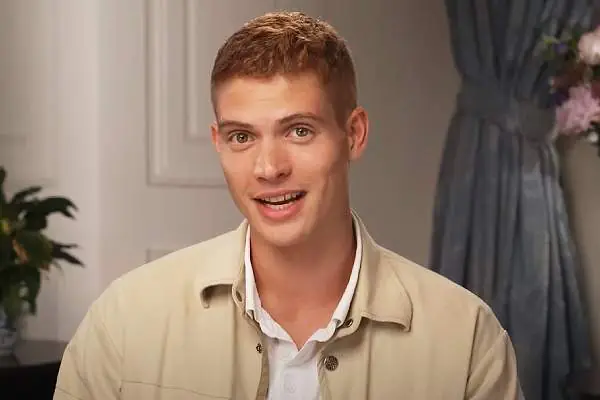 Josha Stradowski Biography. Image Credit: Social Media.
Full Name

Josha Stradowski

Age

28 yrs

Birth Date

August 9, 1995

Country

Netherlands

Relationship Status

Not Confirmed

Nationality

Dutch

Ethnicity

Dutch-Polish

Profession

Actor

Awards and honors

2018 Out At The Movies International LGBT Film Fest

Education

Drama, AHK theatre school

Height

6 feet 2 inch
In the ever-expanding world of entertainment, newer talents continually emerge, capturing hearts and minds with their skills and charisma. One such rising star, Josha Stradowski, is a multi-talented actor who has been garnering attention for his performances. With his remarkable acting ability and captivating presence on screen, Stradowski is quickly becoming a name to watch in the entertainment industry.
With each turn of the wheel, the actor takes on new roles, carrying the weight of responsibilities. Today, this article on Josha Stradowski biography will explore how this young actor is embarking on a journey to create a saga that unfolds across the ever-changing stage.
Stradowski, a Dutch actor, is best known for portraying the character of 'Rand al'Thor' in the Amazon fantasy series The Wheel of Time. Previously, he appeared in smaller Dutch productions, including TV shows and movies such as Spangas, Just Friends, Men From Mars, etc.
Early Life: Discovering The Passion
Josha Stradowski was born in 1995 in Rotterdam, Netherlands, and has a mixed heritage of Dutch and Polish. Not much is known about his parents, but as per sources, they worked in the creative professional field, which might have influenced Stradowski's acting interest.
Stradowski's journey into the world of acting was not an overnight success but rather a result of passion, dedication, and hard work. From an early age, he started acting in Dutch musicals like The Sound of Music and Ciske de Rat. At 13, Josha took acting classes at Codarts College of Arts and later at Lucia Marthas Dance Academy in 2010.
Josha initially pursued sociology studies at the VU University in Amsterdam. However, his heart was set on a different path, and he eventually decided to follow his true calling, which was acting. Therefore, he attended the AHK theatre school under the Amsterdam University of the Arts (AHK) in Amsterdam. Further, the aspiring actor graduated with a Bachelor's degree in Acting in 2018. Right after graduating, Josha began working on multiple plays, such as Oedipus, directed by Robert Icke, at Ivo van Hove's theater company ITA in 2018.
ALSO READ: Jami Gertz Biography: From Hollywood Lights to Billionaire Heights
Breakthrough Into The Industry
Years before he earned a degree in acting, Josha had already garnered some acting experience in smaller productions. At 16, he appeared as 'Freddie' in the TV series Naranjina en de kadekapers in 2011. The same year, he joined the cast of Spangas De Campus and portrayed the character of 'Pascal Roozen' for 25 episodes until 2012.
Stradowski's performance in Spangas impressed both audiences and critics alike. The show followed the lives of high school students and explored their stories of love, friendship, family, and loneliness. From 2014-2018 even though he was at University, Josha took on challenging roles in some of the critically successful short movies and feature films. Take a look at some of his filmographies that established his name as a promising actor.
| | | |
| --- | --- | --- |
| Year | Short Movies | Roles |
| 2013 | Caged | Niels |
| 2017 | I can fly | Sven |
| 2017 | Sirene | N/A |
| 2018 | Gewoon vrienden (Just Friends) (TV Movie) | Joris |
| 2018 | Mannen van (Mars men From Mars) | Tricky Boy |
Table Source: IMDb
For his portrayal of 'Joris' in the 2018 movie Just Friends, Josha won the jury prize award for best performance in a leading role at 2018 Out At The Movies International LGBT Film Fest. In 2019, Josha had a short appearance in the movie Instinct, which was then followed by the portrayal of 'Rutger de Man' for eight episodes in the 2020 TV series High Flyers.
Stradowski's recent appearance was in the 2023 American biographical sports drama film Gran Turismo, in which he appeared as 'Nicholas Capa.' This is Josha's second international project in which popular actors like Orlando Bloom, Darren Barnet, and Djimon Hounsou have appeared.
The Wheel of Time: A Leap Forward To The Global Fame
The story behind Josha Stradowski getting the role of 'Rand al'Thor' is somewhat a combination of luck and persistence. Also, guess what? Attending a film festival turned out to be an unexpected experience for him. At one such fest in Ireland, Josha met casting director Kelly Valentine Hendry. After several months, she asked him to audition for Amazon's epic fantasy series, The Wheel of Time. With excitement but with little preparation, Josha sent her a tape, and the rest was history.
The television adaptation of late author Robert Jordan's epic fantasy series, The Wheel of Time, features an ensemble cast including Rosamund Pike, Daniel Henney, Zoe Robins, and Madeleine Madden, among others. Moreover, the first season began airing in November 2021, and it has an average audience score of 59% on Rotten Tomatoes.
Stradowski's portrayal of 'Rand' showcases his range as an actor as he navigates the character's internal conflicts, leadership struggles, and the challenges of coming to terms with his extraordinary abilities. Nevertheless, his chemistry with the ensemble cast and his ability to convey Rand's emotional journey have contributed significantly to the show's appeal.
In an interview, Josha revealed that while doing the series, he kept discovering things about himself, and the show had been a big part of his life. Initially, he was overwhelmed by the bigger production and massive sets. However, Josha handled the pressure of acting with bigger stars and focused on his acting. In the end, it's about what you do with the performance, and Josha surely justified the essence of his character.
After the casting as 'Rand al'Thor,' Josha's name was propelled onto the international stage. He will return once again as 'Rand al'Thor' in the second season of The Wheel of Time, which is set to premiere in September 2023. The series is an epic show with enough mystique and momentum that debuted to much excitement from both long-time fans of the book series and newcomers to the fantasy genre, offering Stradowski the opportunity to portray a complex and central character.
Josha Stradowski Net Worth: The Rising Star Making Waves
The Dutch-polish actor Josh Stradowski has been acting since he was 9 years old. Although the actor has yet to deliver a major blockbuster movie, the award-winning performer might have accumulated lucrative earnings. There is not much detail, but a series of successful tv shows and movies have contributed to Josha Stradowski net worth. Also, the figure is no less than six figures as the average salary for TV actors ranges somewhere between $45,000 and $65,000. However, established actors took home way more than that.
Until now, Josha's biggest project has been Amazon's series, The Wheel of Time. The original fantasy novels have sold over 90 million copies. Therefore, to justify the scale and quality of the TV show, The Wheel of Time production spent an estimated $11 million per episode.
| | |
| --- | --- |
| Tv Series | Estimated Spendings (Per Episode) |
| The Wheel of Time | $11 million |
| Game of Thrones | $6-$8 million |
| The Witcher | $10 million |
Table Source: Wotseries
Meanwhile, HBO's Game of Thrones spent $6 million per episode for its first season, while Netflix's The Witcher spent $70 million for its first season. The incentive for WOT didn't include most foreign actors' salaries, salaries for directors, and other foreign crew and staff. Likewise, Rosamund Pike alone received $350,000 per episode, as per sources.
What sets Josha Stradowski apart from his colleagues is his dedication to his craft and his commitment to bringing authenticity to his roles. The ability to breathe life into his roles has resonated with audiences and critics alike, solidifying his position as a rising star in the acting world.
As Josha Stradowski's career continues to flourish, the entertainment world eagerly awaits his next projects and performances. His ability to take on complex characters and make them relatable is a testament to his talent and versatility. Whether he's exploring the intricacies of human emotion or embarking on epic fantasy quests, Stradowski's presence on screen is sure to captivate audiences for years to come.
As fans and industry insiders alike continue to be enchanted by his performances, Josha Stradowski biography tells us that this star is undeniably on the ascent, shining brightly as he leaves an indelible mark on the world of acting and beyond.
Did you notice an error ?
Please help us make corrections by submitting a suggestion. Your help is greatly appreciated!