People
Rory Scovel Biography: Unveiling The Life of Comedy Genius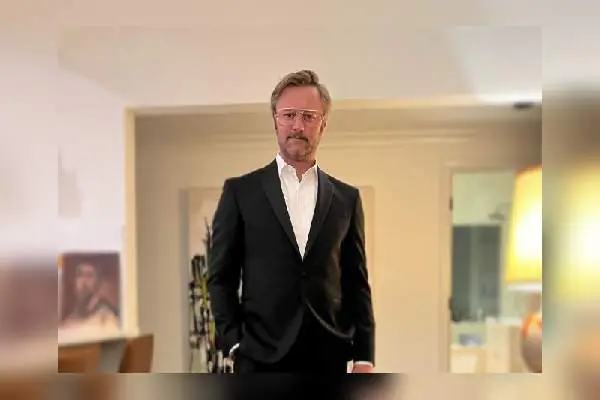 Rory Scovel Biography. Image Source: Instagram.
Full Name

Rory Joseph Scovel

Age

43 yrs

Birth Date

August 6, 1980

Country

America

Relationship Status

Married

Spouse

Jordan Boughrum Scovel

Nationality

American

Ethnicity

Mixed

Profession

Comedian, Actor, Writer

Children

Elliot Scovel

Education

University of South Carolina Upstate

Height

5 feet 10 inch
Known for his unique style and improvisational skills, Rory Scovel is a comedic genius who stormed the stages after his debut comedy album, Dilation, in 2011. The Screen Actors Guild Award nominee, Scovel, is best known for his several comedy specials, such as Rory Scovel Tries Stand-Up for the First Time and Live Without Fear.
Scovel is often celebrated for his versatility as a performer, as he effortlessly transitions between different comedic styles and explores a wide range of topics. The American stand-up comedian continues to be an influential figure in the comedy industry, captivating audiences with his wit, improvisation, and unique comedic style.
Rory currently appears in the role of Danny in the Apple TV+s hour-long series Physical. The following article aims to be a replica of Rory Scovel's hilarious journey through his personal and professional life. Stay with us as we talk everything about the comedian in Rory Scovel biography.
Early Life of the Comedian
Rory Joseph Scovel was born on August 6, 1980, in Greenville, South Carolina, U.S., to parents Teresa Scovel (mother) and Donald Scovel (father). He has a mixed heritage of English, German, Scottish, and Swedish. Scovel grew up with his six siblings in a Catholic household.
Scovel's upbringing in the Southern territory greatly influenced his comedic perspective. He developed a knack for incorporating social commentary into his acts. Likewise, politics and religion had a great impact on his childhood. Rory developed a passion for comedy and performing arts. To his day, he paints eye-catching paintings when he is not doing comedy.
In his early years, Scovel was a hyperactive kid playing basketball, tennis, and soccer as a child. He attended St. Mary's Catholic School and Christ Church Episcopal School from kindergarten through eighth grade.
In 1999, the Greenville native graduated from Greenville Senior High School. Scovel spent one year at the University of Central Florida before joining the University of South Carolina Upstate. There he graduated with a communications degree in 2003.
Rory Scovel Marriage, Personal Life
The renowned comedian Rory Scovel got married to his longtime girlfriend, Jordan Boughrum Scovel, on September 21, 2013. The couple have been married for nearly a decade as of July 2023. Rory Scovel's wife, Jordan, is an American actress best known for appearing in shows such as Arrested Development (2003), The Exploding Girl (2009), and Robbie (2020). The actress and her husband, Rory, started dating in February 2005 and tied their wedding knot after eight years of relationship.
Rory Scovel's spouse has acted in several television shows, movies, and comedy specials. Some of her notable works include Apple Tv and Physical, where she starred in the role of 'Belinda' alongside her partner. She has worked in feature films like The Exploding Girl, Dance Extra, Bradley Rust Gray, and short films like Touches, Flashbulls, and Multiverse.
Some of Jordan's notable theatre performances include Talk Radio, Bottom of the World, The God Particle, A Song for a Surfer, Brooklyn Underground, The Book of Liz, etc.
Together, Rory and his other half, Jordan, have a daughter named Elliot Scovel, born in 2015. The stand-up comedian couple and their daughter reside in Los Angeles.
ALSO READ: Beth Stelling Biography: A Look Into The Life of A Stand-Up Comedian
Rory Scovel Stand Up, TV, and Art
Scovel began his stand-up career by doing open mic nights in Spartanburg, South Carolina. To flourish his skill, Scovel moved to Washington and later to New York City. In 2006, Rory made it to the finals of the Seattle International Comedy Competition. In 2012, Variety magazine named Scovel as one of 10 Comics to Watch.
In 2006 the Babylon actor gained national attention when he won the Seattle International Comedy Competition, showcasing his comedic talent to a wider audience. This victory opened doors for him, leading to appearances on popular late-night talk shows such as Conan and Jimmy Kimmel Live. His performances received critical acclaim, and he quickly became known for his unpredictable and offbeat comedic style.
View this post on Instagram
In addition to his stand-up career, Scovel has made appearances in various television shows and movies. He has appeared in popular comedies such as The Office, Brooklyn Nine-Nine, and Those Who Can't. Scovel's acting talent further highlights his versatility and his ability to bring humor to any role he takes on.
Apart from acting, the talented comedian likes to create amazing portraits, and in the future, he is planning to open a gallery, as per his website.
On a similar note, you might want to look at actor Ansel Elgort biography.
Behind the Brains of a Genius Comic
One of Scovel's notable attributes is his improvisational approach to comedy. He often interacts with the audience and incorporates spontaneous elements into his acts, creating a unique and engaging experience for both himself and the audience. For his ability to adapt to different situations and create comedy on the spot, Scovel has earned a reputation as a comedy genius.
Rory Scovel biography continues to be an inspirational read to anybody hoping to enter the field of comedy. He is an influential figure in the comedy industry, captivating audiences with his wit, improvisation, and unique comedic style. With his quick thinking and ability to connect with people, he has solidified his status as a comedy genius and continues to make a significant impact on the world of comedy.
References
Did you notice an error ?
Please help us make corrections by submitting a suggestion. Your help is greatly appreciated!