People
Shonto Begay Biography: The Colorful Odyssey of A Navajo Artist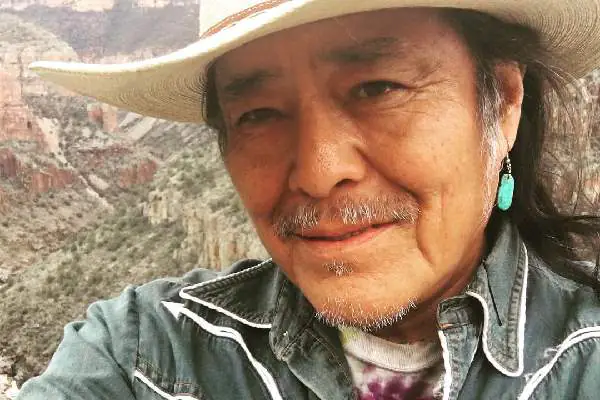 Shonto Begay Biography. Image Source: Instagram.
Full Name

Shonto Begay

Age

69 yrs

Birth Date

February 7, 1954

Country

America

Relationship Status

Not Confirmed

Nationality

American

Ethnicity

Native-American

Profession

Artist, Illustrator and Writer

Awards and honors

1993 Best Arizona Artist

Education

California College of Arts and Crafts
From the intriguing arts to the mesmerizing piece of writing, Shonto Begay is a name to remember in this artistic world.
Growing up in a traditional Navajo hogan and herding sheep in the stunning landscapes of Kletha Valley, Shonto's childhood was filled with cultural richness and natural beauty but also with the trauma of forced assimilation at Indian Boarding Schools.
In this blog, we will explore Shonto Begay biography and how his unique perspective has shaped his colorful and captivating work. Through his artwork, Shonto has been able to heal and share his experiences with the world, becoming a leading voice in contemporary Native American art.
Early Life and Cultural Roots: Growing up in the Navajo Nation
Shonto Begay's early life was spent in the midst of the Navajo Nation, where he grew up in a traditional Navajo hogan and was surrounded by his large family. He spent much of his childhood herding sheep in the Kletha Valley, a stunningly beautiful landscape that would later become a recurring theme in his art.
Shonto's mother was a traditional Navajo rug weaver from the Bitter Water Clan, and his father was a medicine man born to the Salt Clan, both of whom instilled in him a deep respect for Navajo traditions and a strong connection to nature.
These early experiences and influences played a significant role in shaping his artistic vision and style.
The Trauma of Indian Boarding Schools and the Healing Power of Art
Shonto Begay biography contains not only his stories of art and glories but his struggles and resilience as well.  Like many artists' backstories, Begay's life was also not without its challenges, particularly his childhood experience at Indian Boarding Schools.
Like many Native American children at the time, Shonto was forced to attend these schools, which were designed to assimilate Native American children into Western culture forcibly.
The experience was traumatic for many, including Shonto, who found solace in art as a means of coping with the pain and trauma he experienced there. He began to draw and paint as a way to process his emotions and express his cultural identity, which had been suppressed during his time at the boarding schools.
Through his art, Shonto might have found a way to heal and reclaim his heritage, ultimately emerging as a leading voice in contemporary Native American art.
ALSO READ: Get to know about the biography of Terence Henricks. 
Painting the Southwest: Shonto Begay's Unique Style and Themes
Shonto Begay's artistic style is characterized by its vibrant colors, small brush strokes, and powerful imagery. His paintings often depict the stunning landscapes of the Southwest, including the red rocks, canyons, and deserts of the Navajo Nation. He also frequently portrays people, especially hitchhikers and other figures he encountered on the road during his travels.
View this post on Instagram
Shonto's work is deeply personal and reflective of his own experiences, blending traditional Navajo imagery with contemporary themes and techniques. His paintings are often described as a series of small brush strokes that repeat like the words of a traditional Navajo blessing prayer, which is a testament to his reverence for Navajo traditions and spirituality.
Through his art, Shonto aims to share his culture and experiences with others, inspire healing and understanding, and create a bridge between the past and present. His unique style and themes have garnered him global recognition and numerous awards over the years.
From Local Artist to Global Recognition: Exhibitions and Awards
Shonto Begay's artwork has been exhibited in galleries and museums worldwide, cementing his reputation as a leading contemporary Native American artist. His work has been featured in prestigious institutions such as the Heard Museum and several galleries, including the Rainmaker Gallery.
In addition to exhibiting his work, Shonto has received numerous awards for his contributions to the art world, including the 1993 Best Arizona Artist for Excellence in the Arts and the 2020 Viola Legacy Award. His art continues to inspire and captivate audiences around the world, making him a beloved and celebrated figure in Native American art.
Similarly, you would love to explore the life of a YouTuber, Vixella.
Shonto Begay Today: Continuing to Create and Inspire New Generations
Today, Shonto Begay biography inspires new generations of artists and art enthusiasts. He has authored and illustrated several children's books, including The Mud Pony and Navajo Long Walk: The Tragic Story of a Proud People's Forced March from Their Homeland, which have become classics in Native American children's literature.
The talented artist also teaches art workshops and lectures across the country, sharing his experiences and techniques with aspiring artists.
Despite his global success, Shonto remains deeply connected to his roots and continues to draw inspiration from his Navajo heritage and homeland. His art is a testament to the power of storytelling, healing, and cultural preservation. Art, indeed, saves one.
Did you notice an error ?
Please help us make corrections by submitting a suggestion. Your help is greatly appreciated!