Politicians
Adam Kinzinger Biography: From Congress To Commentary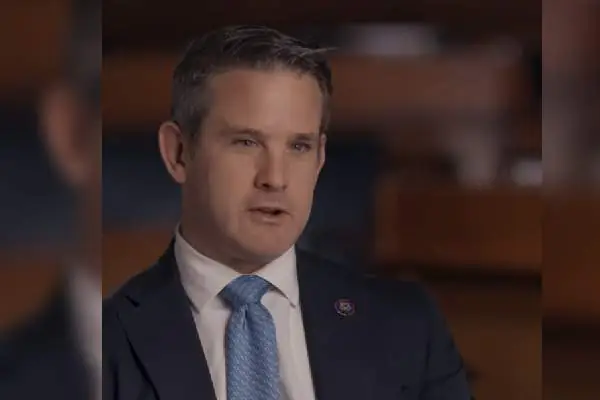 Adam Kinzinger Biography. Image Source: Social Media.
Full Name

Adam Daniel Kinzinger

Age

45 yrs

Birth Date

February 27, 1978

Country

America

Relationship Status

Married

Spouse

Sofia Boza-Holman

Nationality

American

Ethnicity

White

Profession

Politician and News Commentator

Children

Christian Adam Kinzinger

Awards and honors

United States Air Force Airman's Medal; National Guard's Valley Forge Cross for Heroism

Education

Illinois State University

Height

6 feet 2 inches
In the realm of American politics, there are those whose journeys transcend the traditional boundaries of public service.
Adam Kinzinger, a name that resonates with strength, determination, and a commitment to making a difference, is one such individual.
From his illustrious career in the United States House of Representatives to his foray into the world of commentary, Adam Kinzinger biography has been marked by unwavering dedication and a passion for shaping the narrative of our nation.
From Congressional Service to a New Frontier: Kinzinger's Political Journey
Adam Kinzinger's political journey began with his election to the United States House of Representatives, where he proudly represented Illinois' Sixteenth Congressional District. Born and raised in Illinois, Kinzinger's roots in the state played a significant role in shaping his commitment to public service and his desire to make a positive impact on his community.
Adam Kinzinger was born to Rus Kinzinger and Betty Jo Kinzinger, and their influence undoubtedly contributed to his upbringing and values.
Kinzinger's political aspirations took root during his college years when he challenged a three-term incumbent for a seat on the McLean County Board. This early foray into local politics set the stage for his future endeavors and showcased his determination to effect change from within the system.
In 2010, Kinzinger successfully ran for Congress, securing a seat in the United States House of Representatives. At the age of 32, he became one of the youngest members of Congress at the time.
Throughout his six terms in office, the young politician made notable contributions to various committees and caucuses. He served on the House Committee on Energy and Commerce, where he played a pivotal role in shaping energy policies that aimed to reduce reliance on foreign resources and promote energy independence.
Additionally, Adam's membership on the House Foreign Affairs Committee allowed him to delve into critical issues of national security, international relations, and diplomacy.
Kinzinger's pragmatic and bipartisan approach to governance was evident throughout his congressional career. He sought to bridge the political divide and work collaboratively with colleagues from both sides of the aisle to achieve meaningful results.
This commitment to finding common ground and pursuing practical solutions earned him respect and admiration from his peers, making him a valuable advocate for the interests of his constituents.
During his time in Congress, Adam championed several key initiatives, including efforts to strengthen America's energy infrastructure, support nuclear energy production, and advance clean and renewable energy technologies.
The renowned politician's focus on bolstering national security led him to be one of the first members of Congress to call for airstrikes against ISIS, demonstrating his commitment to combatting emerging threats and protecting American interests at home and abroad.
Serving America: Kinzinger's Military Background and National Security Advocacy
Kinzinger's commitment to serving America extends beyond his political career, rooted in his distinguished military background. After graduating from the United States Air Force Academy in 2001, Kinzinger embarked on a notable military career that would profoundly shape his perspective on national security and foreign affairs.
Kinzinger's military service included deployments to Iraq and Afghanistan during Operation Iraqi Freedom and Operation Enduring Freedom, respectively. As a pilot in the United States Air Force, he flew combat missions, providing crucial support and contributing to the efforts to safeguard American interests and promote stability in these war-torn regions.
The experiences on the front lines deepened his understanding of the sacrifices made by military personnel and reinforced his dedication to protecting the nation and its people. Kinzinger witnessed the complex challenges posed by terrorism, insurgency, and regional dynamics, which fueled his passion for advocating comprehensive strategies to combat emerging threats and ensure America's position as a global leader.
Upon returning from his deployments, Kinzinger continued his military service in the Air National Guard, where he currently serves as a Lieutenant Colonel. Balancing his military duties with his responsibilities as a member of Congress, Kinzinger exemplifies the unique perspective and expertise that comes from having firsthand experience in both arenas.
Kinzinger's military background and expertise have made him a respected advocate for national security issues. He has been at the forefront of efforts to enhance America's defense capabilities, promote military readiness, and strengthen alliances with key international partners. His insights and leadership in this realm have allowed him to play a vital role in shaping policies that prioritize the safety and security of the United States and its allies.
As a member of the House Foreign Affairs Committee, Kinzinger has been deeply engaged in matters of international diplomacy and engagement. He has consistently emphasized the importance of American leadership on the global stage, advocating for principled and strategic approaches to addressing pressing global challenges.
ALSO READ: Get to Know About Sauli Niinisto Biography.
Transitioning to Commentary: Kinzinger's Media Presence and Influence
Adam Kinzinger biography is incomplete without mentioning his transition from Congress to commentary. This marked a new chapter in his career, allowing him to share his insights and analysis on political issues with a broader audience. His thoughtful and articulate commentary has garnered attention and respect from across the nation, solidifying his place as a prominent commentator in the public sphere.
Kinzinger's media presence spans various platforms, including television, radio, and digital media outlets. He has appeared as a frequent guest and contributor on major news networks, such as CNN, MSNBC, and Fox News, providing expert analysis and commentary on a wide range of political topics.
Adam's ability to distill complex issues into accessible and engaging discussions has made him a sought-after commentator, valued for his depth of knowledge and thoughtful perspectives.
As a commentator, Kinzinger has demonstrated a commitment to transparency and open dialogue. He approaches discussions with a measured and objective tone, seeking to foster understanding and bridge divides. His ability to navigate contentious issues with grace and civility has earned him praise from viewers and fellow commentators alike.
The commentary of this diverse talent individual extends beyond traditional media outlets. He has also embraced digital platforms, utilizing social media and his own website to engage directly with the American people. Through these channels, he shares his thoughts, analysis, and updates on current events, providing a unique behind-the-scenes perspective and fostering meaningful conversations with his audience.
The impact of his commentary reaches beyond the realm of media. His insights and analysis have influenced public discourse and shaped the national conversation on critical issues. His ability to provide nuanced perspectives and challenge conventional wisdom has earned him a reputation as a thought leader, inspiring others to examine their own beliefs and consider alternative viewpoints critically.
Throughout his transition to commentary, Kinzinger remains committed to upholding the values and principles that guided him during his time in Congress. He continues to prioritize factual accuracy, civility, and a commitment to public service in his commentary, ensuring that his voice contributes to a more informed and constructive political discourse.
Adam Kinzinger's transition to commentary has allowed him to extend his influence beyond the halls of Congress. Through his media presence and thoughtful analysis, he has become a trusted voice in the public sphere, shaping conversations and challenging perspectives on important political issues.
Similarly, you would love to explore Trey Gowdy's Biography.
Personal Life and Values: The Roots that Shape Kinzinger's Journey
Adam Kinzinger's personal life and values provide insight into the factors that have shaped his remarkable journey. From acts of heroism to personal relationships, these aspects offer a glimpse into the character and dedication of the man behind the political career.
In 2006, Kinzinger demonstrated exceptional courage and selflessness when he intervened in a violent incident in downtown Milwaukee, Wisconsin. Wrestling a knife-wielding man to the ground and disarming him, Kinzinger's swift action prevented further harm.
The Wisconsin Red Cross recognized his bravery by naming him their "Hero of the Year." This act of heroism also earned him the United States Air Force Airman's Medal and the National Guard's Valley Forge Cross for Heroism. Kinzinger's willingness to put himself at risk to protect others exemplifies his commitment to serving and safeguarding his community.
In 2011, Kinzinger's recognition extended to a different realm when he was ranked 5th on The Hill's annual 50 Most Beautiful People list. This lighthearted acknowledgment highlighted his presence and charisma as he worked on Capitol Hill, further showcasing his multifaceted nature beyond his political achievements.
Adam Kinzinger's personal life has also seen its ups and downs. In 2011, he got engaged to Air Force Captain Riki Meyers, a fellow pilot. However, their engagement ended in 2012. Despite this setback, Kinzinger found love again and became engaged to Sofia Boza-Holman in June 2019.
Adam Kinzinger's wife, Sofia Boza-Holman, is a former aide to John Boehner and aide to Vice President Mike Pence. They tied the knot on February 16, 2020, marking a new chapter in Kinzinger's personal life.
In January 2022, the couple welcomed their son, Christian Adam Kinzinger, into the world. The arrival of their son undoubtedly brought new joys and responsibilities to their lives, further emphasizing the importance of family and the future they are building together.
Throughout his personal and professional journey, Kinzinger's midwestern upbringing and values have remained a constant influence. Grounded in the principles of hard work, compassion, and teamwork, these values have guided him in his pursuit of public service and his commitment to making a positive impact on the lives of others.
Adam Kinzinger biography serves as an inspiration to others, exemplifying the impact that one individual can make through dedication, service, and a steadfast commitment to principles.
Whether it is protecting national security, engaging in political commentary, or navigating personal relationships, Kinzinger's integrity, compassion, and unwavering dedication continue to shape his path and contribute to the betterment of his country and its citizens.
Did you notice an error ?
Please help us make corrections by submitting a suggestion. Your help is greatly appreciated!