Scientists
Mileva Maric Biography: A Brilliant Mind And Unsung Contribution of Albert Einstein's First Wife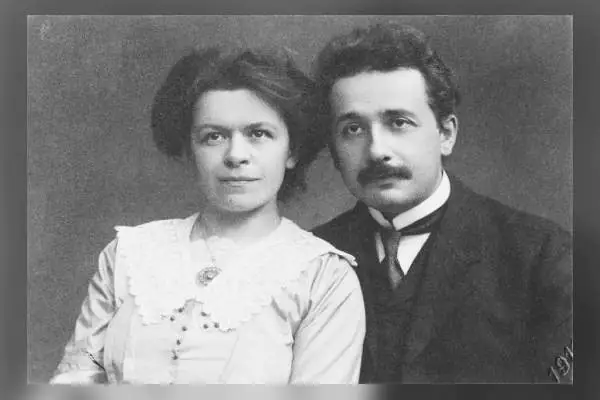 Mileva Maric Biography. Image Source: PicRyl.
Full Name

Mileva Maric

Age

72 yrs

Birth Date

December 19, 1875

Country

Serbia

Relationship Status

Divorced

Spouse

Albert Einstein (m. 1903–1919)

Nationality

Serbian

Profession

Physicist

Children

3

Education

Zurich Polytechnic

Death Date

August 4, 1948
One of the world's greatest scientists, Albert Einstein, once said he wanted to know God's thoughts in a mathematical way. Although there haven't been enough credits and recognition, Einstein's wife, Mileva Maric, a woman with an unparalleled gift of physics, actually helped her husband on his scientific quests.
The 2023 epic biographical movie Oppenheimer shows the cordial relationship between two scientific gods, Albert Einstein and J. Robert Oppenheimer, for a short fraction of time. Not only that but throughout the years, Einstein has been considered one of the greatest scientists ever born in history. No doubt he is a genius and the master of the discipline, but was the physicist all alone while developing the Theory of Relativity, one of his most transcendent theories ever to exist?
Dear Readers, if you really want to find out the unrevealed portions of Albert Einstein's wife, then you might want to stick with our article, Mileva Maric biography, till the end.
Mileva's Early Life and Education: Mathematical Prodigy With a Love for Science
Mileva Maric was born on December 19, 1875, in Titel in Austria-Hungary (which is now part of Serbia) to parents Milos Maric and Marija Ruzic Maric. The eldest of three children, Mileva attended the Royal Serbian Grammar School but later enrolled as a private student at the all-male Royal Classical High School in 1891. Despite a wealthy background, Maric's family was a typical Serbian orthodox family where women had to face societal barriers in almost every aspect.
Showing exceptional talent in math and physics since childhood, Mileva, at just 18 years old, won special permission to attend physics lectures in February 1894. Further, she even passed the final exams six months later with the highest grades in mathematics and physics.
After catching a serious illness, Maric moved to Switzerland in 1896 and started studying medicine at the University of Zurich for one semester. The same year she joined the prestigious Zurich Polytechnic after passing the maths entrance exam with an average grade of 4.25 on a scale of 1-6. At the time, she was one of the very few women who studied physics and mathematics.
For your information, this was the place where Mileva crossed paths with a young and ambitious physics student named Albert Einstein.
Beginning of a Camaraderie and Love Story With Albert Einstein
In late 1896, Mileva, along with a few other students, including Einstein, was admitted to the physics-mathematics section. She was the only woman in her group of six students and the fifth woman to enter that section. From this scenario, one can realize the extraordinary talent Mileva possessed that helped her overcome the restrictions on the admission of women.
With a common shared passion for physics, Mileva and Albert began spending countless hours discussing scientific ideas and theories. The connection grew so much stronger that the two almost became inseparable intellectual companions. Nevertheless, both young geniuses were very much in love.
Albert, a rebel student since childhood, attended few lectures and studied at home. Meanwhile, Mileva, a methodical, organized individual, helped Einstein in his studies and guided him. Further, they both supported each other in their academic endeavors and research.
ALSO READ: University of Michigan's Longest-Serving President, James Burrill Angell Biography
Marriage, Struggles, and Challenges
In 1903, Mileva Maric married her husband, Albert Einstein, after she became pregnant with his first child. Their first child, a daughter named Lieserl Einstein, was born in 1902. Despite their initial joyous moments, Mileva and Albert's marriage faced difficulties. They had two sons together, Hans Albert Einstein and Eduard Einstein, born in 1904 and 1910, respectively. Lieserl died of scarlet fever, and Eduard was diagnosed with schizophrenia, adding emotional strain to their lives.
The couple also faced professional challenges, with Albert attaining greater recognition for his work, while Mileva's contributions often went unnoticed. As their careers diverged, their marriage suffered, leading to separation in 1914 and eventual divorce in 1919.
Their relationship faced challenges, partly due to the societal norms of the time and the disapproval of Mileva's family, who viewed her academic pursuits and association with Einstein as unconventional. Keep reading to know more in detail.
Finding Mileva's Contributions From the Exchange of 43 Letters
Mileva and Albert continued to collaborate on scientific work even after their marriage in January 1903. They exchanged numerous letters discussing their research, ideas, and theories, while some of these letters hint at collaborative efforts. Some researchers speculate that Mileva may have contributed significantly to Einstein's early groundbreaking work, including his Theory of Relativity.
The extent of Mileva Maric's direct contributions to Albert Einstein's work is a subject of historical debate and speculation. However, historical evidence on the extent of her contributions remains a subject of debate among scholars.
From 1899-1903, Albert and his wife exchanged numerous letters during school holidays; where 43 letters from Albert to Mileva have been preserved, but only 10 of Maric's remain. These letters provide a first-hand account of how they interacted at the time. There are indications that Mileva was a talented physicist in her own right and was actively engaged in scientific discussions with Einstein during their time together at Zurich Polytechnic.
In one letter written by Einstein to Maric in 1901, he refers to their work as "our work" when discussing the topic of kinetic theory. In another letter, he mentions the calculation of the "Lorentz transformation," which is fundamental to Einstein's theory of special Relativity. Some researchers interpret these letters as evidence of Mileva's direct involvement in Einstein's early scientific work.
Furthermore, it is known that Einstein and Maric co-wrote a scientific paper in 1901 titled "Conclusions from the Capillarity Phenomena," but it was never published. The manuscript has been lost, making it challenging to assess the exact nature of her contributions.
Similarly, you would like to read about Education Advocate Diane Ravitch's biography.
Did Mileva Maric Discover the Theory of Relativity?
The historical evidence surrounding Mileva Maric's involvement in Einstein's work remains inconclusive and is open to interpretation. Regardless of her specific contributions, it is evident that she had a profound intellectual connection with Einstein and shared a passion for physics during their time together. The recognition of her potential contributions is an ongoing effort in the study of both Einstein's life and the history of women in science.
On the other hand, some historians argue that Mileva's impact on Einstein's work might have been overstated. They suggest that while she may have been an intellectual companion to Einstein, her contributions might not have been as groundbreaking as some believe. In 1902, the depressed and despondent young Albert moved to baron Switzerland's capital, began a career far from science, and worked as a low patent clerk in the Swiss Patent Office. However, he continued writing his ideas on gravity and the theory of relativity.
The year 1905 was described as Einstein's miracle years as he published four groundbreaking papers, including a theory of the photoelectric effect and a paper introducing the Special Theory of Relativity. Despite not being credited enough, Maric was a sounding board on all the great miracle year papers of 1905. Mileva Maric actually helped her husband Einstein check the math and type the special relativity paper.
In 1911, Einstein was offered a full-time scientific job at the University of Zurich. He began publishing papers about gravity and atoms and was invited to attend the Solvay Conference, which was the gathering of the greatest physicist in Europe. Then a 32-year-old professor, Einstein, quickly impressed everyone with his ideas. Meanwhile, his wife Mileva thought she was still part of that small world, whereas Einstein had already become a part of the bigger world.
In their letters, Mileva writes these plaintive letters saying she wished to be there and would have loved to meet those great scientists. She further writes that it was her dream to meet all those intellectual scientific figures.
Maric had such a huge potential, but unfortunately, all she ever became was just a housewife, and if the claim of her being a huge helping hand to Einstein's paper is considered to be true, then it would be such unfairness to one of the greatest minds in history. 
Einstein's Unconventional Approach to Married Life: Infidelity and Estrangement
Einstein himself believed love was the world's fourth dimension bending space-time warps. But why did he treat his own wife in such an estranged way? Keep reading to know one of the shocking facts about the physicist's love life.
In 1912 Einstein was in Berlin and was also invited by his cousin named, Elsa Lowenthal, who would later become his wife and caretaker. They had known each other since they were kids. She was opposite of Mileva. They liked each other's company, and they even exchanged fiery love letters at one point while still married to Mileva. Einstein married Elsa in 1919 after his divorce with Maric.
By early 1914, Einstein was very much popular due to his General Theory of Relativity. During that time, he went to Berlin, Germany, to join the Kaiser Wilhelm Institute, an elite group of scientists working under Fritz Haber. Additionally, Haber was one of the greatest chemists of the 20th century and later became a lifelong companion of Einstein.
In April 1914, Haber noticed unusual tensions between Einstein and his wife when his family was hosting a dinner for the couple. Mileva was looking for an apartment for herself, Albert, and their children. However, Haber observed that resettling in Berlin would not do any good for their relationship as Mileva always was a brooding and somewhat low-spirited woman.
At the same time, Albert was spending much time with his cousin Elsa. Being a brutally honest guy, every now and then, Albert apparently would tell Mileva about Elsa. Afterward, they would start fighting with each other.
What Was in the Disturbing Contract Made by Einstein For Mileva?
Einstein gave Mileva an ultimatum that if she wanted to stay married, then she would have to do a certain list of things. He prepared a contract where there was written that Mileva would have to bring him meals, and she would speak to him only when he wanted. Further, she was restricted from having any intimacy with him. Also, Maric would not ask him to sit with her at home, and many other things to which she had to comply.
Maric didn't sign the contract and went to stay with Haber's family, where Haber tried to hold the couple together. Haber's best efforts to save Einstein's marriage proved to be a failure.
Einstein finally decided to split and offered his wife Mileva a deal. In the offer, Einstein proposed if any of his papers were to win the Nobel Prize, then he would give all the money; for that, she had to divorce him. After constant negligence from her husband, Mileva calculated the odds and decided to take the bet eventually.
Haber and Einstein accompanied Mileva and her two sons to the train station, where the family cried together for one last time. 
Forgotten Genius: The Other Einstein, Mileva Maric Einstein
After the divorce, Mileva's life became increasingly secluded. She returned to Zurich with her sons and lived a relatively private life, rarely engaging with the scientific community. Despite her early brilliance and potential, the patriarchal norms of the time seemed to overshadow her remarkable contributions.
In recent years, there has been a growing interest in Mileva Maric's life and potential scientific contributions. Some historians and researchers are actively revisiting her role in Einstein's early work, attempting to recognize her long-overlooked genius.
Mileva Maric passed away on August 4, 1948, in Zurich, Switzerland, leaving behind a legacy of a brilliant woman whose intellectual potential and scientific achievements were overshadowed by the societal limitations she faced.
Although her husband, Albert Einstein, is regarded as possibly the greatest physicist of the 20th century, one unanswered mystery regarding his life and work is how much his first wife contributed to his ground-breaking research. They collaborated from the time they met in 1896 until their separation in 1914, as shown by their letters and the countless testimonies included in the books devoted to her, even though no one has been able to attribute her with any aspect of his work specifically.
Mileva Maric biography remains a poignant reminder of the many women whose contributions to science and society were underappreciated or forgotten in history. While we may never fully understand the extent of her influence on Albert Einstein's work, her story stands as a testament to the importance of recognizing and celebrating the often-overlooked contributions of women in the field of science.
References
Did you notice an error ?
Please help us make corrections by submitting a suggestion. Your help is greatly appreciated!