Top Lists
Top 5 Things You Need To Know About Hunter Yeany: His Journey So Far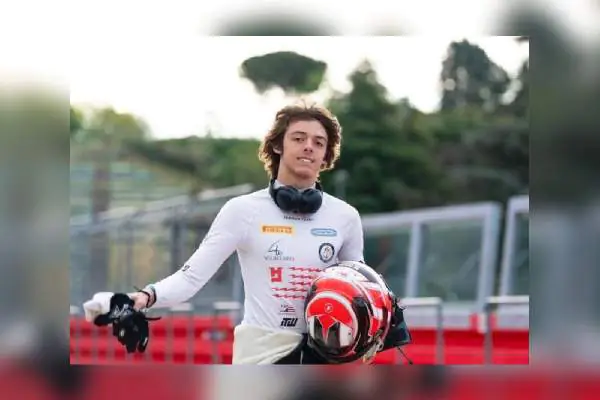 Hunter Yeany Biography. Image Source: Instagram
Meet Hunter Yeany, a rising star in the world of motorsports whose tireless passion for racing has propelled him to the forefront of the track. Best known as the 2020 Formula 4 United States champion, Hunter went on to become the youngest-ever winner of the Formula 4 series.
In the lists of rising motorsports drivers, Hunter is one of the sought-after individuals who is proving to be a fruitful athlete in motorsports. If you want to know more interesting facts about Hunter, then we suggest you read the article till the end.
5. Knowing The Young Sensation
Hunter Yeany was born on May 11, 2005, in Virginia Beach, Virginia, U.S. His father, Rob Yeany, is a 1989 Clarion-Limestone graduate, while his mother, Nicole Yeany, is a 1996 Clarion Area and 2001 Clarion University of Pennsylvania graduate. Hunter has two sisters named Brooke and Addison.
Both of Hunter's parents were active athletes during their youth. His father played football and pole vaulted for the Lions, while Nicole ran track and cheered for the Bobcats. Additionally, Rob is a former U.S. Navy SEAL and is part owner of The Osen-Hunter Group, a defense contracting and security company.
View this post on Instagram
Before making his 2021 FIAF3 series debut with Charouz Racing System, Hunter raced in the Indy Pro and Formula Regional Championships, both with Velocity Racing Development. He spent his first full season in F3 driving for Campos Racing.
At present, Hunter is associated with Carlin Motorsport, a motor racing team based in the United Kingdom. Dan Mitchell has been coaching Hunter since he was 12. Likewise, he coached him in 2020 for the F4 championship and was instrumental in his preparation for FIAF3.
4. Hunter Yeany Collective, an Initiative for Young Racers
Inspired by his son Hunter's passion for motorsports, Rob Yeany, a veteran and entrepreneur, facilitated his son's interest in a driving career. Additionally, he partnered with Dan Mitchell to create Velocity Racing Development, a junior formula team whose sole focus is to develop American drivers to compete successfully in international motorsport.
Hunter Yeany's father serves as CEO of the Hunter Yeany Collective, which encompasses Hunter Yeany Racing, Lifestyle Brand and Foundation. Similarly, Rachael F. Murray has been serving as the president. Murray has worked in multiple facets of the entertainment industry for over 20 years.
The Hunter Yeany Collective is a non-profit organization whose sole focus is to look for athlete health and wellness. The company further includes the Hunter Yeany Brand and the Hunter Yeany Foundation.
ALSO READ: Top 5 Must-Know Facts About Swiss Racer Gregoire Saucy
3. Youngest Driver to Earn FIA F4 Title
In 2020, Hunter Yeany set the world record as the youngest driver to earn the FIA F4 title in the history of a Formula 4 series, becoming the Formula 4 United States Champion.
In the post-2021 season, Hunter took part at Circuit Ricardo Tormo with Campo's racing. Further, the Campos announced that Hunter would drive for them in the next year's season. Campos Racing is a Spanish motor racing team that has been succesful in Formula 3 and the GP2 series.
Off the track, Hunter loves spending time with his family, skateboarding, and surfing the waves of Virginia Beach. An avid supporter of military and veteran causes, he proudly supports and partners with veteran-owned businesses.
The racer is active on social media sites such as TikTok, Instagram, and Facebook. As of July 24, 2023, Hunter has over 21k TikTok followers and nearly 51k Instagram followers.
2. Hunter Yeany Net Worth and Partners
A racing driver's net worth is influenced not only by their salary but also by endorsements, investments, and other business ventures. On a similar note, Hunter Yeany is just powering his racing career and is yet to establish his name as the greatest racer. After winning the Formula 4 U.S. championship in 2020, Hunter received a scholarship valued at $230,000 to graduate into Formula Regional Americas Championship Powered by Honda for the 2021 season.
As per reports, top-tier drivers can earn up to millions from their contracts. Likewise, NASCAR and IndyCar driver also earns a substantial amount of income. For information, successful drivers often secure sponsorship deals with major brands, which can significantly boost their earnings. Likewise, some of Hunter's partners are companies like Navy Seal Foundation, Velocity Racing Development, Infinity Sports Management, Cardomax, DFND Performance apparel, Thirty Seconds Out apparel, etc. In addition, Hunter owns merchandise where items like hoodies can be bought for $59.99. All these sources will definitely add to Hunter Yeany net worth.
However, it's important to note that these figures can change over time, and the specific financial details of drivers are often closely guarded and not always publicly disclosed.
Similarly, you might want to read about another racer, Olli Caldwell's net worth.
1. Hunter Yeany Professional Racing Career
Hunter first began his career as a Kart racing driver. He came 13th in the 2019 SKUSA SuperNationals. The 2020 Formula 4 series champion last completed the 2023 FIA Formula 3 Championship for Robin Carlin. Further, on July 6, 2023, the racing driver shared an Instagram post where he expressed his regret for not having been played at the Austrian GP due to some unforeseen circumstances.
In the adrenaline-fueled world of motor racing, drivers like Hunter Yeany prove that passion, skill, and the pursuit of victory run full throttle through their veins. We wish him all the best in his futuristic endeavors.
References
Did you notice an error ?
Please help us make corrections by submitting a suggestion. Your help is greatly appreciated!