Sports
David Ribbans Biography: The Rugby Odyssey From Somerset to Toulon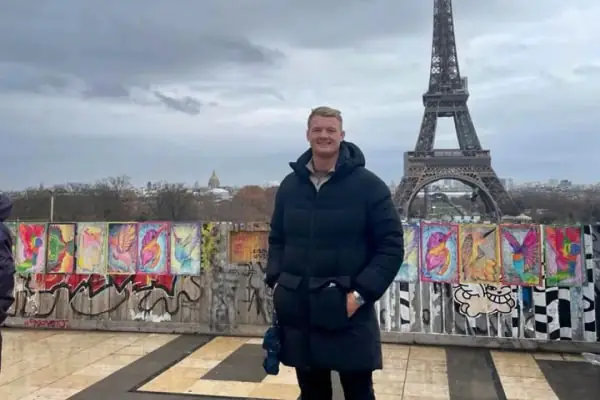 David Ribbans Biography. Image Credit: Instagram.
Full Name

David George Ribbans

Age

28 yrs

Birth Date

August 29, 1995

Country

England

Relationship Status

In a relationship

Nationality

English

Profession

Rugby Union Player

Awards and honors

England squad – 2023 Rugby World Cup third place

Education

University of Cape Town

Height

6 feet 8 inches
David Ribbans, an exceptional rugby talent, has embarked on a remarkable journey from his quaint hometown in Somerset, England, to the renowned French club of Toulon. With his formidable blend of power, precision, and unwavering determination, Ribbans has emerged as a dominant force in the lock position, captivating rugby enthusiasts worldwide.
In David Ribbans biography, we uncover the extraordinary life and career of the professional rugby union player – tracing his humble beginnings in sports to his current unparalleled success with Toulon.
With his birthplace rooted in the diverse landscapes of South Africa, David has emerged as a distinguished representative for England on the international stage by virtue of his ancestral ties.
Early Life and Unveiling a Hidden Talent
David George Ribbans was born on August 29, 1995, in the enchanting town of Somerset West, South Africa. Growing up amidst the captivating vistas of the countryside imprinted a deep appreciation for nature within him.
It was during these formative years that Ribbans first discovered his passion for rugby and its raw physicality. Yet it wasn't until adolescence that his innate talent began to flourish truly. He found himself enrolled at Somerset College, where he honed his skills on the field and crafted a name for himself as a formidable player.
Despite not receiving invitations to participate in provincial schoolboy rugby matches throughout his time at school, Ribbans remained undeterred by setbacks or mixed opinions about his potential career trajectory. With unwavering determination etched into his character, he embarked on a new chapter after completing high school: joining the esteemed Western Province Rugby Institute.
A journey filled with obstacles awaited young David along this arduous path toward attaining excellence in rugby. Naysayers questioned both his abilities and aspirations incessantly despite witnessing glimpses of brilliance from time to time; however, this only fueled Ribbans' resolve further.
A Steady Ascent Through the Ranks
David Ribbans embarked on his professional rugby journey with Western Province in 2015, marking the beginning of a promising career. His initial appearance in the Vodacom Cup against the Boland Cavaliers signified a significant milestone as he swiftly emerged as one of South Africa's most talented young forwards.
Recognizing his potential, Ribbans earned a coveted spot in the Stormers Super Rugby squad in 2016, solidifying his position within an elite group. Again, in 2016, he had his first taste of the Currie Cup Premier Division when he stepped onto the field as a replacement in their triumphant 52-31 win against Griquas in Kimberley.
Ribbans' unwavering dedication to excellence secured him a consistent role within the Stormers' lineup during subsequent games. In particular, it was undeniable that Ribbons played an integral part in guiding their phenomenal run to reach the semi-final of the Currie Cup.
ALSO READ: Maro Itoje Biography: The Rugby Phenom From North London to Global Stardom
Dominating the English Premiership
After an impressive 2016 season, Ribbans made a significant move to England, signing with the prestigious Premiership team Northampton Saints. The announcement of his signing on January 5th, 2017, was met with great excitement amongst rugby enthusiasts.
Ribbans wasted no time in showcasing his skills and abilities as he debuted for the Saints in a friendly match against Bedford. It was during this game that he truly proved himself as a force to be reckoned with by scoring an impressive hat trick against the competing RFU Championship side.
Since then, Ribbans has gone from strength to strength and has become an integral part of the first-team squad at Northampton Saints. His dedication and tireless work ethic have earned him well-deserved recognition among both teammates and supporters alike.
Renowned for his exceptional stamina on the field and bone-crunching tackles, Ribbans continues to win over fans with each appearance he makes for his beloved club. He has over 100 appearances for the Saints so far.
Similarly, you might also be interested in reading about Ellis Genge, the powerhouse of England Rugby.
International Recognition and the Quest for the Rose
Ribbans' remarkable performances on the domestic stage did not go unnoticed by the discerning England selectors. In 2020, he received a coveted call-up to join the esteemed national squad under the watchful eye of then-head coach Eddie Jones, propelling him closer to realizing his lifelong aspiration of donning his country's jersey on the international arena.
The year 2020 marked Ribbans' awe-inspiring debut for England, and from that point forward, he has scrupulously cemented himself as an unparalleled force in locks worldwide, leaving his indelible mark amidst fierce competition.
Renowned for his extraordinary skill set and unwavering dedication, Ribbans holds impressive experience playing in the Rugby World Cup in 2023. During these monumental matches, he emerged as an integral player pivotal to guiding England towards their valiant third-place finish.
View this post on Instagram
Having also showcased deep commitment during four successive Six Nations Championships spanning multiple years, including both triumphant conquests in 2022 and again repeating success with fervor once more a year after – Ribbans undeniably raises standards wherever he treads upon that storied field.
Ribbans is renowned for his exceptional athleticism, tireless work ethic, and relentless physicality. Not only does he possess outstanding skills on the field, but he also serves as a prominent leader and an influential figure for aspiring young players.
A Transcendent Move to Toulon
In a display of remarkable ambition, David Ribbans took on the daunting challenge of joining Toulon, an esteemed rugby club with a global reputation. It has been confirmed by Northampton Saints that David will part ways with the Club once the 2022/23 season concludes.
The former second-row player for Northampton, Ribbans, will make his move to the Top 14 club upon completion of the tournament. He has signed a three-year contract, adding himself to the ranks of English players crossing over to France's prestigious league.
David Ribbans will leave the Club at the end of the season to pursue a playing opportunity in France.

— Northampton Saints 😇 (@SaintsRugby) February 10, 2023

While the potential financial benefits are greater in the French league, it does come with a trade-off. The eligibility rules set by the Rugby Football Union state that only players competing in the Gallagher Premiership are eligible for selection by coach Steve Borthwick. In fact, among Borthwick's 33-man World Cup squad, Jack Willis, Joe Marchant, and Henry Arundell will also be playing for French clubs next season.
Moving to the French Top 14 presents Ribbans with an exciting opportunity to immerse himself in a new rugby culture fully. It will allow him to test his skills against some of the best players in the game and further refine his abilities on a different stage. David Ribbans biography has something new coming up as he moves to France at the end of the season.
Relationship and Personal Life
The English Professional has achieved great success professionally, but what about his personal life? Well, after deciding to move to France, David Ribbans' net worth will touch newer heights as the French league is known for its wealth. Although the actual numbers are still under wraps, considering the average salary of players in France is 240K per year, it can be estimated that his wealth could be in the millions.
Not one to showcase his personal life on social media, news on the matter is hard to come by. But, the athlete has uploaded a few pictures with a beautiful lady named Charlotte Makepeace, who appears to be his partner. David Ribbans' girlfriend, Charlotte, first made an appearance on David's Instagram in April 2022, so they could have started dating sometime before April. We may get to know more about the couple as time goes by, but for now, we know very little.
As Ribbans continues to evolve as a player and forge his path in Toulon, his unique combination of power, skill, and dedication ensures that his rugby odyssey will leave an indelible mark on the annals of the game.
Did you notice an error ?
Please help us make corrections by submitting a suggestion. Your help is greatly appreciated!