Celebrities
Grace Junot Biography: Meet The Talented Thai-American Actress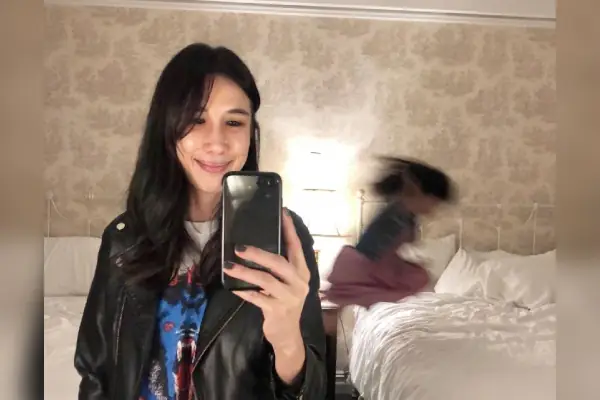 Grace Junot Biography. Image Credit: Instagram.
Full Name

Grace Brennan Junot

Age

49 yrs

Birth Date

June 8, 1974

Country

America

Relationship Status

Married

Spouse

Jeremy Shranko

Nationality

Thai-American

Ethnicity

Mixed (Thai-American)

Profession

Actress

Children

Piccola Junot

Education

Rollins College

Height

5 feet 5 inch
As per statistics, opportunities for women and people of color were notably greater on streaming platforms than in motion pictures. The numbers are still relevant as actresses like Grace Junot shine in smaller roles rather than in multicast projects.
In this article, we talk about Grace Junot biography and the personal and professional endeavors she embraced in her journey. Junot is a Thai-American actress who has appeared in several acclaimed TV series and movies.
Grace is best known for her performance as Officer Grasso in the series One Tree Hill. Likewise, her notable performance as Miss Hall in the feature film Dumplin brought her widespread recognition.
Early Years: From Modeling to Acting
Grace Junot was born on June 8, 1974, in Bangkok, Thailand. Her mother is Thai of Chinese descent, while her father is of Acadian-French descent. She has shared pictures of her family on her Instagram. Grace was raised in New Jersey by her parents after they moved to the United States.
Junot's father was a military veteran who served in Arkansas. Likewise, her younger sister, Opal Junot, also lived in Los Angeles for many years. From the beginning, Grace was interested in fashion and entertainment. Therefore, she began her career as a teen model, participating in numerous Asian pageant shows.
Talking about her education, Grace graduated summa cum laude with a Bachelor of Arts in Humanities from Rollins College, Florida. However, she began her professional acting career with minor roles in television and films. She can speak fluent Thai and is an expert on different accents, such as New York, British, and Bronx dialects.
ALSO READ: Eka Darville Biography: From Power Rangers to Marvel's Jessica Jones
Desirable Career in Small and Big Screens
After her undergraduate studies, Grace began her training in Los Angeles. She sharpened her acting skills at a number of acting institutes. Likewise, the One Tree Hill actress has trained in scene study, classical styles, breath, and voice from well-acclaimed teachers.
Before starring in movies and television shows, Junot worked in commercials, including the likes of AT&T, Sprint, Experian, Arco, Dunkin Donuts, etc. Furthermore, she also appeared in a music video titled Panic at the Disco, directed by Behn Fannin.
| | | |
| --- | --- | --- |
| Year | Grace Junot Movies and TV Shows | Role |
| 2004 | One Tree Hill | Officer Grasso |
| 2005 | Bones | Court Officer |
| 2023 | Heels | Dr. Dominic |
| 2023 | Will Trent | Dr. Marie Tilda |
| 2023 | Gotham Knights | Dr. Chase Meridian |
Table Source: IMDb
Grace Junot's debut role as Officer Grasso in The WB TV series One Tree Hill opened doors for her future opportunities. In 2007, she appeared as Linn in the movie Ghost Town: The Movie, directed and written by DJ Perry and Dean Teaster.
After appearing in an episode for General Hospital (TV series) in 2011, Grace took a long hiatus of seven years from acting. She chose to spend quality time with her partner, and Junot focused more on her personal life.
Since 2022, Junot has been actively appearing in television shows. From 2021-2022, she appeared as Ellen in six episodes of the television series Dynasty.
Likewise, she portrayed the character of Dr. Chase Meridian in the 2023 series Gotham Knights. Before Grace in Gotham Knights, popular actress Nicole Kidman played Dr. Chase Meridian in the 1995 film Batman Forever.
Similarly, you might want to read about actress and singer Chandler Lovelle's Biography.
Grace Junot's Net Worth And Earnings
The talented movie and television actress Grace Junot's net worth might be in a few hundred thousand dollars. However, there isn't any concrete evidence regarding the actress' exact net worth. Meanwhile, we can provide you with a general idea of how an actor makes money from his/her acting career.
As per sources and several statistics, the average salaries for television actors can vary widely depending on their level of experience, the production banners they work for, the demand for specific television shows, and their negotiating power. Despite the actress not disclosing her wealth, we can assume that Grace Junot's earnings per episode might range somewhere between $35,000-$40,000 per episode.
While the aspiring or supporting actors in TV shows typically earn less, their salaries can range from $25,000-$55,000 per episode. Similarly, the lead and series regular cast tend to earn the most. Over the past few years, streaming platforms such as Netflix, Apple TV+, Amazon Prime, and Hulu have been paying a decent amount of wages to their actors.
Husband, Kids, and Personal Life
The Gotham Knights actress Grace Junot is a married woman, and her partner, too, belongs to the world of acting. Yes, Grace Junot's husband, Jeremy Lee Shranko, is a broadway actor. He has appeared in a few theatrical shows and is a former associate of Boston Court and Critical Mass Performance Group.
Grace is the type of celebrity who is fine with sharing her personal life on social media. The actress married Jeremy Shranko in October 2015 in the presence of their friends and families.
On social media, Junot never misses a chance to express her love for her boyfriend-turned-life partner. Yes, the two started dating in early 2011 when Jeremy was active as a theatre actor. After four years of dating, Grace and Jeremy got engaged in January 2015.
As of now, the couple has been together for eight years, and they have a daughter, Piccola. So you know, Jeremy, as a stage actor, has appeared in Serial Killers Sunnyville, God's Ear, Expecting to Fly, and has performed in several theatres such as Zephyr, Elephant Space, etc.
Looking at her Instagram account, we can see that Grace and her husband are more focused on raising their daughter in a happy environment. In conclusion, this article on Grace Junot biography shows us that passion and personal life can be balanced equally, and still, you can leave an impression on the audience.
Did you notice an error ?
Please help us make corrections by submitting a suggestion. Your help is greatly appreciated!